Nice terror attack: The most powerful tribute cartoons after Bastille Day horror
Le Monde artist Plantu has depicted a crying dove of peace in the middle of a map of France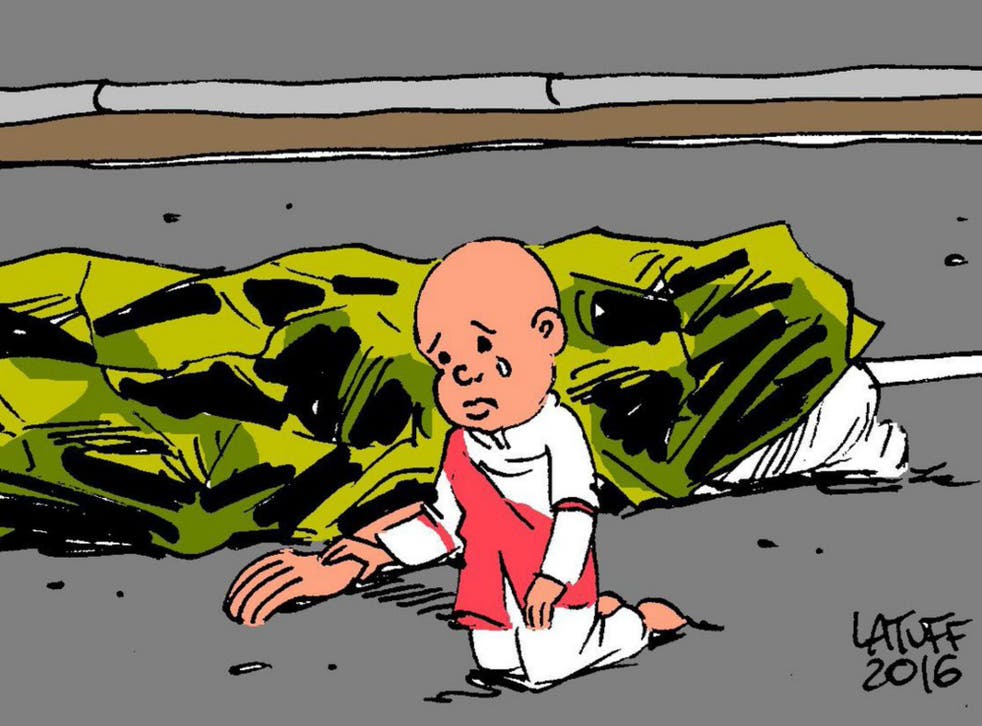 People waking up to news of the horrific Bastille Day terror attack in Nice have been paying tribute to those killed and injured with cartoons expressing their wishes for peace, love and unity.
Eighty-four people have been confirmed dead with many more wounded after a lorry ploughed through a crowd watching celebratory fireworks on the waterfront of French Riviera city. The attacker has been identified as a 31-year-old French-Tunisian man, who was shot by police after deliberately driving his truck at revellers and shooting.
President Francois Hollande has said that the "terrorist character [of the attack] cannot be denied" and a "horror has come down on France again", with world leaders sending messages of solidarity to the country after hearing the tragic news.
In pictures: Bastille Day Nice attack

Show all 30

Thousands of others have been posting tributes to those who died on social media, using the hashtags #PrayForNice and #JeSuisNice. Many have been sharing a cartoon by Le Monde artist Plantu, who drew a crying dove of peace in the middle of a map of France, with a black 'Nice' banned covering one bleeding corner.
Nice Attack: Witnesses speak

Here are some of the most powerful cartoons to emerge so far:
From Plantu, for Nice:

This image of the French flag in the shape of a heart has gone viral, while others are sharing a picture of three hearts in a row - one blue, one white and one red:

Broadcaster Jeremy Vine shared this harrowing cartoon by Brazilian political cartoonist Carlos Latuff, based on the tragic photo of a doll lying next to a child in a body bag:

Others are reusing the hard-hitting cartoon Latuff drew following the Paris attacks in November, showing the dead lying beneath a bleeding French Tricolore:

This particularly horrifying cartoon by Swaha references the truck that killed scores of people in Nice:

Jean-Charles de Castelbajac depicts angels telling people to 'Be Nice' after the atrocity:

This message has been shared by some people to express their despair at repeated terror attacks. The post, when translated, reads "I am Charlie, I am Paris, I am Orlando, I am Brussels, I am Instanbul, I am Nice, I am Baghdad, I am Bangladesh, I am exhausted":

Geraint Smith sketched a big blue tear with the word 'Bastille' inside it and shared it on Twitter:

The terror attack has sent shockwaves around the world, with Louison expressing the widespread disbelief at the violence:

This cartoon, signed 'Mesia', is being shared on social media, showing a pair of bloodied footprints on a Nice seafront painted red, white and blue:

This image of a bruised and bloodied globe looking through a memories box of more peaceful times is also proving poignant:

This round-up will be updated as more tribute artworks emerge.
Join our new commenting forum
Join thought-provoking conversations, follow other Independent readers and see their replies