North Korean architects depict visions of the future
A new exhibition shows ideas for sustainable tourism development by North Korean architects, who were given a brief to design buildings with no constraints
Helena Williams
Friday 04 July 2014 14:00 Comments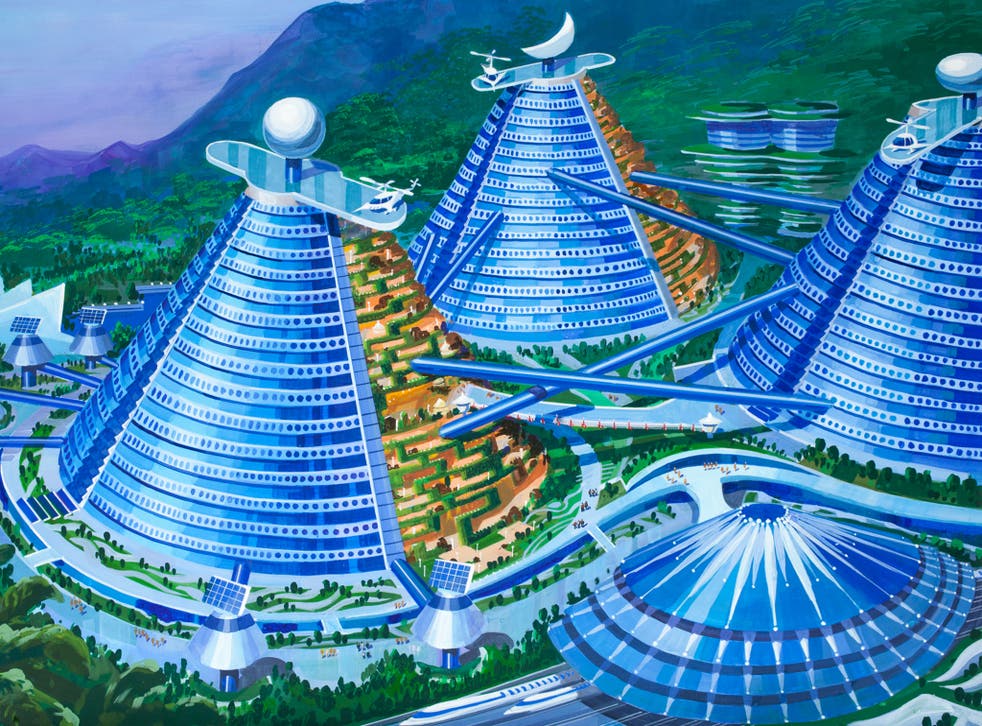 It is a glimpse of what the future might look like, imagined by North Korean architects.
With conical structures, bridges that appear to defy gravity and even hovercrafts, a series of pieces commissioned by a Bejing-based tour company depict a vision of the DPRK that looks like something straight out of the Futurama or the Jetsons.
Koryo Tours, which organises trips in North Korea, gave architects in Pyongyang an open brief to envisage designs for sustainable tourism developments in the notoriously secretive country - without restraints on structural possibility.
The anonymous architects are from the Paekdusan Construction and Architectural Research Institute, from which most of the state's major projects are issued.
The result of four years' work depicts futuristic images with a distinctly Soviet influence. While some illustrations bear resemblance to traditional and modern day structures, others are a window on to a world that could only be possible in the very far future.
Steel and mirror glass structures resembling mountains and giant wheels, hovership houses and buildings adorned with propellers feature in the series.
In pictures: The future of North Korean architecture?

Show all 12
Nick Bonner, the co-founder of Koryo Tours who dreamt up the project, told CNN: "There is very little exposure to contemporary architecture in North Korea."
"The architect who led this project for us drew upon his own thoughts and experiences."
The exhibition, called Utopian Tours, is on display at the Korean Pavilion at the Venice Architecture Biennale in Italy until November.
Koryo Tours will be running a week-long architecture trip to North Korea in October.
Register for free to continue reading
Registration is a free and easy way to support our truly independent journalism
By registering, you will also enjoy limited access to Premium articles, exclusive newsletters, commenting, and virtual events with our leading journalists
Already have an account? sign in
Join our new commenting forum
Join thought-provoking conversations, follow other Independent readers and see their replies