Pablo Picasso's Women of Algiers sells for $179m to set new world auction record
Auction was held in New York by Christie's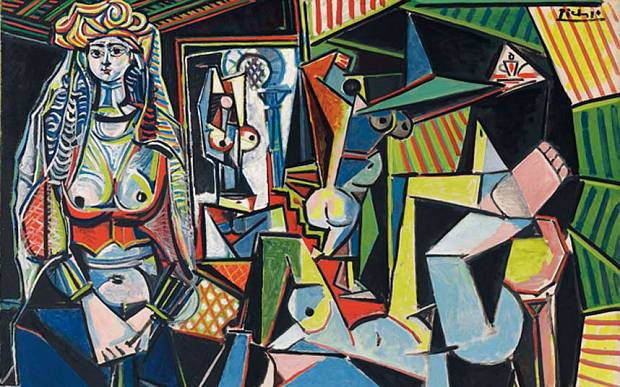 How much would someone pay for a brightly hued painting of a woman revealing her breasts set against a jumble of Cubist angles and shapes? If it was the work of Pablo Picasso, a quiet $179,365,000.
In truth, there was nothing quiet about the auction of the Women of Algiers (Version O) in New York on Monday evening, nor of the anticipation prior to its sale that it would set a new world record.
Indeed, when news broke that bidding at Christie's had passed the $142.4m paid out two years ago for Francis Bacon's Three Studies of Lucian Freud, it appears that nobody was particularly surprised.
The sale also featured Alberto Giacometti's life-size sculpture Pointing Man, which sold for $141m, earning it the title of most expensive sculpture ever sold at auction. The buyers of neither of the works was immediately made public.
The Associated Press said Women of Algiers, once owned by the American collectors Victor and Sally Ganz, was inspired by Picasso's fascination with the 19th-century French artist Eugene Delacroix.
It was part of a 15-work series Picasso created in 1954-55 designated with the letters A through O. It has appeared in several major museum retrospectives of the artist.
Last year, Christie's said its global sales of impressionist and modern art were $1.2bn, an increase of 19 per cent over the previous year.
Experts said the prices are driven by artworks' investment value and by wealthy new and established collectors seeking out the very best works.
"I don't really see an end to it, unless interest rates drop sharply, which I don't see happening in the near future," New York art dealer Richard Feigen told the news agency.
Join our commenting forum
Join thought-provoking conversations, follow other Independent readers and see their replies