Peak art sales reached as slump sees Matisse and Picasso paintings fall in price
A run of disappointing sales has forced the leading auction houses to take radical action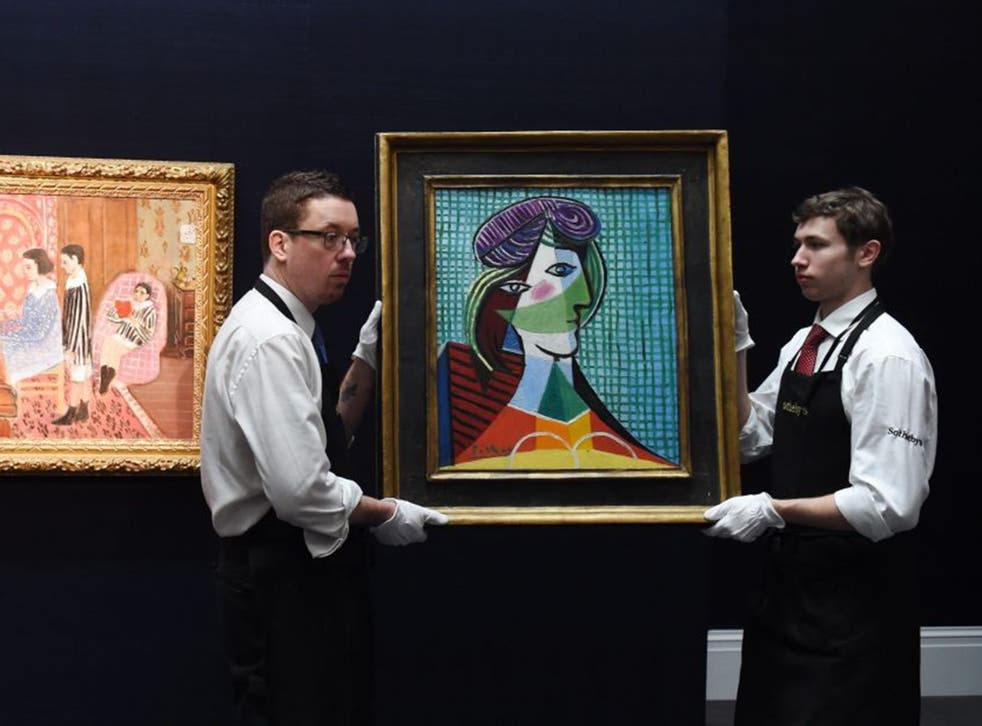 Have we finally reached peak art sales? Works by Matisse and Picasso are going for a song as the world's leading auction houses report a slump in sales and profits, blamed on macho "willy waving" by company bosses.
It's less than a year since Pablo Picasso's Women of Algiers (Version O) set a new world record for the most expensive artwork to be sold at auction after reaching $179m (£115m) in New York.
Now even Picassos are falling in price after a run of disappointing sales which has forced the leading auction houses to take radical action.
When Sotheby's and Christie's held a series of impressionist and modern art sales last month, they collectively sold $210m worth, a dramatic 45 per cent decline from the $381m total for similar sales last year.
Christie's International, the world's leading auction house by revenue, reported a 5 per cent decline in annual sales, ending five years of growth. Sales of postwar and contemporary art, Old Masters, 19th century and Russian art were among those in decline.
In further sign that collectors are becoming selective, Sotheby's sold just 67 per cent of its 37 offered lots at one recent sale, for a total of $114 million, below its own expectations of a $123m return.
Picasso's 1935 oil painting Tete de Femme sold for £18.9m at a Sotheby's last month, a far cry from the £28m which the seller paid for the work at the auction house's 2013 sale.
A Matisse drawing, bought in New York in November 2012 for £323,400 was sold for £266,500 at Christie's.
Culture news in pictures

Show all 33
Henry Wyndham, the chairman of Sotheby's Europe, announced he was leaving the firm after 22 years. Wyndham, a highly-regarded auctioneer who has been with Sotheby's for 22 years, follows a number of leading staff out of the door.
Tad Smith, Sotheby's chief executive, said he anticipated a "significant net loss quarter" for the opening months of 2016.
Dr Bendor Grosvenor, the British art dealer and art historian, said: "It looks like the top end of the modern and contemporary market, buyers are beginning to look a little bit wary."
A decade of exponential growth appears to be coming to an end but the auction houses had themselves to blame for the profits slump. Christie's said its decline in private sales was caused by a strategy to push special auctions focused on masterpieces.
Sotheby's gambled on issuing the largest single guarantee in auction history to beat Christie's to the collection of its former chairman A. Alfred Taubman, forgoing any commission on sold works until it reached $515 million and promising to cover any shortfall. The company was over-exposed and lost $12 million when the sale disappointed.
"Instead of losing Henry Wyndham, who is one of the best auctioneers I've ever seen, they should be letting go the person who signed off on the $515m Taubman collection guarantee. That was always likely to be a bum deal," said Dr Grosvenor, who appears on the BBC1 art programme, Fake or Fortune?
He added: "There's a stupid race between the auction houses over who can sell the most art for the greatest money, instead of focusing on the profit margins. It's bitten them on the bum."
"The top level executives at the auction houses make these big bold moves to guarantee a $500m sale. They are willy waving instead of fixing their problems."
The auction houses believe the decline could simply be a correction. Sotheby executive Helena Newman told Bloomberg that sales while not "stellar," were indicative of a "solid, functioning" market. Works like Picasso's Tete de Femme had come back to a market "where every buyer counts" relatively soon.
Stephen Brooks, Christie's deputy chief executive officer, said he expected to see "some moderation" in post-War and Impressionist art prices.
Dr Grosvenor said: "We haven't had enough major sales this year to gauge the market in New York. You have to take a long-term view. The people who fetch the highest amount in the contemporary market today, can be worth hardly anything relatively-speaking in 50 years time."
"We have to get away from the idea of buying art as an investment. It's an illiquid asset and difficult to make money from. Always buy what you like and hope it goes up in value."
Sales slump
Pablo Picasso – Head of a Woman
Multi-dimensional oil portrait of the artist's muse and mistress, Marie-Thérèse Walter sold for £18.9m at a Sotheby's. But "Tete de Femme" sold for 30 per cent more just over two years ago.
Henri Matisse - The Piano Lesson
1923 work, a domestic scene of life in Matisse's studio, La Leçon de piano sold for £10.8m million, well below its £12-18m estimate at Sotheby's Impressionist & Modern Art sale.
Alberto Giacometti - Bust of a Man
Giacometti painting which had been bought just before the credit crunch for £1.6 million was estimated at £1.8-2.5 million at Christie's but failed to find a buyer.
Max Ernst – The Stolen Mirror
1941 dream-like landscape sold for £10.3m in 2011, a record for the surrealist artist. The European collector who bought it accepted a loss, offloading the work for just £8m at Christie's in February.
Join our new commenting forum
Join thought-provoking conversations, follow other Independent readers and see their replies