Piles of stolen Ai Weiwei sunflower seeds grow as Couriers of Taste exhibition idea succeeds
Alice Jones' Arts Diary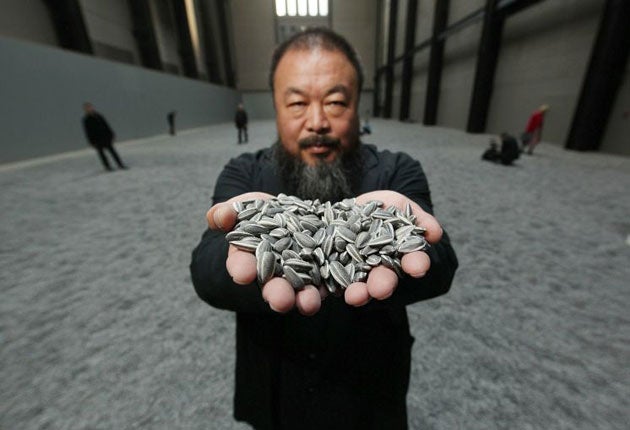 Back in February, the Arts Diary wrote about Couriers of Taste at Danson House in Bexleyheath. The curators were looking for anyone who had pocketed one of the millions of porcelain sunflower seeds that made up Ai Weiwei's artwork at Tate Modern in 2010 to lend them their souvenirs for the show.
Since then they have received donations from all over the world, from Bristol to Brooklyn, and their loot is now on display with labels detailing each seed's provenance. Last month they received a boost with the delivery of 10lb of seeds from "Matthew", who was involved in transporting the artwork to New York.
"As a whole, the piece is quite large and unwieldy, and they weigh tonnes", he explained. "Due to this, many of the little buggers escaped, and because of the volume, time, and expense of all of this, the general opinion was to not be frantic when a few squeaked away."
"Every attempt was made to corral and collect the larger leaks, but I personally took it upon myself as a big fan of Ai's to track down any and all I could… Given Ai's politics it seems he would be happier with them in the hands of the working man (like myself), as opposed to them being commoditised and hoarded by the ruling class.  Maybe this is part of the work?"
Ai has not commented on the show.
"Everyone has a story about why they stole the seeds", says Sarah Humphris at Bexley Heritage Trust. "We had one man from Hastings who took a handful and wants to leave one wherever he goes in the world – at the Eiffel Tower etc. And we had a woman who emailed us from Australia to say she pinched a couple but then lost them in her handbag on her flight home to Adelaide."
The exhibition runs until 31 October and is still taking submissions. Email seeds@bexleyheritagetrust.org.uk 
Also in the Arts Diary
RSC's Titus Andronicus carries heavy warning as production ups the blood-squirting gore Tarantino-style
The hot spot of the Venice Biennale comes all the way from Peckham; Festivals suffer identity crisis
@AlicevJones
Join our commenting forum
Join thought-provoking conversations, follow other Independent readers and see their replies