Pompeii's X-rated art will titillate a new generation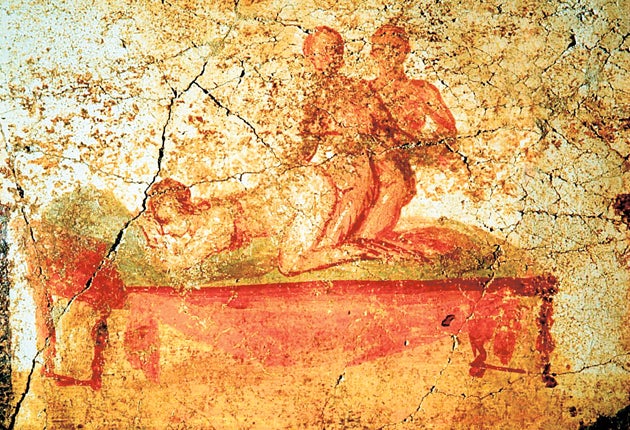 Pompeii's saucy heyday might be a little behind it but the ancient city's power to intrigue, delight and even titillate remains intact – as proved by the hundreds of visitors queuing this weekend for an adults-only viewing of its most-erotic artwork.
The famous wall paintings in its ancient suburban baths will be spotlighted in a special night-time "sound-and-light" show, which say the organisers, will give visitors "their best view yet" of the pictures, which leave very little to the imagination.
Experts say the 16 paintings, depicting group and oral sex, have no equivalent at any other ancient Roman site; as such they have fuelled much debate since they were discovered 50 years ago. Some historians believe they were painted to advertise services on offer at the baths, or that they were merely a way of reminding bathers which locker they put their clothes in.
Others think they were simply there to celebrate the licentious lifestyle of the "anything-goes" city in the Bay of Naples that was destroyed by a catastrophic eruption of Vesuvius in 79 AD.
And the presence of adult art throughout the city suggests such images would have raised few eyebrows in Pompeii, the adult equivalent of Disneyland for ancient's Rome's rich and famous.
Dr Antonio Varone, director of excavations at the site, believes the baths, which visitors would have reached before entering the city centre, were probably decorated with the explicit designs to get people into the Pompeii state of mind.
He says the paintings follow a sequence of "increasing audacity". "You start with a man and woman, and then you go through fellatio and cunnilingus, on to two women and then group sex," he said.
"They're saying: 'After a long journey why not relax a little? Do what you like, meet someone for sex'. But they're also done with some irony."
Subsequent VIPS have taken a dimmer view of Pompeii's erotic art, however. When King Francis I of Naples visited the Pompeii exhibition at the National Museum with his wife and daughter in 1819, he was so shocked by what he saw that he had the material locked away with access available only to "people of mature age and respected morals".
And it's unlikely Pope Benedict will be paying a visit to the bath paintings, which climax graphically in a spot of man-on-man-on-woman-on-woman action. Just this week the pontiff told crowds in Portugal that gay marriage was a bigger threat to the human race than disease, famine, terrorism or natural disasters – including, presumably, volcanoes.
Dr Varone notes that the final painting of a foursome "is exceptional even for Pompeii". But he adds that, in ancient Rome, sex between men was considered "absolutely normal". "It's only since the advent of Christianity that this all changed and the element of shame and sin came in," he said.
It has been possible to view the paintings since 2001, but in small groups only. A recent restructuring has made it possible for bigger groups to be accommodated, culminating in the decision to have this weekend's illuminated night-time show.
Such shows, for adults only and with reserved places, are set to become a regular feature at the site throughout the summer.
Erotic art is also to be found in several of Pompeii's villas, and in 2006 thousands of tourists queued to see the city's most extravagant brothel, the Lupanare – from the Latin word "lupa" for prostitute – when it was re-opened after a lengthy restoration.
The 2,000-year-old building features erotic fresco paintings almost as titillating as those at the baths, but the work is judged to be of lesser artistic and historical merit.
On the other hand, the technical skill and beauty of the bath paintings mean a visit to these eye-opening images is justified on an artistic basis, noted Dr Varone.
Join our commenting forum
Join thought-provoking conversations, follow other Independent readers and see their replies