Port Talbot Banksy to be moved to street art gallery
Graffiti mural appeared on the side of a steel worker's garage before Christmas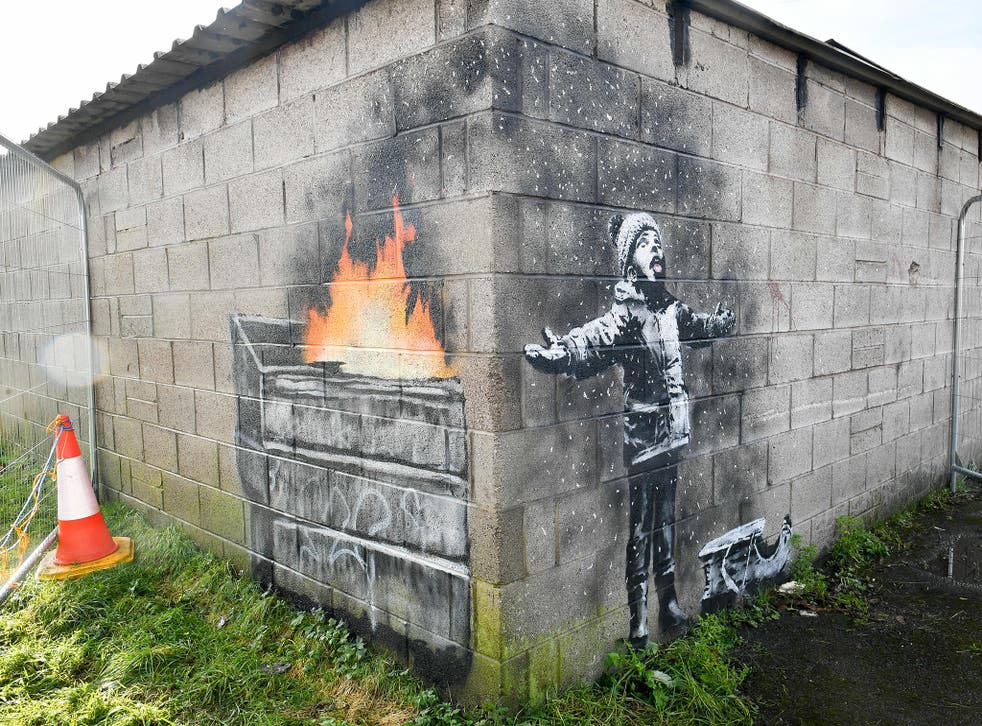 The Banksy artwork painted on the side of a steelworker's garage in Port Talbot, Wales, is set to move to a museum next month with the help of a team of specialists.
Titled "Seasons Greetings", the graffiti mural depicts a child playing in what appears to be snow. However, the second half of the mural, around the corner of the wall, shows that the snow is in fact falling ash from a fire.
The piece, in the Taibach area, appears to be a comment on the town's industrial heritage.
See the best of Banksy's artwork in the gallery, below:
Best of Banksy

Show all 68
The secretive street artist – believed to be based in Bristol – confirmed on social media he was behind the piece after it was spotted.
Art dealer John Brandler, who paid a six-figure sum for "Season's Greetings", said the work will be displayed in a new gallery in the Ty'r Orsaf building after being moved on 29 May.
The wall featuring the art weighs about 4.5 tonnes and needs to be covered in resin first. It is currently protected by plastic sheeting and 24-hour security, after appearing on the site of Ian Lewis's garage just before Christmas.
"They're putting the resin on the back," Mr Brandler said. "Then fixing bits of chipboard to the back of that. Then they're putting a special crate around it, a bit like a sandwich."
Mr Brandler invited members of the public to come and witness the move, calling it an ''historic event.''
Join our new commenting forum
Join thought-provoking conversations, follow other Independent readers and see their replies