£30m Rembrandt dismissed as a copy declared 'definitively genuine'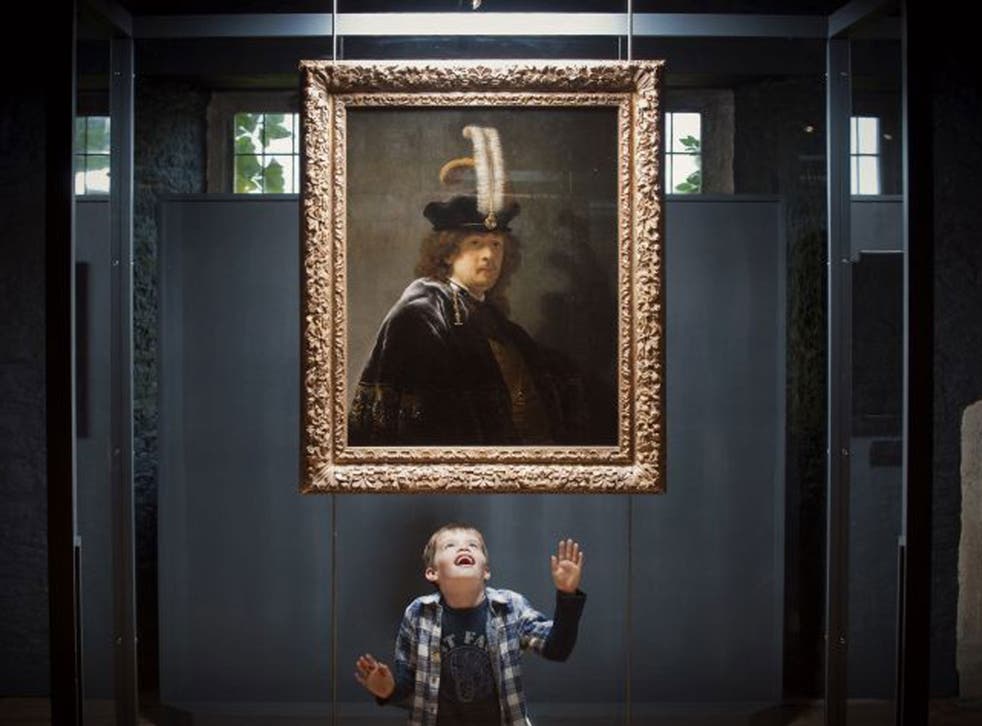 When a painting dismissed by experts as a Rembrandt copy arrived at Buckland Abbey in Devon in 2010, the house and collections manager put it in storage as there was no space on the walls.
Now the work, which steward Patricia Burtnyk described as "just another one of the paintings", will become one of the central attractions at the former home of Sir Francis Drake, after scientific tests proved it to be a genuine work by the Dutch old master, worth £30m.
Experts have argued over the 1636 painting of Rembrandt aged 29 and wearing a velvet cap and a decorated cape for decades. It had been dismissed in 1968 by specialist Horst Gerson and the Rembrandt Research Project either as a copy or as a work by one of the painter's pupils.
Yet last year, news emerged that one expert had changed his mind and believed it could be genuine, although Christine Sitwell, a paintings conservation advisor at the National Trust, told The Independent that she felt the news then was "a bit premature".
Now, following eight months of testing, using techniques from x-rays to infra-red and paint analysis, and further scrutiny from Rembrandt specialists, it has been declared definitively a genuine work.
Ms Burtnyk, who has worked at Buckland Abbey for more than 20 years, said that some of the staff who had seen it as just another part of the furniture now looked at it in a new light.
She added: "It's very special and we are delighted to have it. We always treated it with as much care as all the other works but now we've had to take a few more precautions."
The house, previously famous for having Drake's Drum, which the sailor took with him when he circumnavigated the world, is now expected to attract many more visitors to see the Rembrandt in a newly overhauled space in the Nave Gallery. The house is to celebrate the work in an exhibition called "Rembrandt Revealed".
Rembrandt Harmenszoon van Rijn, one of the leading lights of the Dutch Golden Age of painting, produced an estimated 50 oil paintings, 32 etchings and seven drawings.
This painting came to the National Trust in September 2010 from the estate of Edna, Lady Samuel of Wych Cross, whose husband had bought it in the 1960s.
Those who had dismissed it as original over 45 years earlier, pointed out that it was not accomplished enough to be a Rembrandt, that the panel type was unusual and that the date and style didn't match.
Yet expert Ernst van de Wetering began to question the prevailing wisdom in 2005. He had made a trip to Buckland Abbey two years ago before calling for the confirmation of the scientific tests.
The expert's change of heart prompted the National Trust to send the work to the Hamilton Kerr Institute (HKI) in Cambridgeshire, which specialises in conservation work for easel paintings.
The institute investigated the painting under magnification, infra-red reflectography, x-ray, raking light photography and pigment and medium analysis.
The painting was cleaned and varnish added much later was removed, which unmasked the original colours and the painting style underneath. These techniques proved that the former queries over its authenticity were incorrect
Mr Van de Wetering said: "Although I was pretty certain the painting was a Rembrandt when I saw it in 2013, I wanted to further examine it after cleaning and see the results from the technical analysis as this had never been done before. With all this additional scientific evidence, I am satisfied it is by Rembrandt."
Register for free to continue reading
Registration is a free and easy way to support our truly independent journalism
By registering, you will also enjoy limited access to Premium articles, exclusive newsletters, commenting, and virtual events with our leading journalists
Already have an account? sign in
Register for free to continue reading
Registration is a free and easy way to support our truly independent journalism
By registering, you will also enjoy limited access to Premium articles, exclusive newsletters, commenting, and virtual events with our leading journalists
Already have an account? sign in
Join our new commenting forum
Join thought-provoking conversations, follow other Independent readers and see their replies