Rembrandt painting in Devon abbey long thought to be pupil's work is £20m a self-portrait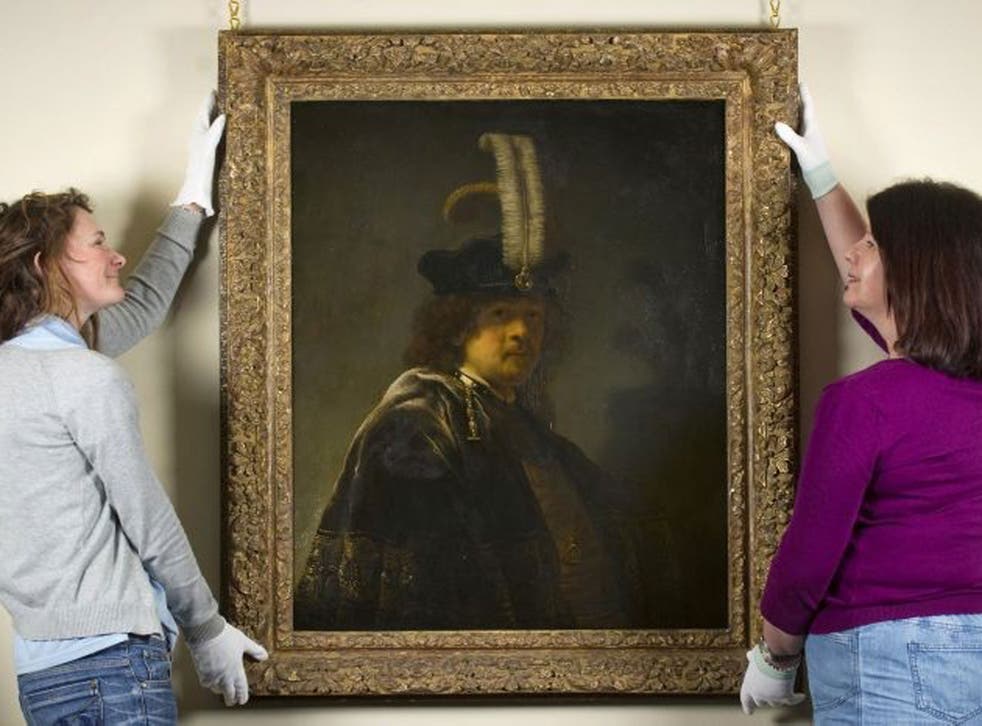 For three years, visitors to Buckland Abbey in Devon would have barely glanced twice at a portrait of Rembrandt hanging on the walls, believing it to be the work of one of the Dutch master's pupils.
Yet, interest is set to rocket after it emerged that the work on display in the former home of Sir Francis Drake may actually be a self-portrait, with a valuation of close to £20m.
The world's leading Rembrandt expert, Ernst van de Wetering, attributed the painting to the artist himself after a new investigation dispelled the 45-year belief that it was a pupil's work.
The painting, which is dated to 1635, shows Rembrandt at the age of 29, wearing a black velvet cap with ostrich feathers and a decorated velvet cape.
Rembrandt Harmenszoon van Rijn, one of the leaders of the Dutch Golden Age, was a prolific self-portraitist with an estimated 50 oil paintings, 32 etchings and seven drawings.
Mr van de Wetering, a Dutch art historian and chair of the Rembrandt Research Project, said the change in attribution came after a reappraisal of the work. "Over the past 45 years we have gathered far more knowledge about Rembrandt's self-portraits and the fluctuations in his style."
It was X-rayed in 2005, and along with new-found evidence it "remarkably increased the likelihood that the painting was by Rembrandt himself," he said. After seeing it again at Buckland Abbey he found the painting technique was "in tune with what I had observed with other paintings of that period". He compared it to Belshazza in London's National Gallery and the painting known as The Old Rabbi at Woburn Abbey in Bedfordshire, which he also attributed to the artist last year.
The discovery makes the self-portrait the first Rembrandt to enter the National Trust's collection of 13,500 paintings.
Jez McDermott, the National Trust's property manager at Buckland Abbey, said: "It's amazing to think we might've had an actual Rembrandt hanging here on the walls at Buckland Abbey for the past couple of years."
Buckland Abbey, which is looked after by the Trust, received the painting in September 2010 as a gift from the estate of Edna, Lady Samuel of Wych Cross. It can never be sold.
Later this year, the painting will be sent for cleaning and there will be further examination to confirm Mr van de Wetering's findings. It will include additional X-rays, examination of paint pigments, infrared reflectography to examine the drawing underneath and tree ring dating to establish the date of the beech panel it was painted on.
Register for free to continue reading
Registration is a free and easy way to support our truly independent journalism
By registering, you will also enjoy limited access to Premium articles, exclusive newsletters, commenting, and virtual events with our leading journalists
Already have an account? sign in
Register for free to continue reading
Registration is a free and easy way to support our truly independent journalism
By registering, you will also enjoy limited access to Premium articles, exclusive newsletters, commenting, and virtual events with our leading journalists
Already have an account? sign in
Join our new commenting forum
Join thought-provoking conversations, follow other Independent readers and see their replies