Row between collectors over discovery of works by American photographer Vivian Maier as new documentary is released
A documentary released this weekend will bring new audiences to Vivian Maier's pictures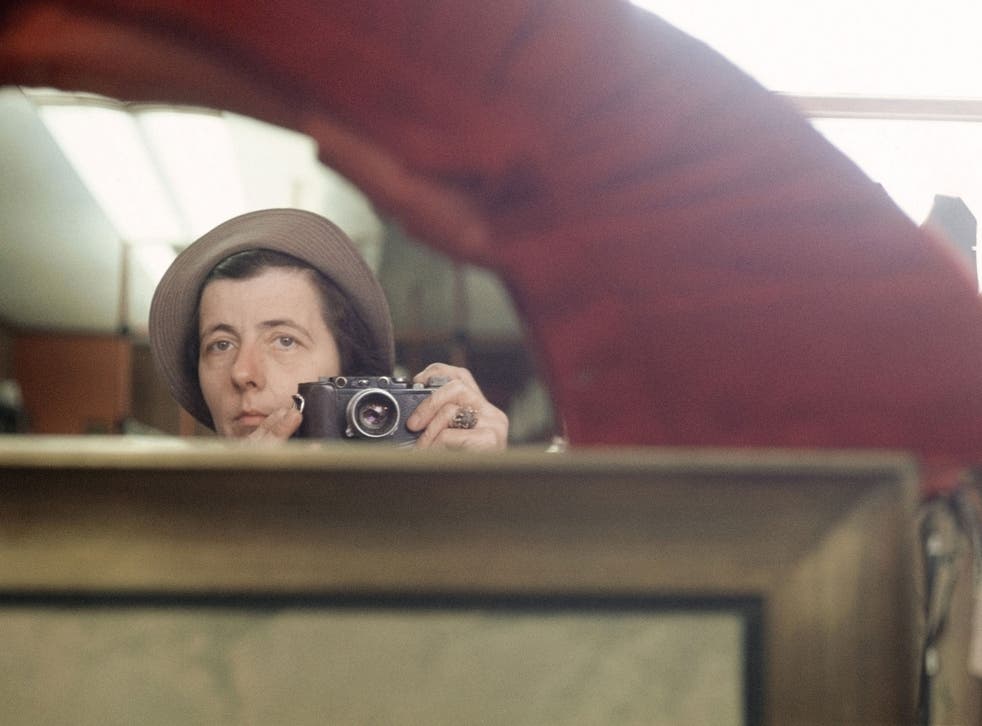 She was known as "Mary Poppins with a camera", an American nanny who never saw the 150,000 extraordinary photographs she took during her very private lifetime in their full glory as prints.
Vivian Maier led a secretive double life as a street photographer, remaining unknown in her lifetime while chronicling the lives of those around her for four decades from the 1950s - mainly in Chicago, but also in New York, Los Angeles and France, where she spent much of her childhood.
Yet just as a documentary released this weekend brings new audiences to her pictures, it has also fuelled a row between the men whose accidental discovery of her work – one of the greatest photographic collections of the 20th century – led to Maier belatedly coming to the world's attention and garnering a posthumous reputation on a par with Henri Cartier-Bresson.
Finding Vivian Maier describes how one photographic collector, John Maloof, won an absentee bid for a box of undeveloped negatives at a Chicago auction in 2007. Until then, Maier, who died less than two years later aged 83, had kept her work hidden and in storage.
Two other local collectors, Ron Slattery and Randy Prow, also successfully bid for some of her possessions at the same time. These included boxes, suitcases and curios that Maier was forced to sell off in old age as she could no longer afford to keep her possessions stockpiled. Unknown to them, a treasure trove lay in wait.
Mr Slattery paid $250 at the auction for items that contained around 2,000 of Maier's prints. Just one now sells for $2,000 while vintage prints made during her lifetime go for up to $8,000 each, although he has said his collection is not for sale and that he may even start giving them away to "return them to the streets".
Mr Slattery described in a BBC Imagine documentary last year how he first published some of Maier's photographs on the internet in 2008, but to little acclaim. Around the same time Mr Maloof began selling on eBay some of the works that he had acquired during the auction – and when an art professor got in touch to tell him how important the photographs were, became an avid collector. Interest in Maier's work had intensified after he linked his online archive to her obituary.
Mr Maloof now owns around 90 per cent of Maier's known work, which he has called the Maloof Collection. It consists of more than 100,000 negatives, 3,000 vintage prints and hundreds of rolls of film, audio tape interviews and home movies.
While Mr Maloof's documentary has received rave reviews, however, it features neither Mr Slattery nor Mr Prow. This has left Mr Maloof has facing accusations of airbrushing them out of Maier's fascinating story – and, after Mr Maloof also refused to appear in the BBC programme on Maier last year because it clashed with his own movie, glorifying his own role as sole 'finder'.
Academic Pamela Bannos, who is attempting to gain full access to Maier's complete collection to assess her work but has been frustrated, said: "Unlike the BBC production, I don't consider Finding Vivian Maier a documentary film about Maier at all. It is a film about Maloof and his quest to 'find' this woman – he films himself talking about his experiences and even shows himself setting up his cameras while he lays out her possessions.
"The way he handled this very private woman's belongings made me feel very uncomfortable. I think that he has successfully made Vivian Maier into a cult figure and fetishizing her objects follows this model. On one hand, this explains why he doesn't acknowledge other people; on the other hand, the broad release of his film sets up a one-sided version that establishes Maier's story for those who don't know there is actually so much more to the posthumous phenomenon."
Meanwhile the author Malcolm Jones has written of the film: "Why does Maloof present himself as the sole discoverer of Maier's work?" He said: "This is a major part of the story because it revolves around who owns what, who decides which of Maier's images the public will see and in what form, who stands to profit, and ultimately who gets to tell and define her story."
For his part, Mr Slattery said he found the attention given to Maier's discovery a "distraction" that was "kind of amusing".
"I helped in many ways that will not be acknowledged," he told The Independent. "If John Maloof or other promoters want to be the heroes of the story, let it be as such. I have a very large collection of her work and am happy to own it. The real hero is the photographer Vivian Maier. She had the gift. She caught moments of time with her camera and in her darkroom. The general public has seen a very small percentage of her work. I've seen a lot more than most. Let me tell you, it's amazing. There are better images to come.
"I really don't care who decides to be the champion of her work because frankly it doesn't matter. Vivian Maier matters. We are in an age where the curators want to be stars, and often become via storytelling, but the bottom line is, it's the artist who is the shining light. Vivian Maier is that light."
Art collector Jeffrey Goldstein bought Mr Prow's collection in 2010 but also does not feature in Finding Vivian Maier.
Mr Maloof did not respond to emails last night, but in a recent interview with American Photo, he said he was eventually going to develop all the negatives but could not currently afford to. He said: "We're just hoping that we get to show the film to as many people as possible."
When the fuss over who takes credit for her discovery dies down, however, one thing remains certain: no matter how many films are made about Vivian Maier, she will remain an enigma.
Register for free to continue reading
Registration is a free and easy way to support our truly independent journalism
By registering, you will also enjoy limited access to Premium articles, exclusive newsletters, commenting, and virtual events with our leading journalists
Already have an account? sign in
Register for free to continue reading
Registration is a free and easy way to support our truly independent journalism
By registering, you will also enjoy limited access to Premium articles, exclusive newsletters, commenting, and virtual events with our leading journalists
Already have an account? sign in
Join our new commenting forum
Join thought-provoking conversations, follow other Independent readers and see their replies