Royal Academy of Arts' Tim Marlow: Bronze statue of lovers embracing at St Pancras station is a lesson in 'how not to do' public art
Entitled One More Time, the clock is a working replica of the station's clock with the colours reversed – a black face with white hands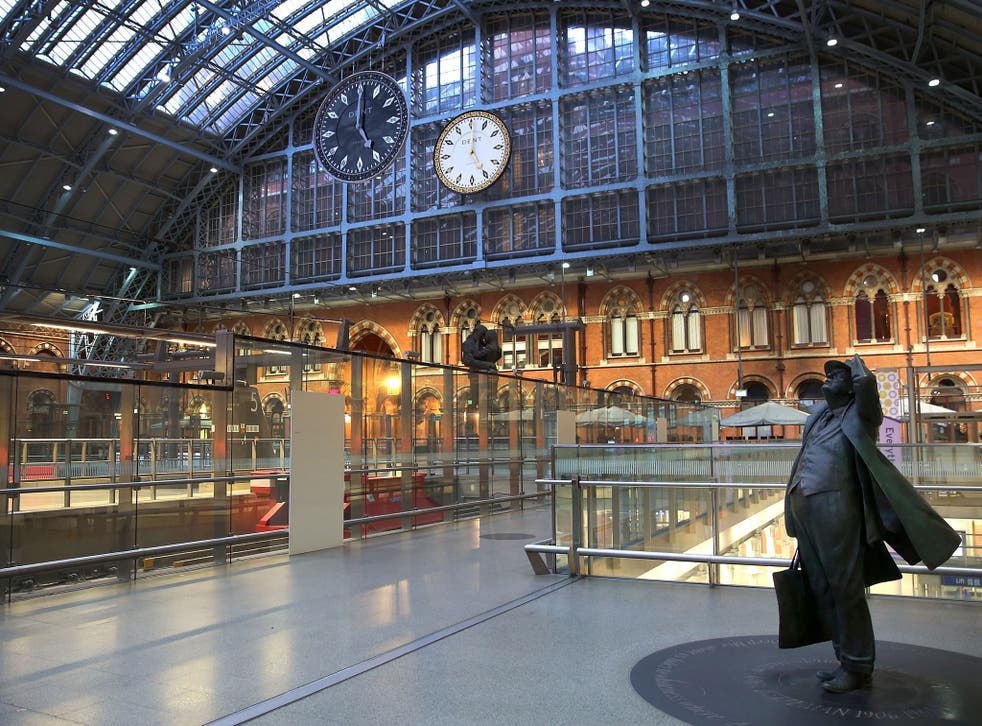 A 30ft bronze statue of lovers embracing at St Pancras International railway station is a lesson in "how not to do" public art, a senior Royal Academy of Arts figure has claimed.
Tim Marlow was speaking as he unveiled a new, temporary installation at the London Eurostar terminal – a clock which will hang above the controversial lovers statue.
"Good public sculpture should seem effortless," Mr Marlow said. "What you have here are two object lessons: one in how to do it, and the other how not to do it."
The clock unveiled by Mr Marlow, the director of artistic programmes at the RA, will be in place for six months. Created by artist Cornelia Parker, and entitled One More Time, it is a working replica of the station's clock with the colours reversed – a black face with white hands.
Mr Marlow described the nearby lovers statue, The Meeting Place, as "terrible".
"How not to do it – and with respect to the artist it's a bad commission – is the sculpture of the two lovers," he said. "It's a terrible, schmaltzy, sentimental piece of kitsch."
The statue has faced brickbats ever since it was unveiled in 2007 following a major renovation of the station.
Writer Will Self described it as "crappily kitsch" while Turner Prize-winning artist Jeremy Deller called it "barely a work of art". And another critic recently called the statue "fatuous" adding it was "idiotic in scale, devoid of artistic life" and called for it to be melted down.
But the artist responsible, Paul Day, has consistently defended the piece, saying it evokes the romance of travel. He says he regularly receives messages from the public praising the piece.
The new artwork, by Parker who was shortlisted for the Turner Prize in 1997, is a working replica of the station's clock, and sits just feet in front of its inspiration. "I think the piece above it has the subtlety and complexity of good art.
"What Cornelia has done is amazingly simple on one level: the shadow side of time, a clock in reverse, the mirror image," Mr Marlow said. "The effect of it is beautiful. It makes you think of all sorts of things: time being synced, being eclipsed."
The second clock is suspended from the Grade I-listed roof, and needed permission from English Heritage to be installed. It will remain there until November.
Parker, who needed to go through passport control every day during the installation, took inspiration from the original clock, as well as the Olympic rings that were hung from the same spot in 2012 during the London Games.
The work was made by Dent London Clocks, which made the existing St Pancras clock and also made the Great Clock in the Elizabeth Tower, commonly known as Big Ben.
The station also boasts a bronze statue of the former Poet Laureate Sir John Betjeman, by Martin Jennings.
Join our new commenting forum
Join thought-provoking conversations, follow other Independent readers and see their replies