Russian artist who nailed genitals to Red Square could face three years in jail amid FSB fire allegations
Controversial performance artist may face criminal charges for his latest work, Threat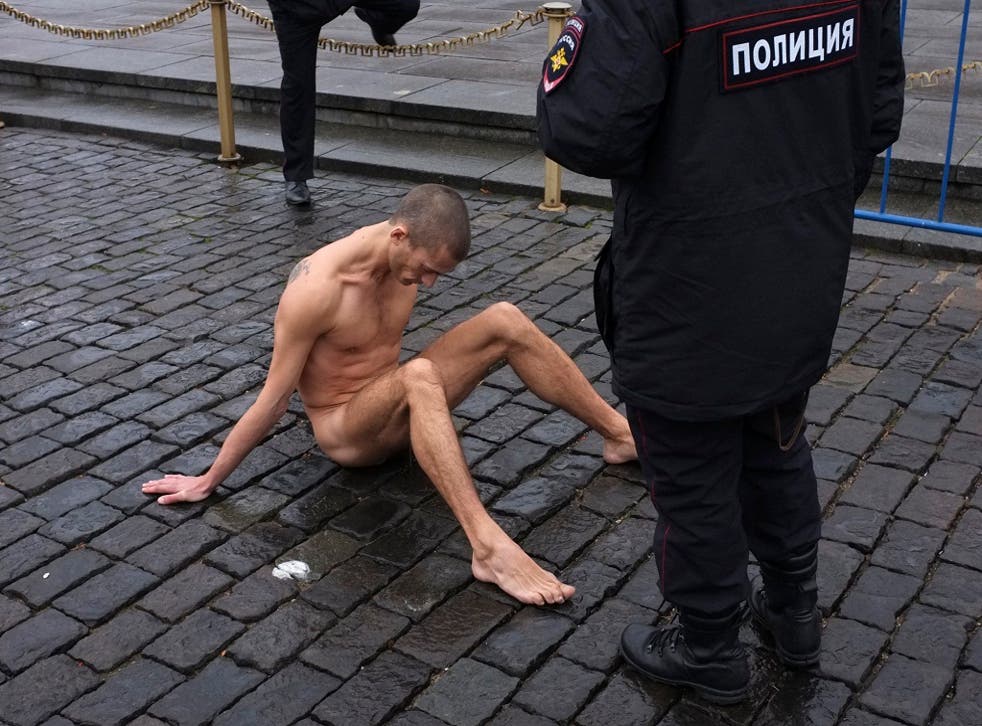 A Russian artist who achieved worldwide fame when he nailed his genitals to the pavement of Moscow's Red Square two years ago has been jailed for 30 days pending a trial for allegedly setting fire to the FSB security service.
Pyrotr Pavlensky, 31, has been ordered by a Moscow court to be detained until 8 December after prosecutors warned he could flee the country, compromise witnesses or reoffend, according to reports in Russian newspapers.
The artist is alleged to have set fire to the doors of the Federal Security Service of the Russian Federation (FSB) in the early hours of Monday for a piece of performance art titled Threat.
It is suggested that he poured petrol on the wooden front doors of the security service and set it alight before standing next to the artwork until policeman arrived.
If convicted on vandalism charges the artist faces up to three years in prison.
His lawyer Olga Chavdar had asked for the artist to be placed under house arrest with bail of 1m roubles (£10,000) but this was declined.
Pavlensky gained considerable media attention in November 2013 when he nailed his scrotum to the pavement outside the Lenin Mausoleum in protest at the "police state" in his country.
After sitting for an hour and a half with a nail through his testicles the artist was arrested and spent 15 days in custody.
Banned, censored and 'offensive' artworks

Show all 8
He has previously gained attention by wrapping barbed wire around his naked body outside St Petersburg's parliament in protest at the country's "repressive legal system".
For a stunt in 2012 in support of the then jailed Pussy Riot protestors he sewed his lips together and stood outside Petersburg's Kazan Cathedral.
Join our new commenting forum
Join thought-provoking conversations, follow other Independent readers and see their replies