Secret postcards get the first-class stamp: Britain's top artists contribute to the Royal College of Art's annual sale
Buyers queue in their hundreds for the chance of a bargain Grayson Perry, Paula Rego or Jeremy Deller that are among the 2,900 postcards exhibited anonymously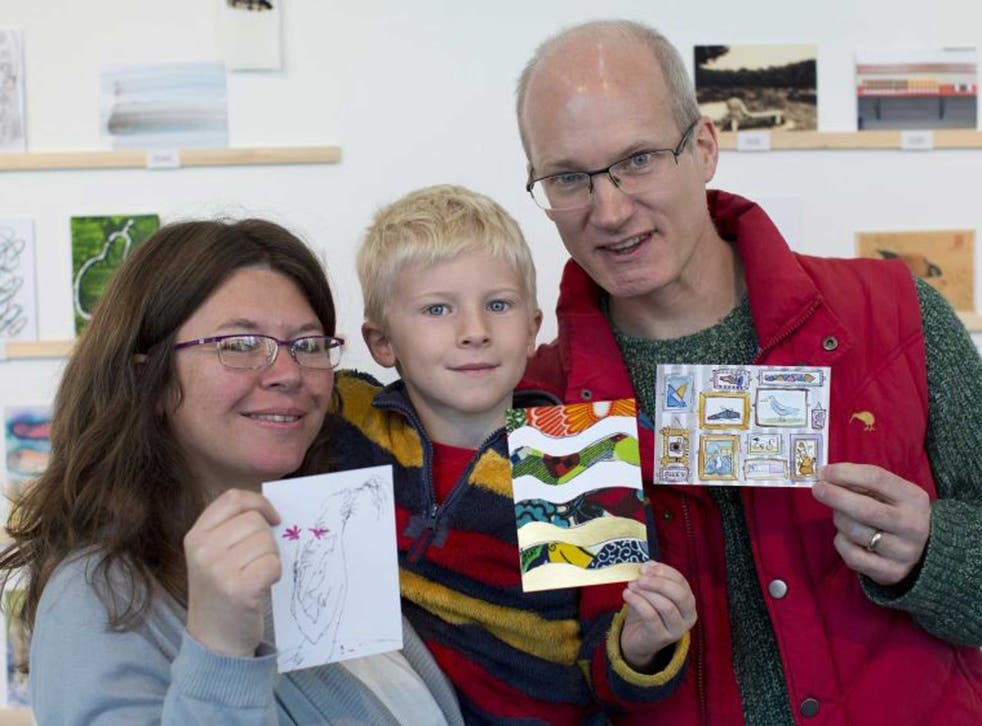 It is said attention seekers will turn up at the opening of an envelope to further their own promotion, but it takes an extra special kind of discernment to queue three nights in the open air for a postcard.
Not any postcard it should be said, more a postcard-sized work of art from artists ranging from Grayson Perry, Paula Rego and Jeremy Deller to photographer David Bailey, architect Zaha Hadid and fashion designers Sir Paul Smith and Christopher Bailey. Hundreds of art lovers queued up outside the Royal College of Arts for a chance of buying an art bargain among the 2,900 postcards by 1,124 artists exhibited anonymously.
Each postcard is signed on the back, so collectors don't know the identity of the artist until they've handed over their cash. Each year, the Royal College of Art asks professional artists and designers, as well as up-and-coming art students and graduates, to make and donate a piece of work. Artists may choose to paint, draw, sketch or even produce a 3D sculpture as long as it's the size of a postcard.
Works by musician Jarvis Cocker, inventor Sir James Dyson and the late Tony Benn are also exhibited as well as many by current postgraduate students.
As the two-week exhibition came to an end yesterday, organiser Wilhelmina Bunn said: "It's first‑come-first served for visitors, but we run a raffle for the first 50 places in the queue. We sell about 3,000 raffle tickets, and then about 2,000 people queue throughout the day. All postcards are £50, and most people will buy four, which is the limit." The predicted take of £100,000 goes to bursaries for fine art students.
The postcards are vary massively, ranging from London skylines, to caricatures of famous faces via still lifes. Unusual pieces include some with written messages. One postcard had the message: "It is a pity that we have to do this to enable those on a low income to attend University." It was later revealed to be by Turner prize-winner Jeremy Dellar.
Despite the potential to cash in, said Ms Bunn, most cards are kept. She explained: "People do not usually have the opportunity to buy a work of this calibre."
Chris Johns, 57, an art lover from near Abergavenny, South Wales agreed. "For me it's about choosing what you like," he said. "If they are of high value, all the better." Mr Johns was number nine in the queue outside, and was among a select bunch of enthusiasts who come from far and wide to arrive early each year and sleep in the 30 or so tents erected at the RCA entrance.
He left home in Wales with a friend at 5.30am on Wednesday, but said this is nothing special. "I know people who've spent a fortnight here in previous years."
First in the queue this time was a gentleman who flew in from Ireland to spend a week in the queue. Mr Johns said: "There's a great camaraderie – and competition. An unwritten rule of the queue is that you do sleep in the tent."
Register for free to continue reading
Registration is a free and easy way to support our truly independent journalism
By registering, you will also enjoy limited access to Premium articles, exclusive newsletters, commenting, and virtual events with our leading journalists
Already have an account? sign in
Register for free to continue reading
Registration is a free and easy way to support our truly independent journalism
By registering, you will also enjoy limited access to Premium articles, exclusive newsletters, commenting, and virtual events with our leading journalists
Already have an account? sign in
Join our new commenting forum
Join thought-provoking conversations, follow other Independent readers and see their replies