Shepard Fairey dismisses Detroit warrant for his arrest as 'hilarious'
Exclusive: Infamous street artist, who could face up to five years in jail, dismisses police bid to catch him
Matilda Battersby
Friday 26 June 2015 17:13 Comments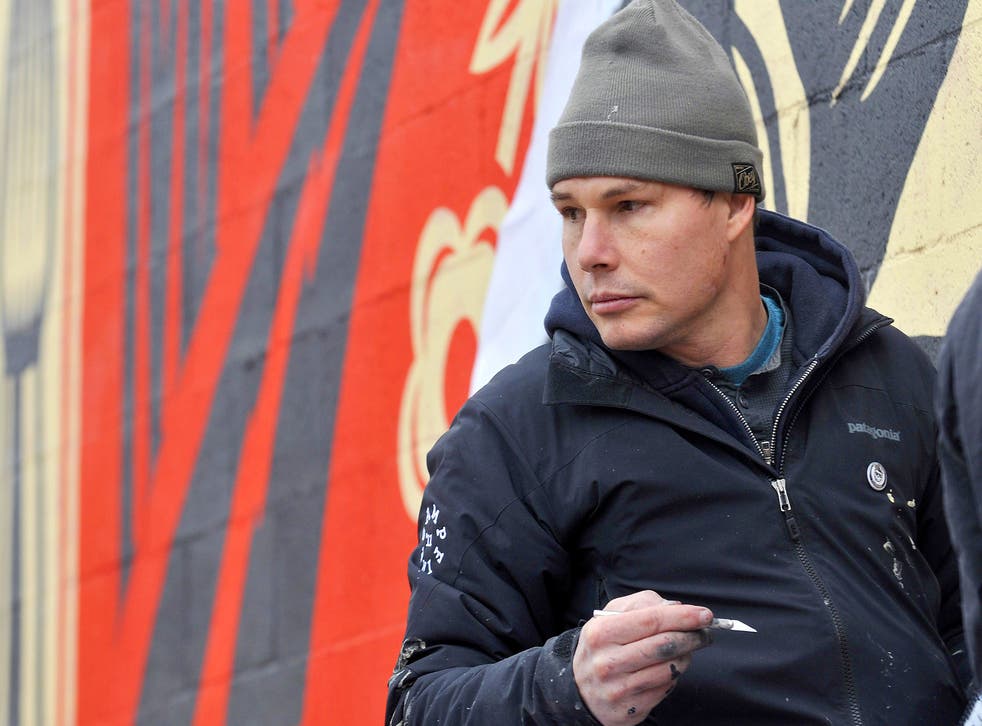 World famous street artist Shepard Fairey - the man whose "Hope" poster massively boosted Obama's 2008 presidential campaign – has described an attempt to arrest him by Detroit police as "hilarious" after he was commissioned to do a mural in the city.
Last night authorities issued an arrest warrant for Fairey, 45, on graffiti charges with Police Sergeant Rebecca McKay issuing a statement warning: "Just because he's a well-known artist does not take away from the fact that he is also a vandal."
Fairey, who is currently in Spain finishing his biggest exhibition to date at CAC Málaga, was invited to Detroit last month to create the city's largest mural spanning 18 storeys. While he was there Fairey worked with the Library Street Collective on a number of unsolicited projects and installations which prompted the legal action.
He has been arrested 17 times in his 20 year career as an urban artist but says he doesn't know what to expect from the Detroit warrant. "Sometimes it's a day or two in jail. Normally the charges get downgraded. Most of the arrests aren't for serious stuff," he said.
"In some cities, Boston and from what I understand Detroit, it's a higher level charge, or they're trying to change it so it will be."
Detroit police are reportedly upset about a series of nine works featuring Fairey's signature Andre and Giant picture – one of which appeared on a water tower.
He is accused of causing around $9,100 in damages and the charges he is facing carry a maximum prison term of five years and fines of more than $10,000.
Police have asked the artist to turn himself in and say they will arrest Fairey if he ever returns to Detroit. But he has called the charges "hilarious", comparing it to the time he got arrested arriving at a major exhibition of his work in Boston and charged with 32 felonies.
Fairey, who uses printmaking to produce designs on paper and then pastes them in the street, reportedly told The Detroit Free Press that he planned to vandalise some other buildings during his stay.
But the artist, who works in LA mostly, told The Independent he's unsure of how to proceed regarding the Detroit charges and says he plans to think more about it once his new exhibition opens.
"Sometimes when I've been arrested I've pretended not to be me, but a disciple of me, as it were. This is because at some point I realised that some people in the police force, if they realise you're a bigger fish, then they want a bigger notch on their belt," he said.
In 2012 Fairey was sentenced to two years of probation and 300 hours of community service after he destroyed evidence and created fake documents in a lawsuit against the Associated Press, which accused him of copyright infringement over the picture of Obama he used for his "Hope" poster.
Shepard Fairey: Your Eyes Here, The CAC Málaga, 26 June to 27 September 2015, www.OBEYGIANT.com
Register for free to continue reading
Registration is a free and easy way to support our truly independent journalism
By registering, you will also enjoy limited access to Premium articles, exclusive newsletters, commenting, and virtual events with our leading journalists
Already have an account? sign in
Join our new commenting forum
Join thought-provoking conversations, follow other Independent readers and see their replies