Singular painter springs one last surprise
Eccentric artist who kept embalmed tramp at home seemed to be penniless. Now the 240 claimants on his estate have £6.5m to share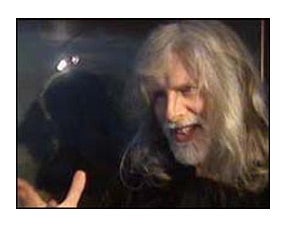 When the artist Robert Lenkiewicz died in 2002, it was thought that all he had left behind was £12 in cash, vast debts and the remains of an embalmed tramp he kept in a cupboard. Despite completing up to 10,000 paintings, the notorious Plymouth artist was proud of having no bank account and believed he would die insolvent.
Until recently it seemed his predictions had come true, which would have been simple and, perhaps, in keeping with his eccentric life. But now after seven years of trawling through his affairs, the executors of Lenkiewicz's estate have discovered that far from leaving a mountain of debt, his remaining belongings are worth £6.5m.
Unravelling his legacy has proved complicated: Lenkiewicz never paid tax or kept any records of the sales of his paintings, which he stored at locations all over the country. He was also priapic, fathering 11 children and leaving some 240 claimants to emerge from the woodwork when he died of a heart attack aged 60.
Then there was the matter of the preserved vagrant. Alcoholics and the homeless were often the focus of Lenkiewicz's work, but few would have guessed that he had one pickled and kept in a cupboard for 18 years.
Lenkiewicz painted Edwin MacKenzie – whom he named Diogenes – after finding him living in a concrete barrel overlooking a local rubbish tip. When MacKenzie died from cancer in 1984 aged 72, the artist kept a promise to have him preserved as a "human paperweight". But the question of to whom the tramp's body belonged resulted in a drawn-out legal battle with the Plymouth coroner, eventually requiring Lenkiewicz's executor to dredge through case law from the Middle Ages.
The son of a Jewish refugee, Lenkiewicz was born in London but moved to Plymouth in 1964 where he spent the rest of his life painting the city's underclass. His work never received critical acclaim, but it continues to be popular.
The unexpected solvency of the artist's estate is largely thanks to the many works he left behind, which soared in value after he died and his notoriety grew.
The artist's estimated £1.7m debts have now been settled and the paintings will be donated to the Lenkiewicz Foundation, a trust set up to preserve his legacy, which is forming a permanent exhibition of his work.
As well as paintings, books and diaries the foundation is also expecting to receive Mr MacKenzie's body, and the skeleton of a woman executed for witchcraft in the 16th century.
Estate executor Peter Walmsley said he was relieved at the outcome. "I've seen a written record left by Robert saying that he thought it [his estate] was insolvent," he said, "but fortunately because of the way we staggered the sales, with values of the artwork increasing as time went on, we've been able to make the value of the assets exceed the liabilities."
Join our commenting forum
Join thought-provoking conversations, follow other Independent readers and see their replies