So long city of culture: Derry Turner Prize art gallery to be turned into office block
A campaign has been launched by senior figures to keep the gallery alive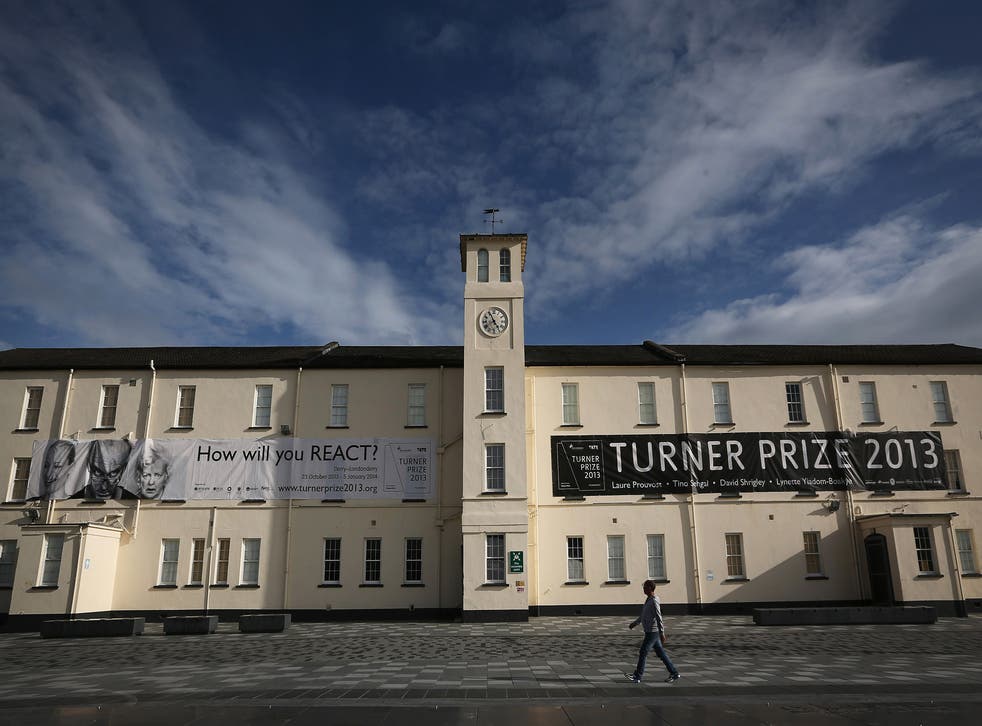 A group of senior cultural figures in Derry are battling to keep the site that hosted this year's Turner Prize "alive" as a gallery instead of being turned into offices.
The campaign is fronted by the Void Gallery, one of the city's most prominent art institutions, which called on supporters to congregate at Ebrington, the former military barracks turned gallery, on Sunday.
Maoliosa Boyle, manager of the Void, said: "It seems a real shame that after so much hard work and funding that it will not be kept on as a gallery space. It's essential for that part of town." The Turner Prize exhibition also closes on Sunday.
The campaign is supported by cultural heavyweights including Willie Doherty, one of Ireland's best known contemporary artists and Turner Prize judge Declan Long. "Ebrington was supposed to be a public space handed over to the people of Derry," Ms Boyle added.
Shortly before Christmas, Derry staged its Closing Gala concert, bringing the curtain down on its year as the first UK City of Culture.
One of the biggest events of the programme culminated several weeks earlier with the awarding of the Turner Prize to French-born artist Laure Prouvost.
Yet many fear that the legacy of a successful year of cultural programming could be tarnished if it is not supported beyond 2013.
The builders are expected to move in towards the end of January to dismantle the gallery and start work on turning the building into a "cultural hub".
The space at building 1881, which hosted the Turner Prize exhibition and is the focus of debate, is to become offices for digital companies. A spokeswoman for Ilex, which oversaw the regeneration of the square said: "The intention is and always was to make it a creative hub, not a gallery. This was approved even before Derry won the City of Culture title." She added that with a series of other buildings in the space, Ilex would welcome the possibility of bringing in a gallery in some form.
In a petition tabled by Void it wrote: "Our small city became huge in 2013 – let's not belittle ourselves in 2014. We built something beautiful during city of culture, let's not rip the heart out of the spirit of 2013."
Ms Boyle said: "It really should be kept on as a gallery space. There have been so many visitors to it, it now has a natural association as a gallery space."
It has changed the old associations that were tied to the military barracks. "That is gone, and it now gives people a reason to cross the Peace Bridge," Ms Boyle said. "That entire square has a new life now."
Register for free to continue reading
Registration is a free and easy way to support our truly independent journalism
By registering, you will also enjoy limited access to Premium articles, exclusive newsletters, commenting, and virtual events with our leading journalists
Already have an account? sign in
Register for free to continue reading
Registration is a free and easy way to support our truly independent journalism
By registering, you will also enjoy limited access to Premium articles, exclusive newsletters, commenting, and virtual events with our leading journalists
Already have an account? sign in
Join our new commenting forum
Join thought-provoking conversations, follow other Independent readers and see their replies