Stolen Instagram photo sells for $90,000
Artist Richard Prince's latest exhibition has made hundreds of thousands of dollars but the photographers whose images he took will receive nothing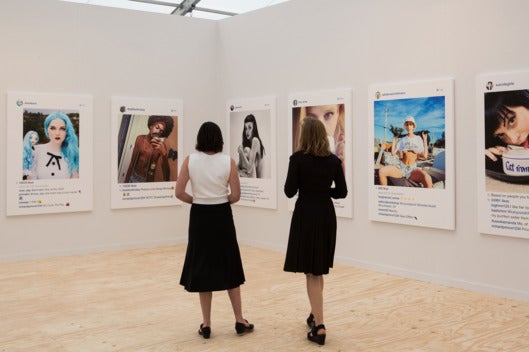 An Instagram user whose photograph was reproduced without permission by controversial artist Richard Prince and subsequently sold for more than $90,000 has said she's not going to "go after him" for a share of the money.
Prince, 65, whose New Portraits exhibition consisting of 37 screenshots of Instagram photos sold out at New York Frieze last week, is known for appropriating found images and treads a fine line between copyright infringement and art.
"I don't see any difference now between what I collect and what I make," Prince has said.
He came under fire when his Instagram screenshots were first exhibited last year at the Gagosian gallery in New York, not just because the images were "borrowed", but because most of them featured beautiful women in compromising poses including porn stars and a candid selfie in the gynaecologist's office.
"I'm not gonna go after him," Doe Deere, one of the women whose photographs Prince used, wrote in a recent Instagram post.
The blue-haired founder and CEO of cosmetics company Lime Crime also shared the original photo, explaining that the doll in the picture was made by her friend the artist Joshua David McKenney, who also wasn't credited in Prince's work.
"Richard Prince removed my original caption, before printing and displaying it (without my knowledge) in the Frieze Gallery. I wanted to put the focus back onto where it belongs: the beautiful, hand-crafted doll," Deere wrote.
Prince successfully side-steps copyright laws by removing the captions on Instagram photographs he has replicated, replacing them with his own.
He began using found images long before the internet gave him the opportunity to scroll through thousands of selfies.
During the 1970s and early 1980s began to re-photograph adverts in magazines, which he described as "social science fiction," cropping them, removing text, and grouping them by subject.
Richard Prince, Original exhibition
Show all 10
Prince was sued by another artist Patrick Cariou who said he had stolen his photographs. But the artist won an appeal against the litigation in 2013 and the case became just another footnote in the saga of copyright law versus freedom of expression.
The important collector and gallerist Larry Gagosian - at whose Frieze booth Prince's work was displayed – is a big champion of the artist and another exhibition of his, Original, is currently on display at his Manhattan gallery until 20 June.
Join our commenting forum
Join thought-provoking conversations, follow other Independent readers and see their replies