Tate Modern takes new Henri Matisse Cut-Outs show to big screen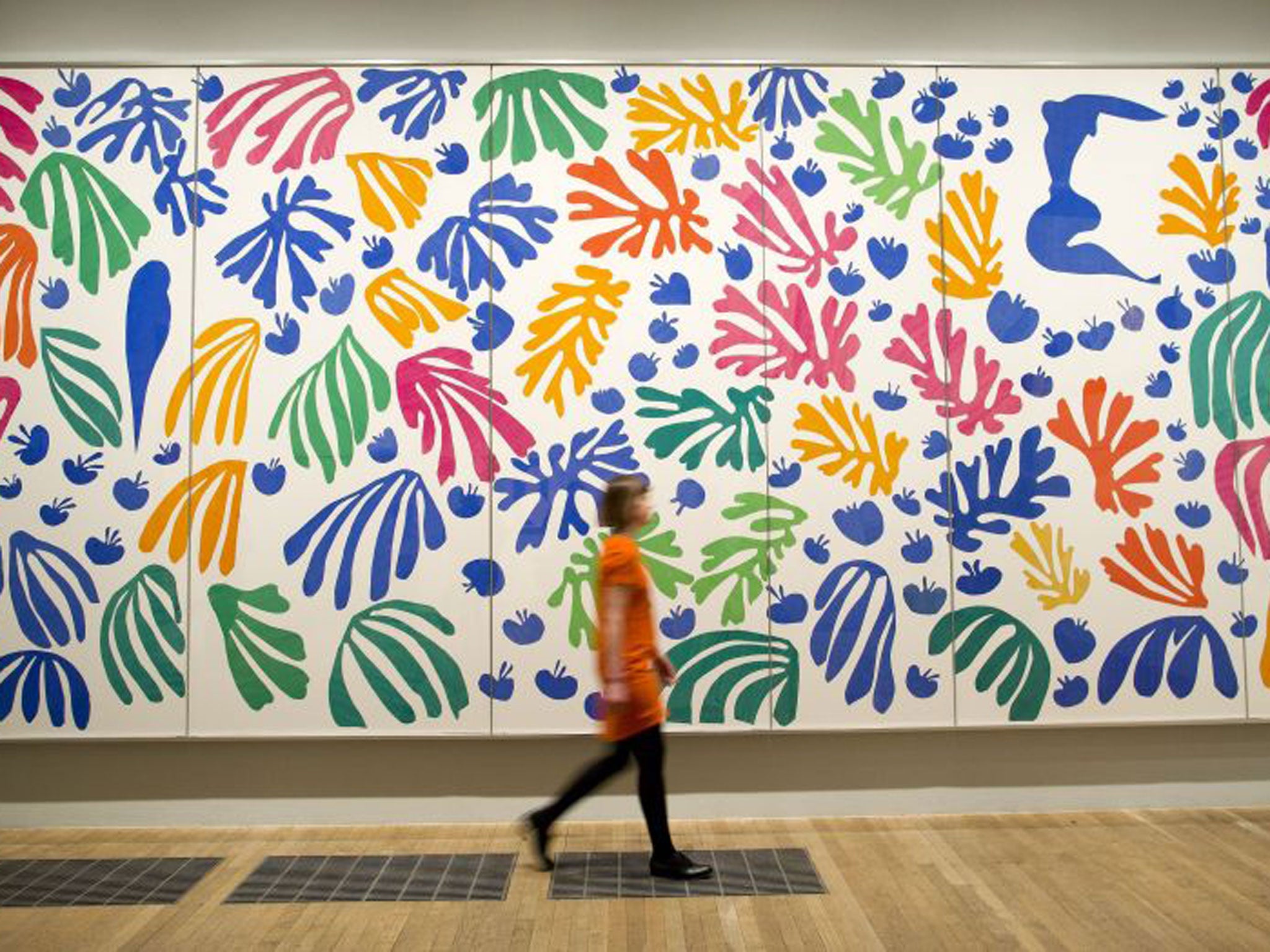 You've visited the exhibition, bought the catalogue – now see the movie. Tate Modern's Henri Matisse Cut-Outs exhibition will be broadcast live to cinemas across Britain in a first for the world's most visited museum of contemporary art.
Live cinema broadcasts of performances have already proved hugely popular, and delivered additional revenue, for the National Theatre and Royal Opera House.
Now Tate Modern's landmark exhibition of late works by Henri Matisse, which reunites the four famous Blue Nudes in Britain for the first time, will be given the big-screen treatment in a live, HD film, broadcast to 200 cinemas, on 3 June.
Nicolas Serota, Tate Director and the exhibition's co-curator, will present Matisse Live, alongside BBC arts journalist Francine Stock.
Asked if a film was no substitute for experiencing the works of a master artist in the flesh, Mr Serota said: "The film will give a sense of the quality and range of the works for people who can't get to the gallery. We'll also be able to give additional insight into Matisse's techniques and offer more contextualisation. It's a different experience but I think it's a valuable one."
Henri Matisse: The Cut-Outs
Show all 10
The highlight of the show will be The Blue Nudes, silhouettes of a seated female figure, cut from coloured paper using scissors. They have been shown together only a handful of times since they were made in 1952, two years before Matisse's death at the age of 84. The glue and paper cut-outs are too fragile to travel on a regular basis.
Sophie Matisse, the artist's great-granddaughter, who viewed a preview of exhibition, which gathers 130 works, said: "Matisse appeals to a six-month baby or a 110-year-old man and everyone between, above and beyond. His work is so accessible. You don't need a special kind of education or to speak a certain language."
The cut-outs are inspirational, since they demonstrate that age is no barrier to artistic innovation, Mrs Matisse said. When ill health prevented Matisse from painting, he began to cut painted paper with scissor to make maquettes for commissions, using books and stained glass window designs as source material.
Mr Serota said: "They have an apparent simplicity which is unbelievably engaging but they are hugely sophisticated. When you see them altogether, the skill and sheer exuberance of the material is apparent. People sometimes say these could be done by a child but it's only an old man that has this incredible freedom of mind."
Nicholas Cullinan, the exhibition's co-curator, said: "Most artists develop a late style but Matisse instead invented a new medium. The cut-outs are a dazzling final chapter and the crowning achievement of an already extraordinary career."
Mr Serota is confident that the cut-outs, a collection he has been chasing since he was director of the Whitechapel Gallery 30 years ago, will surpass the blockbuster success of Tate Modern's Matisse/Picasso show of 2002, which brought together masterpieces from the two giants of modern art. The cut-outs exhibition will travel to New York's Museum of Modern Art in October.
"It couldn't be just another retro show after Matisse/Picasso," Mr Serota said. "This had to be a show of great depth. It struck me as a good idea back in the 80s. For many people the Cut-Outs will be the most evocative and beautiful show that London has seen."
Henri Matisse: The Cut-Outs opens on April 17, with tickets on sale for £18
Join our commenting forum
Join thought-provoking conversations, follow other Independent readers and see their replies