Turner Prize 2015: Radical architect collective has grand designs on prize with housing estate
Three women are also on the list and all four artists are unashamedly political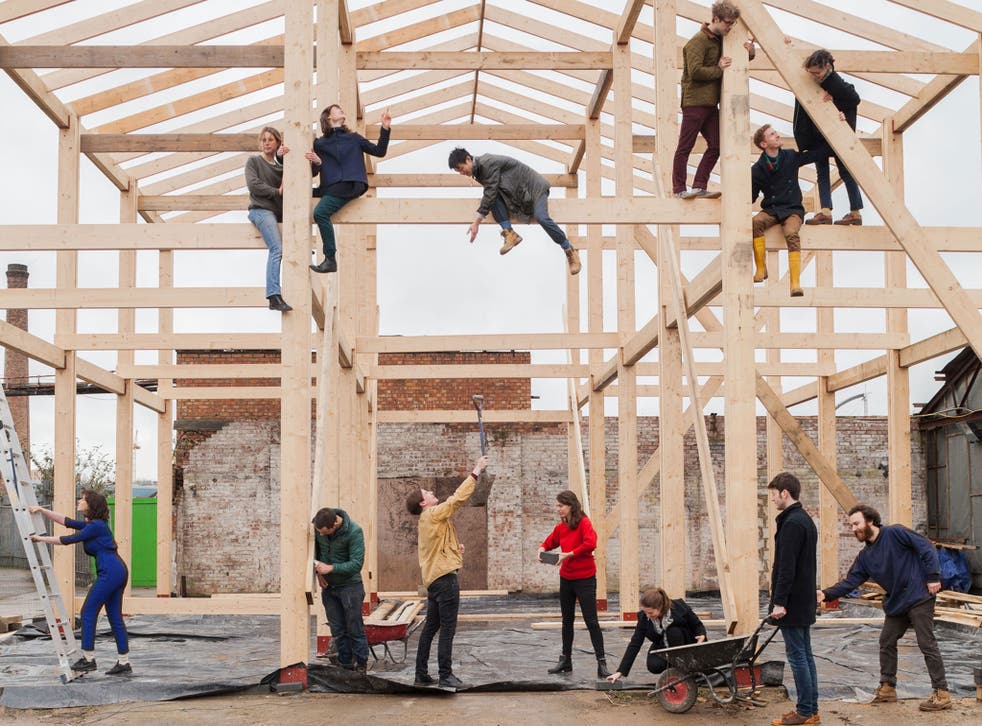 A collective of radical architects who revitalised a housing estate in Liverpool have grand designs on the Turner Prize after being shortlisted for the British art world's leading award.
Assemble, a London-based group of 18 young "activist architects", who seek to address the "disconnection between the public and the process by which places are made", are among the nominees on a list which the jurors said featured unashamedly political artists.
Candidates for the £20,000 prize, awarded in Scotland for the first time, include the first operatic nomination, for a sung work by Janice Kerbel which chronicles a "cycle of catastrophic events", a "critique of existing power structures" from Bonnie Camplin and Nicole Wermers' sculptures and collages which examine question of social class and consumption.
The most controversial nomination is for Assemble, a collective based in Bow, East London, born out of "collective frustration" at the way standard architecture practices often work.
Largely comprised of Cambridge graduates, the group embrace "direct action" and work with local communities to challenge the gentrification of housing stock by commercial developers.
Assemble were invited to work with residents at Granby Four Street, who formed a Community Land Trust to save 200 terraced homes condemned for demolition.
Assemble worked with artist Will Shannon to cast new fireplaces for each home using demolition waste from the construction process. Missing floors have been converted into lofty double-height spaces. Ten homes have been completed, with five reserved for Trust tenants.
Assemble, who also transformed a derelict petrol station in London into a hand-built cinema and turned a disused flyover in Hackney into a new public space, would be the first "collective" to win the Prize.
Penelope Curtis, Director, Tate Britain, said: "We had to wait for a group meeting to see if they would accept the nomination. They couldn't accept it unless they all did."
Jury member Alastair Hudson, Director of the Middlesbrough Institute of Modern Art, said: "In a world where everything can be art, why not have a housing estate?"
Asked whether Assemble's work should qualify as art, Mr Hudson said the age of the "singular genius" artist producing representational work was passing. "Assemble is in the best tradition of art, which is to change the way people live," he said, comparing the group to the German Bauhaus utopian craft guild of the 1920s.
Assemble joined a "very political list" of artists "trying to take part in the world." Camplin, a lecturer in fine art at Goldsmiths College, London presented "the Invented Life." Her work, The Military Industrial Complex, draws on "witchcraft, quantum theory and warfare" to examine anxieties categorised as "deviant."
The German-born Wermers was nominated for her Infrastruktur exhibition, which adopts the surface aesthetics and materials of luxury goods and furtniture to examine themes of lifestyle, class, consumption and control.
Kerbel's opera DOUG is a live composition written for unaccompanied voice in the form of nine songs for six voices. The protagonist Doug moves through a choreographed history of "imagined disaster translating 'accident' into musical form'."
The Turner Prize, set up in 1984 to celebrate new developments in contemporary art, with former winners including Steve McQueen and Damien Hirst, has been accused of retreating into obscurity and losing relevance in recent years.
Dr Curtis, who is leaving the Tate this year after a controversial reign, said: "The prize has become more serious, it's lost its sense of sensationalism. The quality of discussion about contemporary art has increased, its not about simplification."
Mr Hudson said the prize had moved on from art as an "entertainment model" where artists "represent something to get attention. We can have David Hockney and Grayson Perry but the world is changing too and artists are working in different ways."
An exhibition of works by the four shortlisted artists will run from October 1 to January 17 at the Tramway, Glasgow. The prize will be announced at a ceremony on December 7.
Register for free to continue reading
Registration is a free and easy way to support our truly independent journalism
By registering, you will also enjoy limited access to Premium articles, exclusive newsletters, commenting, and virtual events with our leading journalists
Already have an account? sign in
Register for free to continue reading
Registration is a free and easy way to support our truly independent journalism
By registering, you will also enjoy limited access to Premium articles, exclusive newsletters, commenting, and virtual events with our leading journalists
Already have an account? sign in
Join our new commenting forum
Join thought-provoking conversations, follow other Independent readers and see their replies