Turner-winning art bequeathed to the nation (well, sort of...)
Martin Creed donates 'The Lights Going On and Off' – minus the switch and bulb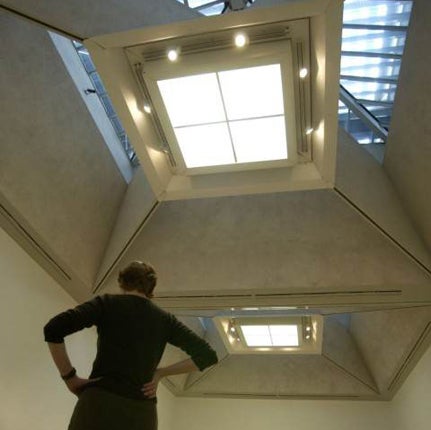 One of the most controversial works by a modern British artist, Martin Creed's Work No 227: The Lights Going On and Off, has been donated to the nation by its creator.
There was an outcry among traditionalists when the piece, which comprises an empty room being illuminated by a flickering bulb every few seconds, was awarded the Turner Prize in 2001. Mr Creed received the £20,000 prize cheque from the singer Madonna in a highly charged ceremony broadcast live on television that was interrupted by protests from members of the Stuckist movement opposing conceptual art. One artist pelted the exhibit with eggs while it was on display at Tate Britain.
Alhough some critics derided it, it has since gone on to be exhibited at some of the world's leading galleries including most recently the Museum of Modern Art in New York. The work, valued at £110,000, will be one of six or more donations by the Scottish artist to be added to the Artist Rooms collection – a pioneering initiative which brings great works of art to audiences around the country.
Speaking yesterday to The Independent Mr Creed, 40, said he was glad The Lights Going On and Off would be available to a wider audience. "Galleries don't have much money at the moment so it is a chance to give something to enable it to be seen," he said. "It is good for me when these are on public display rather than in private collections. I'm really happy to do it."
The donated piece is one of three editions of the work, created by the artist in 2000, which has remained in his private collection while the others were bought by collectors. However there is no actual physical content to it – not even a light and a switch. It comprises a "set of instructions" detailing how often the light should be turned on and off.
"It is like a piece of music. It is a set of instructions that needs the lights to go on and off. It could be done by hand – I don't mind how it is done," he said. The other donated works, worth more than £162,000 include a series of paintings, a neon installation, Work No 220: Don't Worry and one of his Sick Film videos featuring a model vomiting.
The Artist Rooms collection was purchased by The Art Fund and the National Heritage Memorial Fund for £26.5m in 2008 from London art dealer and collector Anthony d'Offay, making it the single biggest acquisition in recent history. Jointly owned by the Tate and the National Galleries of Scotland, the collection includes more than 700 works by some 20 artists, including Andy Warhol, Damien Hirst, Bruce Nauman and Gilbert & George.
It was worth more than £100m at the time of sale – making it one of the most generous gifts in recent memory. Since then rooms of artists' work have been shown in spaces across Britain bringing them to more than eight million people. Mr d'Offay described Mr Creed as a "fantastic and important figure".
The artist, whose other celebrated woks include a non-stop running relay through a gallery at Tate Britain, some Blu-tack pressed against a wall and a screwed-up ball of paper, said it was never his intention to enrage. "I don't know about the power to shock – that is to do with how other people feel. The Turner Prize was good for me because it was a big stage and a lot of people saw these works. I think it is important to keep it in perspective though the Turner Prize is only one show, admittedly a very big one."
Louisa Buck, contemporary art correspondent for The Art Newspaper, said The Lights Going On and Off had stood the test of time: "This is a classic art work. You have to see it in the context of Martin Creed's work because it is both utterly maximal and utterly minimal. It completely dominates the environment it is in with that most elusive of materials – light. It looks devastatingly simple to achieve but is actually an incredibly complex piece from an incredibly complex artist."
A spokeswoman for Tate and the National Galleries of Scotland said discussions were at an early stage and more details of where and when it would be exhibited would be announced shortly. This week it was announced that Mr Creed had been commissioned to re-produce Work No 409 in the Royal Festival Hall glass lift. Elevator journeys will be accompanied by scales in four-part harmony which rise and fall in pitch to echo the progression of the lift skywards or downwards.
Famous Turner works – where are they now?
Damien Hirst (1992)
Mother and Child, Divided was created by Hirst for an exhibition at the 1993 Venice Biennale and was subsequently the focal point of the 1995 Turner Prize at Tate Britain. The original is owned by the Astrup Fearnley Museum of Modern Art in Oslo, while the artist donated a 2007 exhibition copy to the Tate.
Rachel Whiteread (1993)
Whiteread became the first woman to win the Turner prize with House, a cast of the inside of a Victorian house that had been scheduled for demolition, which she exhibited at its original location in east London. Like many Turner entries it divided artistic opinion, with some branding it an outrage and others arguing that it should become a permanent fixture. "I was so physically and mentally exhausted I almost didn't notice [that I had won] the Turner prize," Whiteread said later. In 1994, not without irony, the Tower Hamlets council demolished the work.
Chris Ofili (1998)
The 30-year-old British painter famously made his name through paintings coated with elephant dung from London Zoo, which he dries in an airing cupboard before applying to his work. No Woman No Cry was inspired by the grief of the parents of Stephen Lawrence, and depicts a weeping black woman with the dead teenager's face in each tear. His works are now in display at Tate Britain and the Victoria Miro Gallery.
Tracey Emin (1999)
By displaying her bed in a public gallery, complete with unmade sheets and various pieces of bedroom debris – including empty bottles of alcohol, condoms and cigarette butts – Emin bore a normally intimate place to all and sundry. My Bed is probably the most notorious of all Turner nominees, although it has largely been forgotten that it didn't win the prize. Memorably, two performance artists called Yuan Chai and Jian Jun Xi stripped half naked and jumped on the bed, calling their stunt Two Naked Men Jump Into Tracey's Bed. The work was eventually bought for £150,000 by Charles Saatchi.
Richard Wright (2009)
Last year's winner was considered an outsider by many, but his "use of age-old fresco techniques to create luminous, quivering and ephemeral installation paintings" convinced the judges. Wright's work is on display at a number of galleries across the world, including the Tate and the Museum of Contemporary Art in San Diego. He won the prize for a huge golden fresco painted on the gallery's wall.
Join our commenting forum
Join thought-provoking conversations, follow other Independent readers and see their replies