Unknown portrait of Elizabeth I uncovered in house clearance acquired by National Portrait Gallery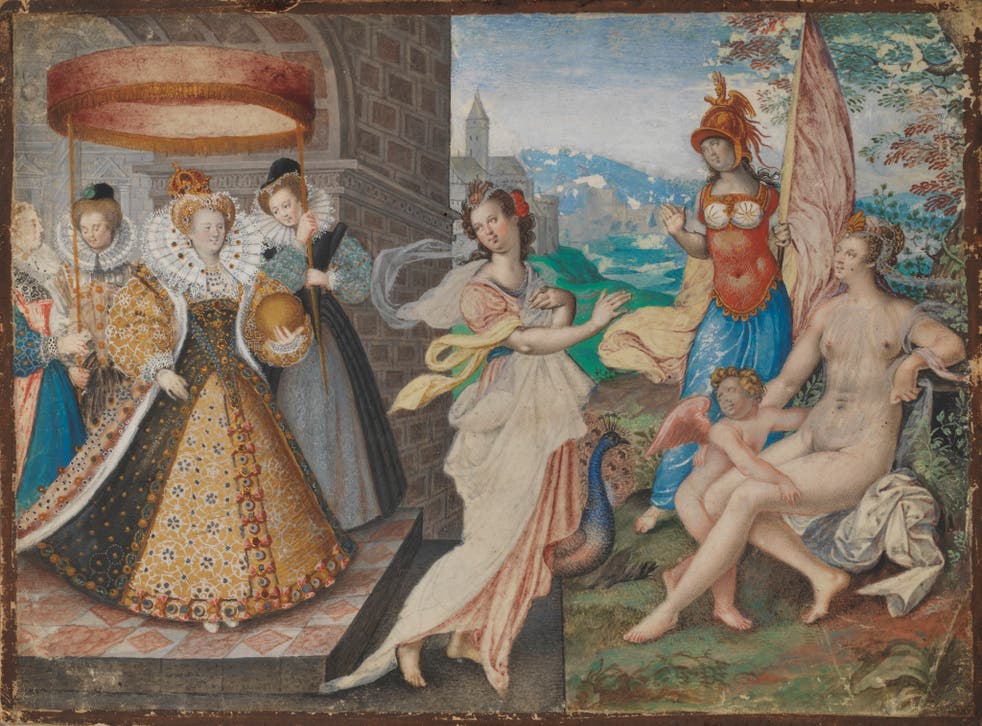 A previously unknown postcard-size painting of Elizabeth I which turned up in a house clearance sale has been attributed to famous miniaturist Isaac Oliver and acquired by the National Portrait Gallery.
The piece, which was bought by the NPG for £329,000 at auction last year, will be exhibited as part of a major show, Elizabeth I and Her People, from 10 October 2013.
The portrait is a reworking of the classical story of the Judgment of Paris upon the goddesses of marriage, war and love. The Queen is presented in the guise of Paris, representing both judge and winner, retaining for herself the prize of the golden apple.
Elizabeth is shown in a remarkable dress of cloth-of-gold, wearing a diamond necklace and a golden crown, and her wide ruff and jewelled headpiece suggest the fashions of the later 1580s or early 1590s, as seen in works such as the Woburn Abbey Armada Portrait.
While the picture is not signed, the highly accomplished technique and continental influence – particularly in the mannerist, twisted figure of Juno – suggests an attribution to Isaac Oliver according to the NPG's chief curator Dr Tarnya Cooper.
"Elizabeth's rounded face and small features are usual, but it is meant to be a flattering portrait, showing the Queen as perpetually youthful," says Dr Cooper. "It is difficult to speculate about who this cabinet miniature might have been produced for – the provenance provides us with no further clues – but the small scale and remarkably high quality of this work indicate that it would have been painted for a patron close to the court."
Register for free to continue reading
Registration is a free and easy way to support our truly independent journalism
By registering, you will also enjoy limited access to Premium articles, exclusive newsletters, commenting, and virtual events with our leading journalists
Already have an account? sign in
Register for free to continue reading
Registration is a free and easy way to support our truly independent journalism
By registering, you will also enjoy limited access to Premium articles, exclusive newsletters, commenting, and virtual events with our leading journalists
Already have an account? sign in
Join our new commenting forum
Join thought-provoking conversations, follow other Independent readers and see their replies