Van Gogh painting made during psychosis confirmed as genuine after years of doubt
Work was confirmed to have been completed by the Dutch master as he recovered at the Saint-Remy mental asylum after suffering a breakdown
Roisin O'Connor
Tuesday 21 January 2020 09:43 Comments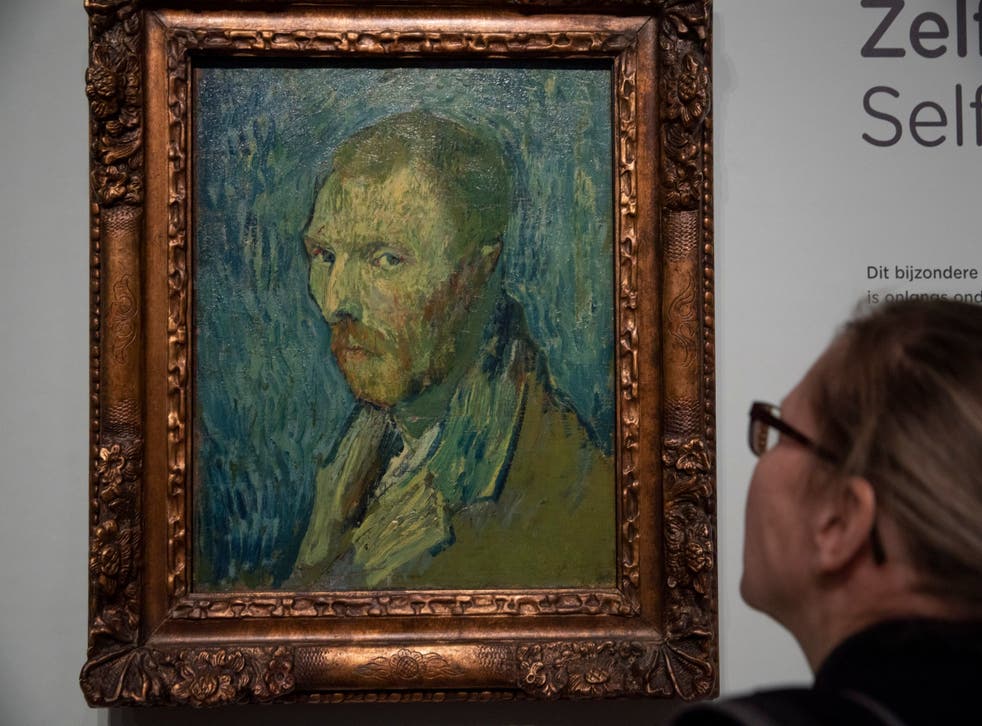 A work by Vincent van Gogh has been confirmed as genuine and was "made during psychosis", experts have said.
The painting, titled Self-Portrait (1889) was bought as a genuine Van Gogh in 1910 by Norway's National Museum, but doubts had surrounded its authenticity since 1970.
Those doubts have now been dispelled after researchers found that it was indeed painted by the Dutch master as he recovered at the Saint-Remy mental asylum following a nervous breakdown.
Louis van Tilborgh of the Van Gogh Museum said the oil-on-canvas painting of the anguished-looking painter was completed in the late summer of 1889, while Van Gogh was at the asylum in southern France.
The work is the only known painting Van Gogh made while he had psychosis. The image is dominated by a dreary greenish-brown tone, and shows the artist with a lifeless expression.
20 best Van Gogh paintings

Show all 20
It can be linked to a letter that the artist wrote to his brother Theo in September, about a self-portrait "attempt from when I was ill".
"It feels really reassuring to know that it's genuine," said Mai Britt Guleng of the Norwegian museum.
"When we delivered the painting in 2014 they warned us and said 'you might not like the results' and it might be that we will never find out. So we were very happy when we got the news."
"The Oslo self-portrait depicts someone who is mentally ill," the museum said. "His timid, sideways glance is easily recognisable and is often found in patients suffering from depression and psychosis."
Van Tilborgh, a senior researcher at the museum and professor of art history at the University of Amsterdam, told The Guardian that Van Gogh was frightened to admit he was in a similar state to other residents at the asylum.
"He probably painted this portrait to reconcile himself with what he saw in the mirror: a person he did not wish to be, yet was," he said.
"This is part of what makes the painting so remarkable and even therapeutic. It is the only work that Van Gogh is known for certain to have created while suffering from psychosis."
He said that, while the work is not one of Van Gogh's best, he had grown rather fond of it.
"[Van Gogh] says later on somewhere that his paintings were sometimes a cry of anguish. Well, this is a cry of anguish. It belongs to a small group of pictures that show something of his mental health problem and how he dealt with it, or tried to deal with it," he said.
The painting is on display at the Van Gogh Museum and will be part of a temporary exhibition, titled In the Picture, from 21 February.
It will then return to Oslo to be displayed as part of the Nasjonalmuseet's permanent collection in spring 2021.
Additional reporting by Associated Press
Register for free to continue reading
Registration is a free and easy way to support our truly independent journalism
By registering, you will also enjoy limited access to Premium articles, exclusive newsletters, commenting, and virtual events with our leading journalists
Already have an account? sign in
Join our new commenting forum
Join thought-provoking conversations, follow other Independent readers and see their replies