Vincent van Gogh letter expected to fetch $300,000 at auction
Wednesday 28 November 2012 15:21 Comments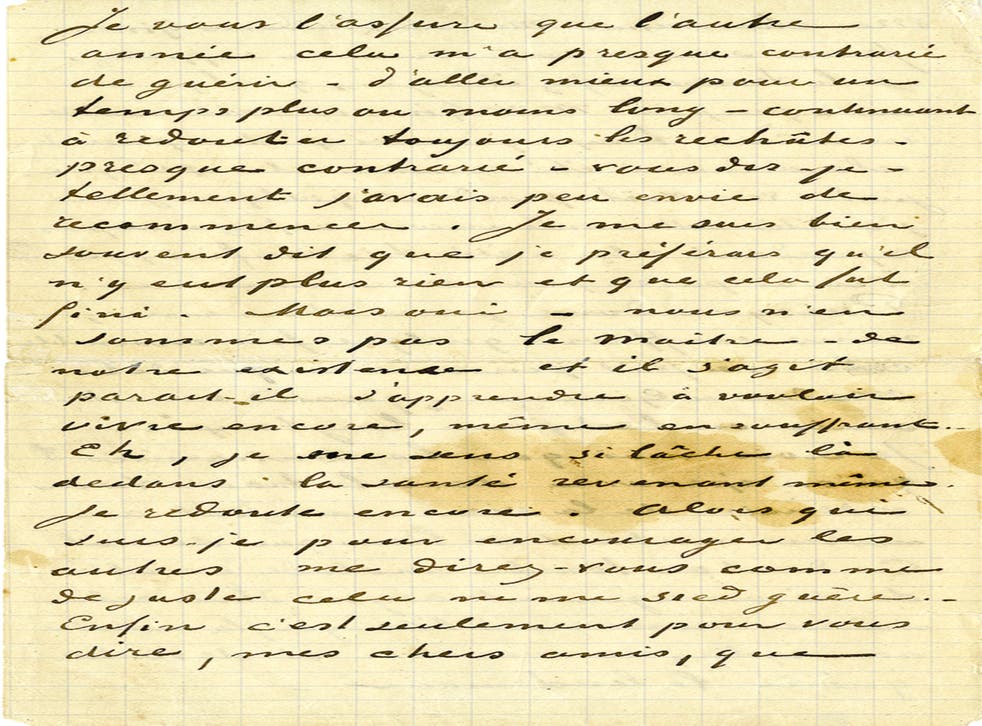 Rare letters written by Vincent van Gogh, John Lennon and other iconic figures are being offered at an upcoming auction of more than 300 historical documents in New York City.
The property of an anonymous American collector is being offered by Profiles in History in an online and phone auction on18 December.
Other luminaries whose papers will be sold include former President George Washington, baseball legend Lou Gehrig, Louis Pasteur, Sigmund Freud, Charles Darwin, Marie Curie, Giuseppe Verdi, Peter Tchaikovsky, Cole Porter, King Henry II and Napoleon I.
One top item is a signed van Gogh letter, written in 1890, to Joseph and Marie Ginoux, who were proprietors of the Cafe de la Gare in Arles, France, where the artist lived for a time.
The letter is estimated to bring $200,000 to $300,000.
A handwritten letter from John Lennon to Eric Clapton has a pre-sale estimate of $20,000 to $30,000.
Lennon writes candidly about his admiration for the great British guitarist and suggests forming a "'nucleus' group (Plastic Ono Band) . — and of course had YOU!!! In mind as soon as we decided." He writes that drummer Jim Kelnter, artist Klaus Voormann, pianist Nicky Hopkins and producer Phil Spector "all agreed so far" to join.
The December auction is the first of several sales that will be held over two years. The entire collection contains 3,000 items.
The collection will be exhibited Dec. 3-9 at Douglas Elliman's Madison Avenue art gallery.
AP
Register for free to continue reading
Registration is a free and easy way to support our truly independent journalism
By registering, you will also enjoy limited access to Premium articles, exclusive newsletters, commenting, and virtual events with our leading journalists
Already have an account? sign in
Register for free to continue reading
Registration is a free and easy way to support our truly independent journalism
By registering, you will also enjoy limited access to Premium articles, exclusive newsletters, commenting, and virtual events with our leading journalists
Already have an account? sign in
Join our new commenting forum
Join thought-provoking conversations, follow other Independent readers and see their replies