Whatever happened to the Turner Prize?
Critics have panned the shortlist for the award that once epitomised the best of British contemporary art and say it's had its day. Andrew Johnson reports
Sunday 30 November 2008 01:00 GMT
Comments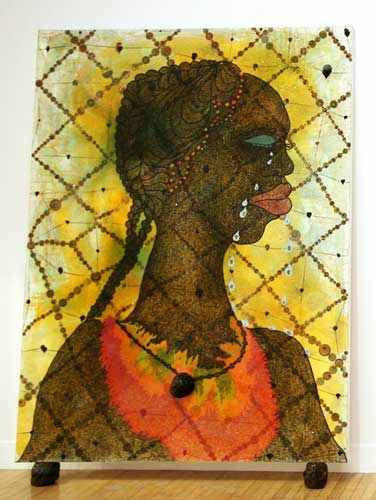 From Chris Ofili's elephant dung painting to Tracey Emin's infamous unmade bed, the Turner Prize has consistently provoked controversy and criticism. Until now.
Despite a shortlist featuring a film about broken crockery, a mannequin sitting on a lavatory, a photo collage and an installation featuring, among other things, Felix the Cat, this year's prize, the winner of which will be announced tomorrow, has raised barely a murmur.
Critics have panned it as the "worst on record" and likened the exhibition at London's Tate Britain to an "afternoon spent in a Heathrow departure lounge". The standard of work showcased is so bad that some claim the future of the Turner Prize itself, regarded as one of the world's most prestigious contemporary art awards, is in question. The veteran art critic Brian Sewell has demanded a place on the judging jury to shake up the prize, while others have called for it to be scrapped altogether.
David Lee, editor of The Jackdaw magazine, said the prize, first awarded in 1984, is "dead in the water".
"This is the first time I haven't been in 24 years, so that tells you something," he said. "I wasn't that impressed with the shortlist. It's scraping the bottom of the barrel. In any generation there are only a handful of artists that are any good. Once they've won it, what are you going to do?
"It's becoming an embarrassment. I'm just tired of the mediocrity that's presented to us as though it's the acme of accomplishment."
Brian Sewell was equally scathing, accusing Nicholas Serota, the director of the Tate who usually chairs the jury which chooses the winners, of trying too hard to be "cutting edge".
He said: "The prize is exhausted, so why keep it? They had all the top people in the first five years or so. That didn't work. So they turned it into a prize for British artists under 50.
"Nicholas Serota seems determined to find the new cutting edge, so judge and jury are chosen on the basis of the certainty that they will agree with who he thinks should be considered. Many of them don't see the exhibitions for which the artists have been nominated. It's a bit like British Leyland – you have to let it go when it doesn't work any more.
"They are so cowardly that they won't invite a juror who has to be convinced. They're all in agreement before they begin. Of course I would do it. It would be an opportunity to battle with Serota and his crew, to rock the boat at the Tate."
Not everyone thinks the prize has had its day. Mark Rappolt, editor of Art Review, praised this year's shortlist. "There's an expectation that it should be headline-grabbing," he said. "It's a really good spread of people who are interesting and consistent."
Sarah Thornton, author of Seven Days in the Art World, added: "The prize has become a benchmark of validation that distinguishes the British art scene.
"It's still an important platform for emerging artists, but whether they need to be under 50 is another matter. It might be interesting to throw in a year in which all the nominees were over 60. It might be worth playing with the rules to re-energise the prize."
And Matthew Collings, the broadcaster who has presented Channel 4's coverage of the Turner Prize, said: "It's always pretty ridiculous. As a society we accept the nonsense as part of cultural fun. The line-up this year is no more idiotic than usual."
A spokeswoman for the Tate added: "Its purpose has always been to promote discussion of contemporary British art. With more than 60,000 visitors to the 2008 exhibition since it opened two months ago, and thousands of responses left in our comments room, the public are as engaged as ever in the debate about the Turner Prize and contemporary art generally."
The 2008 Shortlist: Does anyone care?This year's contenders
Mark Leckey Critics' favourite Leckey, 44, from Birkenhead, is nominated for his exhibition 'Industrial Light and Magic'. He combines film, sculpture and performance – and Felix the Cat.
Runa Islam Born in Bangladesh but lives in London, Islam, 38, is nominated for 'Centre of Gravity'. She works in film; her show at the Tate shows women smashing crockery.
Cathy Wilkes Glasgow-based Wilkes was born in 1966 in Belfast. Her mannequin on a lavatory is perhaps this year's most famous image.
Goshka Macuga Polish-born Macuga, 41, uses works by other artists in her installations of 'found' objects, such as 'Different Sky (Rain)'.
Join our commenting forum
Join thought-provoking conversations, follow other Independent readers and see their replies