Whitney Museum of American Art opens doors of its new New York City home
Nine-storey building will house 22,000-piece collection
Andrew Buncombe
Wednesday 29 April 2015 20:32 Comments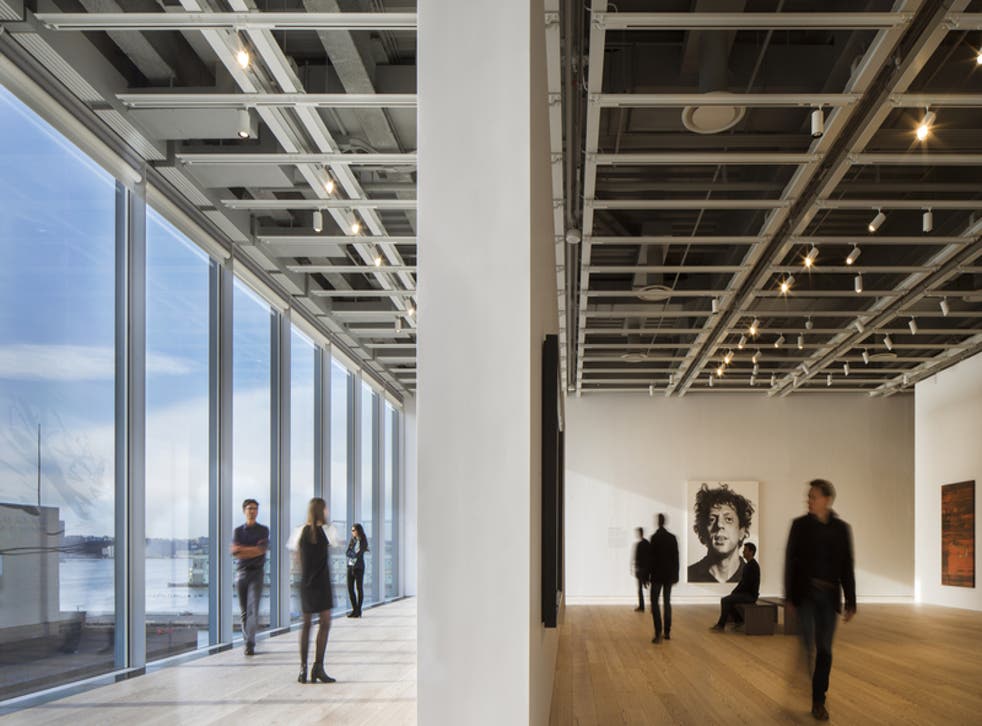 The museum that houses the world's most important collection of American art has shown off its new home – a $422m glass and steel construction with stunning views of New York City and the Hudson River.
There had been intense interest and buzz in the months and weeks before the Whitney Museum of American Art opened the doors to the nine-storey building that will house its permanent collection of 22,000 pieces.
The museum, better known simply as the Whitney, opens to the public on 1 May, but on Thursday it held a press preview and took the opportunity to present some of its old favourites in a new location as well as drawing attention to some works that had never before gone on display.
"To me, this building is about getting what you want," the architect, Renzo Piano, told a group of journalists about his 220,000-square-foot space.
The new building, which provides the museum with double the space it previously had at its old home on the city's Upper East Side, feels light, airy and graceful.
It also feels very spacious and the building has found room to include a a 170-seat cinema and an education centre, with state-of-the-art classrooms.
The museum, located in New York's Meatpacking District, next to the elevated High Line park, will open with "America is Hard to See", a 650-piece exhibition that takes its name from a Robert Frost poem and which features 400 artists dating from 1900 to the present. An estimated quarter have not been shown before, or else not for decades.
The works stretch from an oil painting, Noise Number 13, by the poet Edward Estlin Cummings, located on the eight floor, to Mark Rothko's 1958 work Four Darks in Red on the seventh floor and to Cory Arcangel's installation Super Mario Clouds.
Donna De Salvo, the museum's chief curator who worked closely with the architectural team, told the Associated Press, that the building and its design presented opportunities for "new narratives about how we think about American art".
"We didn't have adequate space in our prior facility to really fully take advantage of all the things we have to offer," she said.
The museum's director Adam Weinberg, said in a statement, that the museum would be a place for "discovery and risk-taking". He added: "We are creating an environment in which visitors will be encouraged to connect deeply with art through an irreplaceable first-hand experience."
The Whitney is one of four major art collections in New York, competing and contrasting with the Metropolitan Museum of Art, the Museum of Modern Art and the Solomon R Guggenheim Museum.
A sign on one of the lifts – presumably not part of an installation – said that it was safe to carry up to 410 people. The Whitney is clearly hoping a lot of people will come and visit its new home.
Register for free to continue reading
Registration is a free and easy way to support our truly independent journalism
By registering, you will also enjoy limited access to Premium articles, exclusive newsletters, commenting, and virtual events with our leading journalists
Already have an account? sign in
Join our new commenting forum
Join thought-provoking conversations, follow other Independent readers and see their replies