Worth more than its weight in gold – Alberto Giacometti sculpture could fetch £31m at Sotheby's auction
The artist conceived the work in 1954 and cast it the following year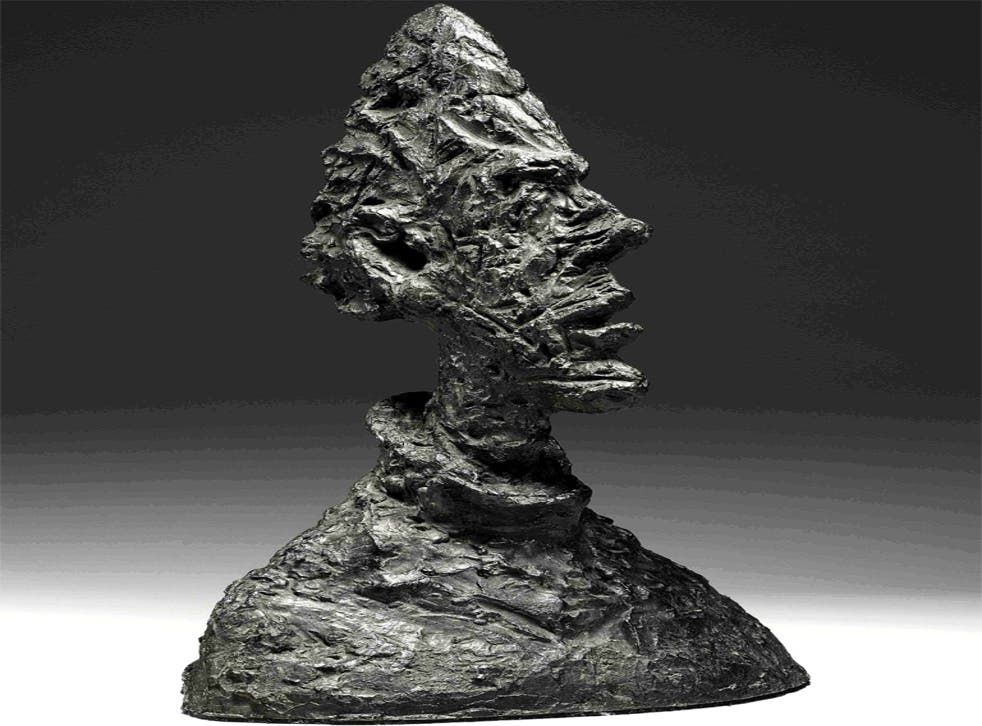 What price a 20lb lump of bronze? If it has been sculpted by Alberto Giacometti, one of the great 20th-century masters and holder of the record for the most expensive sculpture sold at public auction, an awful lot. More than its weight in gold, saffron or cocaine, in fact.
Giacometti's "radical" Grande tête mince (Grande tête de Diego) went up for sale at Sotheby's in New York tonight with a guide price of up to $50m (£31m) – close to the sum paid for a different edition of the same work that was sold three years ago.
Giacometti is currently the darling of the auctioneers, with one of his portraits, also of his brother Diego, leading a sale at Christie's on Tuesday night. Diego en chemise écossaise sold for $32.6m, more than doubling the previous record for one of his paintings. His L'homme qui marche I remains the most expensive sculpture sold at auction, going for $103.9m at Sotheby's in London in February 2010.
Ann Dumas, curator at the Royal Academy of Arts who oversaw an exhibition involving Giacometti's work in 2008, said: "He is very highly viewed; his reputation is very strong. His paintings and drawings are highly admired now. He's universally considered a great 20th-century artist with a completely unique vision."
The artist conceived the work in 1954 and cast it the following year. Simon Shaw, head of Sotheby's Impressionist and modern art department in New York, said of all Giacometti's representation of the human figure this was "perhaps the most radical, visually engaging and emotionally impactful".
He added: "The exaggerated profile and knife-edge frontal view allow one to experience two radically different views of his brother."
Giacometti was born in the village of Borgonovo near Stampa, Switzerland, in 1901. His father was an acclaimed Impressionist painter while his godfather Cuno Amiet was also a renowned figure in the Symbolist movement.
Giacometti's first oil painting and sculpted head of his brother were done when he was just 14. He would go on to attend the école des Beaux-Arts in Geneva and then Italy before moving to Paris, where he spent five years at the Académie de la Grande Chaumière.
As a sculptor he flirted with surrealism and developed an interest in existentialism through his friendship with Jean-Paul Sartre. This runs through his work including the thin, fragile figures that became his trademark.
"His later work is always associated with existentialism because it's about man alone in the universe and man facing his own destiny," Ms Dumas said. "It explores that existential sense of detachment and solitude."
Register for free to continue reading
Registration is a free and easy way to support our truly independent journalism
By registering, you will also enjoy limited access to Premium articles, exclusive newsletters, commenting, and virtual events with our leading journalists
Already have an account? sign in
Register for free to continue reading
Registration is a free and easy way to support our truly independent journalism
By registering, you will also enjoy limited access to Premium articles, exclusive newsletters, commenting, and virtual events with our leading journalists
Already have an account? sign in
Join our new commenting forum
Join thought-provoking conversations, follow other Independent readers and see their replies