Yayoi Kusama is named the most popular artist in the world
Yayoi Kusama's trademark polka-dotted sculptures and mirror installations proved a huge draw, with up to 9,000 flocking to her touring exhibition a day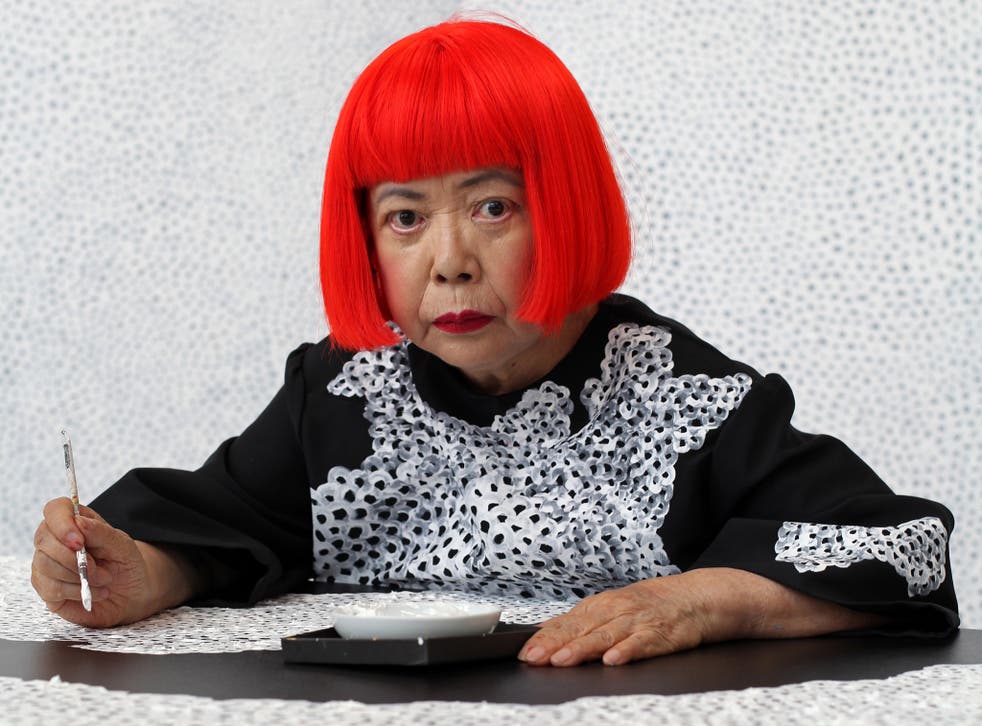 For all the hype that surrounds superstar artists such as Jeff Koons and Damien Hirst, the world's art lovers voted with their feet to make an 86-year-old Japanese woman the most popular artist of last year.
Yayoi Kusama's trademark polka-dotted sculptures and mirror installations proved a huge draw, with up to 9,000 flocking to her touring exhibition a day – making her exhibitions the most visited in the world in 2014.
The Art Newspaper yesterday released its annual figures for the most visited exhibitions in the world, saying 2014 "belongs to Yayoi Kusama".
Kusama's Infinite Obsession show was seen by more than 2 million people as it went on tour to South and Central America. A spokeswoman for Victoria Miro, the gallery that represents the artist in the UK, called her a "phenomenon".
"Kusama is the only one of our artists who sells on every continent. She's very rare in that she has this kind of credibility within the art world establishment, but she also has a very broad popular appeal," Glenn Scott Wright, co-director of Victoria Miro told The Independent.
The Japanese artist's shows in Rio de Janeiro, Sao Paulo and Brasilia were among the 20 most popular of the year, averaging 7,957 to 8,936 visitors a day. Koons' exhibition at the Whitney Museum of American Art attracted 3,869 a day.
Kusama rose to prominence in the 1960s when she rubbed shoulders with artists such as Andy Warhol and Claes Oldenberg. In 2013, audiences queued for eight hours in New York to spend 45 seconds in one of her "infinity rooms" created from light and mirrors. Tate Modern had a successful Kusama show in early 2012.
Only one UK show made the top 20 of popular exhibitions. The Saatchi Gallery saw 5,498 a day through the door for its Ukrainian art show, Premonition, totalling 137,400.
However, the National Gallery overtook the Met to be the third most visited art museum last year, with 6.4 million visitors. It was lifted by the popular Veronese show, with 1,135 visitors a day, and Late Rembrandt at the end of the year.
The British Museum was slightly ahead at 6.7 million, but the most attended institution in the world remains the Louvre, with 9.2 million visitors in 2014. It has topped the survey for each of the seven years this has been compiled.
Taiwan's National Palace Museum hosted the three most popular exhibitions of 2014, topped by Great Masters of the Ming Dynasty: Tang Yin, which attracted 1.1 million people – or 12,800 a day.
Seven of the top 20 most visited exhibitions were in Brazil, although, unlike many of the others on the list, they were free to the public.
Exhibitions attendance: Top 10 institutions
1. Louvre, Paris: 9,260,000
2. British Museum, London: 6,695,213
3. National Gallery, London: 6,416,724
4. Metropolitan Museum of Art, New York: 6,162,147
5. Vatican Museums, Vatican City: 5,891,332
6. Tate Modern, London: 5,785,427
7. National Palace Museum, Taipei: 5,402,325
8. National Gallery of Art, Washington DC: 3,892,459
9. National Museum of Korea, Seoul: 3,536,677
10. Musée d'Orsay, Paris: 3,500,000
Source: Art Newspaper
Join our new commenting forum
Join thought-provoking conversations, follow other Independent readers and see their replies