Five-storey-high penis street art by Swedish artist Carolina Falkholt appears in New York City
'It is art'
Chelsea Ritschel
in New York
Wednesday 27 December 2017 21:04 Comments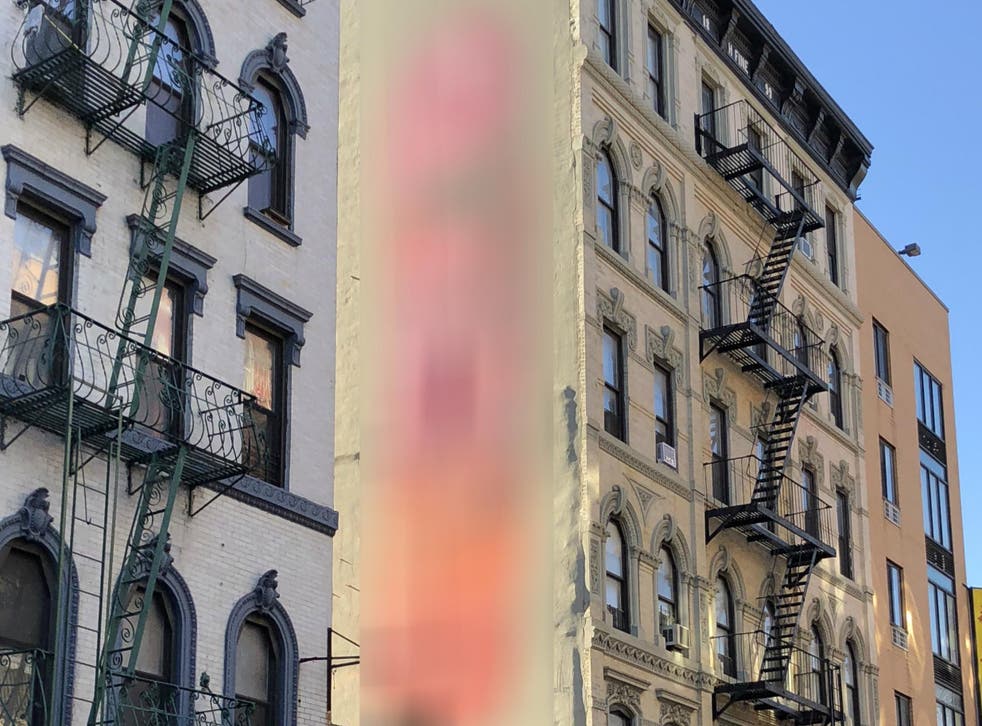 A five-storey-high penis mural in New York's Lower East Side is being painted over just days after it first appeared – to the disappointment of locals who've already grown fond of it.
The towering painting in the Lower East Side took Swedish artist Carolina Falkholt just six hours to complete on Christmas Eve, and while some locals say it could be problematic for children to see, many residents of the once-gritty neighbourhood say it's in keeping with the area's rough-and-ready nature.
According to NBC New York, the building owner did not give the artist permission to create the work and by Wednesday afternoon a team of painting contractors had arrived to set up scaffolding to begin the job of painting over it. The Independent was unable to establish whether they were hired by city officials or the building's owner. The painters said it will take around a day to cover up.
Warning: Explicit image below
Bob, 56, a Midtown resident who came down to the Lower East Side (LES) to see the mural following local media coverage, was disappointed the city decided to cover it up after the owner of the building complained.
He said, "Crazy people will want it gone quickly, but this is the LES. This mural is what is supposed to happen here."
Lev, a photographer who was taking pictures of the mural before it disappeared said the artwork was "expression."
He said, "Especially nowadays with women and men talking about sexual harassment, it almost seems wrong if they cover it up."
The overall consensus from passers-by and local was unanimously in favour of the mural when The Independent visited on Wednesday lunchtime. But even as we spoke, city-commissioned painters were preparing the scaffolding necessary to reach the top of the gigantic phallic painting.
As we watched the scene, Stacey, 45, stopped and exclaimed, "Oh my goodness."
And yet despite her initial shock, she doesn't think the mural should be covered either.
She told us, "It requires a certain taste but it's art. That is what it is."
Stacey, who works with children in the area, wasn't concerned about the potential impact the mural could have on kids.
She said, "For me it is art but for kids it's another thing. But I don't even think the kids would see it. I had to look up twice myself."
The piece was commissioned by a street art foundation called The New Allen, which is run by nearby Peruvian restaurant Baby Brassa.
Franco, 28, who was from the collective told The Independent: "It is all about sexual freedom and really understanding human genitalia as a basic thing.
"The artist is a feminist and she usually paints vaginas but she decided to do this for many reasons.
"First of all to be comfortable and raise awareness about sexuality being something very normal. Also about sexual abuse because the penis is something used sometimes as a weapon."
Franco said he chose Falkholt for this particular piece "to raise a conversation about something that is taboo still in New York and the world."
"Half of the world has a penis so why would it be so controversial?
As for his feelings on the decision to cover the mural, he said: "It was always going to happen but I didn't think it was going to be so soon. It really is a work in progress so it was going to change every two weeks until it became something completely abstract."
Falkholt told The Independent: "To paraphrase Judith Bernstein, if a d*** can go into a woman, it can go up on a wall. Many of my murals, including these, are about not feeling ashamed of your body and who you are as a sexual being."
She pointed out that sexual violence and sexual abuse are "constantly happening" and that "talking about these subjects in public space is a must for a healthy, nonviolent world."
Register for free to continue reading
Registration is a free and easy way to support our truly independent journalism
By registering, you will also enjoy limited access to Premium articles, exclusive newsletters, commenting, and virtual events with our leading journalists
Already have an account? sign in
Join our new commenting forum
Join thought-provoking conversations, follow other Independent readers and see their replies