'Pornographic and disgusting' painting removed from top London exhibition – because it features a woman's pubic hair
Leena McCall's Portrait of Ms Ruby May, Standing was taken down to protect 'children and vulnerable adults'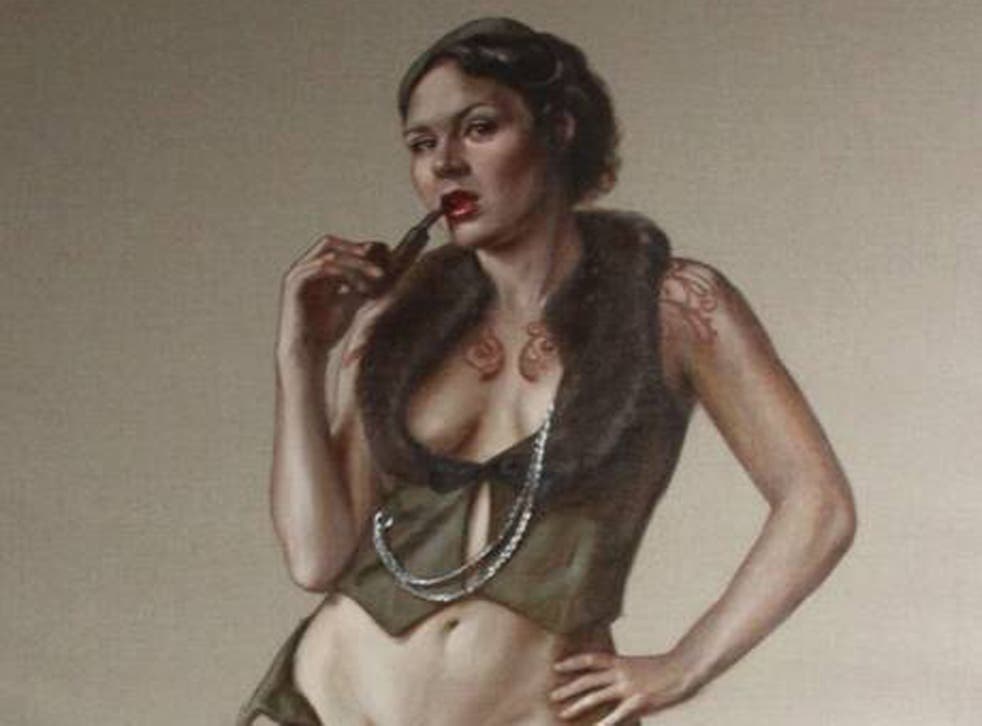 This painting selected by the Society for Womens Artists (SWA) has been removed from a London exhibition because it was deemed to be "too pornographic and disgusting", the artist has said.
See painting in full below
Leena McCall's oil painting of her friend, entitled Portrait of Ms Ruby May, Standing, features the model smoking a pipe and wearing a fur-trimmed vest and short trousers, unbuttoned to reveal her cleavage and a strip of black pubic hair.
The artist said the piece was designed to "get people talking about [Ms May's] sexuality" – but it seems she has been too successful in that regard for the liking of the management at The Mall Gallery in central London.
Two days after a charity evening and private viewing at the gallery, Ms McCall said she received a phone call from the SWA saying her picture had been removed.
She said: "My work deals with female sexual and erotic identity. The fact that the gallery has deemed the work inappropriate and seen it necessary to have it removed from public display underlines the precise issue I am trying to address: how women choose to express their sexual identity beyond the male gaze."
The gallery offered her the opportunity to replace her painting with another work, but she said that would be tantamount to admitted there was something wrong with it.
Instead, she has set up a social media campaign under the banner #eroticcensorship – to see if she can get people talking about sexuality in that medium instead.
Twitter users lamented the "19th century Victorian ideas" at play, and asked: "How is that any more outré than classical nudes?"
Banned, censored and 'offensive' artworks

Show all 8
Ruby May, the subject of the painting, said: "I don't think people realise how threatening a sexually empowered woman is to a paradigm that is still patriarchal at its roots. Thankfully, the world is evolving, this outdated paradigm is crumbling, and forms of censorship such as this are becoming unacceptable to the wider public."
In a statement, the Mall Gallery said: "As an educational arts charity, the federation has a responsibility to its trustees and to the children and vulnerable adults who use its galleries and learning centre. After a number of complaints regarding the depiction of the subject and taking account of its location en route for children to our learning centre, we requested the painting was removed."
The SWA told the Guardian: "The executive secretary, Rebecca Cotton, said: "We thought the painting was beautifully executed and the composition was much admired. We saw nothing wrong with it; had we, the piece would not have been selected. We hire the gallery space from the Mall Galleries for the period that the show is on. The gallery took it down without seeking our approval."
Join our new commenting forum
Join thought-provoking conversations, follow other Independent readers and see their replies