Anish Kapoor, Lisson Gallery, London
Michael Glover
Tuesday 09 October 2012 15:08 Comments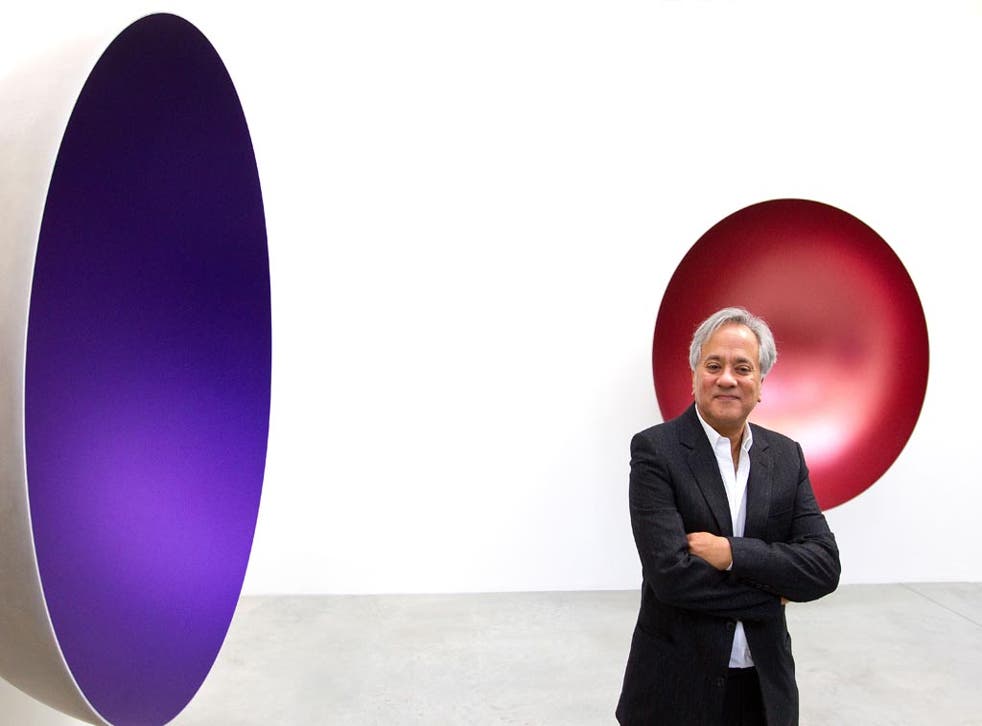 Is there something new from Kapoor amongst this multitude of new scuptural works spread across the various gallery spaces of two entire buildings? Not much. We can divide these work into the rough and the smooth.
The rough works, all violent, grey, earthquake-like ructions of one kind or another, are principally fashioned from pilings and heapings and bunchings and globbings of cement, worked by hand into explosions of orifice-like flowerets into which you can stare and stare if you so wish – oh, how Kapoor does love his voids!
Some adhere to the wall as if by some miracle of suspension; another, with a skin that looks positively elephantine, hangs in the air like a just-about-to-descend meteorite or a sculpture by the late Franz West; a third rises, leaning and lurching, from a crude, workaday plinth.
Their hand-wrenched, hand-wrested surfaces look like an aggressive riposte to the charge that Kapoor often seems to be too wedded to a kind of seamless smoothness. Are these snatchings from ancient geological landscapes? Are they riffs upon the idea of the honeycomb? A bit of one and the other.
Elsewhere, a series of earth-coloured sculptures on table tops seem to mimic re-shapings of the surface of the earth, blown into heaps, shaped into dunes or rearing up into nodes. Earth is a component of all these works, and it is the shiftings and the perpetual re-fashionings of the earth's surface that this group of works is exploring.
Elsewhere, slightly different things are happening. In one room, his ever first ready-made is on view, a piece called 'Organ' which consists of a huge grey diesel engine, with the kind of components you might expect from a diesel engine: fuel tanks, pumps, etc. What is this all about?
Is it a portrait of man the machine, complete with beating heart and exo-skeleton? For all its size, the emotional resonance is tiny. And in another space, there is what you might describe as a room-size installation - a circle of light projected down onto the surface of a concrete floor accompanied by a juddery, low-toned anxiety-inducing note.
Flitting elsewhere again, an entire series of wall-suspended, concave fibreglass hemispheres or bowls – they seem to be afloat against the wall - all highly coloured aquamarine, purple, yellow etc., catches us back to Kapoor the smooth manipulator of surfaces which seem to be playing tricks on us even as we look at them – concave or convex? What form is he playing with this time? So many, all at once.
Register for free to continue reading
Registration is a free and easy way to support our truly independent journalism
By registering, you will also enjoy limited access to Premium articles, exclusive newsletters, commenting, and virtual events with our leading journalists
Already have an account? sign in
Join our new commenting forum
Join thought-provoking conversations, follow other Independent readers and see their replies