Art review: James Cauty, The Aftermath Dislocation Principle Parts I and II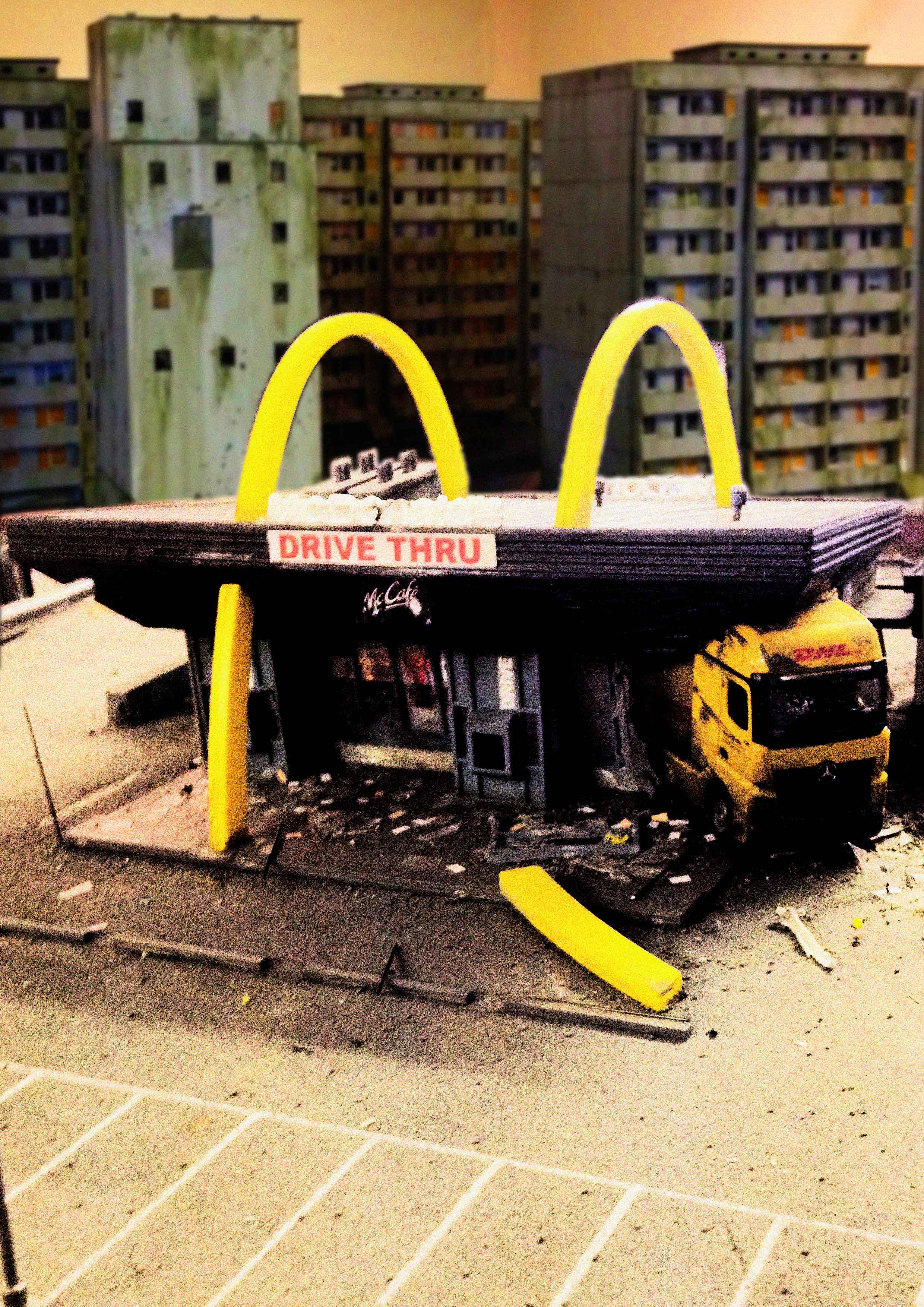 When you walk into this gallery under the arches of Hoxton Station, you are confronted by a spectacle in the best sense. The Aftermath Dislocation Principle Part I (2013) is a large installation of a post-apocalyptic Britain in which all the familiar signs of civilization have been ravaged.
Rather than the aloofness of so much contemporary art, this wonderful, politically angry work by Liverpool-born musician-turned-artist James Cauty offers the viewer an abundance of visual detail. It is akin to the complex, painstaking drawings of Paul Noble, but Cauhty's world of disaster has been created with miniature model-making kits, the playthings of children and hobbyists. Cauty built it with precision, then vandalised it. The result is engrossingly vivid, funny in places, terrifyingly elaborate, and formally fascinating.
This cityscape might once have been London. It is positioned at chest-level so the viewer can absorb close-up the tiny stories occurring amidst this toxic wasteland, which begins as countryside, complete with a burning medieval church-cum-castle, then shades into an urban hell, dominated by the blue flashing lights of marooned police cars and the constant crackle of an emergency call, played on a loop.
Cauty, now 56, became famous in the early 90s for being one half of acid house duo The KLF. As a visual artist, he has created miniature scenes of the London riots in jam jars. There are overtones of the riots here too: a tiny Chicken Cottage, smashed up, a grey tower-block, windows glowing erratically. A surreal white horse can be seen through one of the windows.
But the sinister power of the work is due to the fact that the narrative is never fully revealed. Explicitly anti-capitalist or protest art can seem trite; this doesn't. A tiny red telephone box teeters, its light still on, sunk in grey earth. Nearby, a tiny policeman stands alone, his hands thrust into his pockets, his neon yellow jacket a puny symbol of an authority that is no longer. More policeman peer over the edge of the work: a precipice.
After taking early retirement, The KLF burnt £1 million – their entire earnings – and filmed it as an art performance. This spirit of rebellion is evident here in the desecrated Nike tower, the broken McDonalds drive-thru, the sense that capitalism has eaten itself. The policemen who wander round this desolate no-man's-land are bereft. Because the notable absence are civilians – there is no one left to control.
8 Oct - 20 Oct
Join our commenting forum
Join thought-provoking conversations, follow other Independent readers and see their replies