Barbara Hepworth: The Hospital Drawings, The Hepworth Wakefield, West Yorkshire
The strong and serious characters in Hepworth's Hospital Drawings could have stepped down from the walls of a Renaissance chapel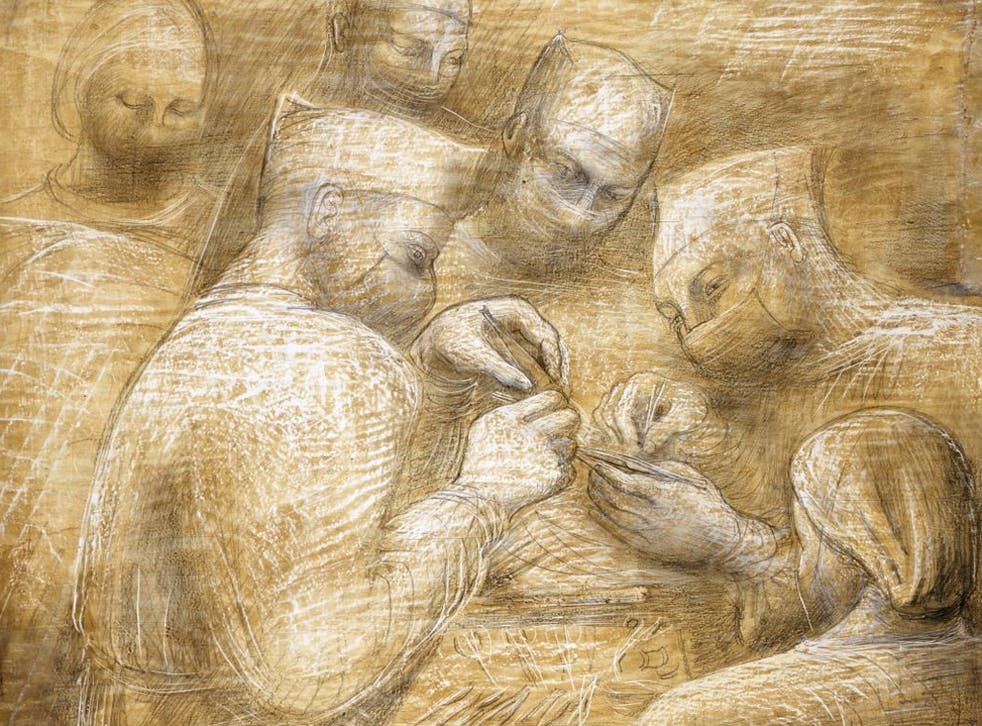 Seen on a slide, you'd take this work for something else – an Adoration, possibly from Tuscany, probably around 1400. Kings, or perhaps shepherds, stand heads bowed over the crib, a row of attendant angels behind them. In the top left-hand corner is Mary Mother of God, eyes tight shut against the awful beauty of the scene in front of her. The work is dated 8 December, the Feast of the Immaculate Conception. It uses a technique typical of the early Italian Renaissance, sgraffito on gesso, drawings scratched on a skim of plaster laid on a wooden board. But it is called Radial, was made in 1947, and is signed "Barbara Hepworth".
It is, as you'd guess, a rather odd work. The first surprising thing is that it is a drawing, and we think of Hepworth as a sculptor. More, she is an abstract sculptor and this is a figurative drawing. There are other oddities, too. For all its Giottesque beauty, the picture's subject is far from lovely. The figures with bowed heads are not kings from the East but surgeons from the West Country: "radial" is the name of a surgical procedure, and the crib is an operating table. As to Mary, her strikingly domed forehead suggests self-identification. Hepworth did these drawings from life, having sat in on operations at an Exeter hospital to make preparatory sketches for them. The figure in the work's top-left corner is very likely a self-portrait.
By 1947, she had been living and working with the painter Ben Nicholson for 15 years, and that proximity had shown up in Nicholson's art, his White Reliefs of the late 1930s being sculpture in all but name. In Hepworth's Hospital Drawings, made between 1947 and 1949, we see this crossover in reverse.
If works such as Radial are sculptural – gouging into plaster is a sculptors' skill, no matter how thin the skim – they are painterly as well. The Hospital Drawings are divided into suites of liturgical colour − green, gold and blue. Their capped and robed figures, hands raised as if celebrating a rite, are priestly. The images feel sacramental, religious.
But they are something else, too. The Hospital Drawings seem to be done in gesso, but their textured undercoat is Picasso's favourite Ripolin paint, laid on board and then scraped down with a blade. That makes the works both very modern – Le Corbusier was a Ripolin fan – and perversely old-fashioned. What is the point of making 20th-century art look 14th-century?
This oddity is one of the things that makes these drawings so powerful, and so very beautiful. The immediate reason for Hepworth's interest in surgery was that her nine-year-old daughter had been hospitalised in 1944 with a bone infection. The treatment had involved the child being encased in plaster, a material which the sculptor herself used in her work. (Many of her plaster models are in the Hepworth Wakefield, where the Hospital Drawings are on show. They will go to Pallant House, Chichester, in February 2013 and Mascalls Gallery, Paddock Wood, in June.) The likeness between surgery and sculpture obviously struck Hepworth: in Reconstruction, dated the day after Radial, the surgeon wields a mallet and chisel in theatre as Hepworth might have done in her studio. She, in return, has taken a scalpel to the drawings, scraping and abrading them surgically.
But you feel there is another dynamic here as well. Nothing in the literature suggests that Barbara Hepworth was a religious woman, nor, despite being the mother of four children, a maternal one. In the early 1930s, with Nicholson, she had joined the French Modernist group, Abstraction-Création; through this, on trips to Paris, she had met Mondrian, Naum Gabo, Alexander Calder. Hepworth's work had become like theirs, moving further away from representation towards the abstract, anti-organic forms for which she is now known. And yet here, suddenly, she is making images that are not only not three-dimensional, but not abstract.
It is dangerous to read biography into an artist's work, yet here it is difficult not to. That domed forehead appears repeatedly in the Hospital Drawings, always in the same role – as onlooker rather than participant. Here, in tibia grafts and arthrodeses of the hip, is real sculpture, real life. This isn't some abstract notion of how forms should be, but a figurative coming-to-terms with how forms are.
A decade earlier, Hepworth and Nicholson had fallen out with the painter John Piper when, in the face of coming war, he had declared abstraction a luxury. Now, faced with the illness of her child, Hepworth felt the same way. And yet, as self-portraits, the Hospital Drawings are also full of yearning − for a faith she doesn't have, a profession she cannot follow; for a love she will never quite feel.
To 3 Feb 2013 (01924 247360)
Critic's Choice
Tumble into Tate Britain's autumn blockbuster, Pre-Raphaelites: Victorian Avant-Garde for a dose of romance and rebellion, beauty and myth-busting from 19th-century artists on a mission (until 13 Jan). An impressive exhibition at Pallant House, Chichester, shows French artist and father of Art Brut Jean Dubuffet taking inspiration from self-taught or outsider artists (until 3 Feb).
Register for free to continue reading
Registration is a free and easy way to support our truly independent journalism
By registering, you will also enjoy limited access to Premium articles, exclusive newsletters, commenting, and virtual events with our leading journalists
Already have an account? sign in
Register for free to continue reading
Registration is a free and easy way to support our truly independent journalism
By registering, you will also enjoy limited access to Premium articles, exclusive newsletters, commenting, and virtual events with our leading journalists
Already have an account? sign in
Join our new commenting forum
Join thought-provoking conversations, follow other Independent readers and see their replies