BP Portrait Award 2012, National Portrait Gallery, London
Portraiture is not about replication, but insight, as the best of this year's BP competitors make clear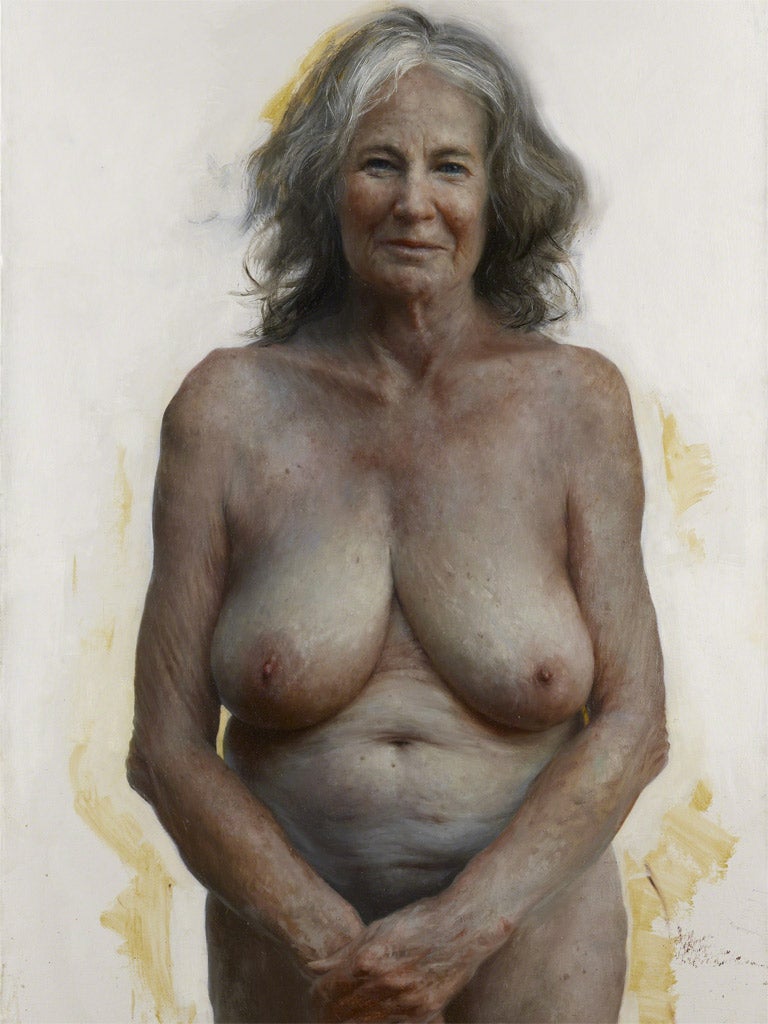 Here's a tip for next year's contenders for the BP Portrait Award: have a shufty at this year's event, and leave via the National Portrait Gallery's permanent collection, to see what the big girls and boys are doing, taking note of the props, the poses, the sheer unashamed painterliness. Because, with some fine exceptions, this year's BP line-up, accomplished as much of it is, lacks the communication skills of, say, Paula Rego's Germaine Greer, arguing her point, or Doddy, lost and lonely in the dressing room, with only his own reflection and painter David Cobley for company.
The famous, as opposed to the BP competitors' largely unknown models, may give the portraitist a head start – or make their job harder. We think we know them already. But the insight into complex characters revealed by such out-and-out painting perishes under the forensic glare of photorealism. The obsessive quest to record every pore, eyelash and thread vein means we are looking at a body, not a person. Perhaps photorealists think we will know their subject better for studying their septum, but portraiture is not replication, and the competition's first-prize winner, and the other outstanding pictures in this year's show, go beyond plodding pathology and reveal a living, breathing being.
Celebrities there are, but few: Derren Brown with a blue cockatiel, who sat for Paul Moyse; Prince Charles look-alike Guy Ingle (not so alike, without those tics), wittily chosen by Edward Sutcliffe, and poet Michael Langley, whose big, bold affectionate likeness by Colin Davidson could stride straight down the corridor and take up residence next to Greer. But most opt to paint family and friends – or themselves: solemn individuals, the almost unrelenting hardness of whose gaze and lack of context deflects our curiosity.
Peter Goodfellow in All Dressed Up for Mum and Dad lets us in a little, spreading his painted coat like a black marketeer to reveal the touching sepia photographs from his parents' album – their wedding day in 1944, the beach outing, in best clothes, to Blackpool. Also adding other media to paint are Ismail Acar whose Pasha Triptych has a description of the portrait in braille on the model's ornate jacket, and Timothy Gatenby, both painting his grandmother and putting symbols of her past and future (a skull) into a wooden box.
There are the small but perfectly formed. In Anastasia Pollard's Tim, no explanation is given for the missing left arm, the empty sleeve popped neatly into the jacket pocket by the right hand that rests calmly on the lap. The model gazes out of the picture with a look of loss and acceptance, the triangular crown of a natty hat and top-pocket handkerchief stablising the three-limbed man. Nancy Fletcher's The Portrait Painter follows the tradition of her fellow artist Travis's profession with props – white flowers in a jug, favourite art postcards and a mahl stick on the mantelpiece – and more than a nod at Danish inspiration Christen Kobke.
Others have their artist mentors, too: Claire Kerr poses hand on hip as Titian's Unknown Gentleman, casting a genderless shadow. Eileen Hogan's portrait of financier and V&A chairman of trustees Paul Ruddock is a modern take on Sir Thomas Lawrence's Sir Francis Baring. Alan Salisbury, in a welcome flash of comedy, poses as Caravaggio's Boy with a Basket of Fruit – only his fruits are the rounded-out self-portraits of Dürer, Kahlo, de Chirico, Gauguin, Picasso .... And there too, squeezed in among the vine leaves, is the uncomfortable grimace of Jenny Saville, whose painful 1992 self-portrait Branded, with heavy splayed breasts and clutched tummy fat, challenged perceptions of the female nude.
Cue Aleah Chapin, who, at 26, was probably getting into art at the time Branded screamed its way into public consciousness, and her Auntie, winner of the £25,000 first prize and a likely NPG commission. Here the ever-changing female form is touched by age, skin loosening on the arms, the waist thickening, little waves across the belly. But these are merely well-observed details, for it is the expression of complete contentment in this morphing body, far from Saville's self-loathing, and the capable clasped hands that tell the story. This pleasant, loved woman could be addressing a class or opening a meeting – her nakedness is incidental to her personality, merely a form of comfortable clothing. A golden haze plays around her, and the flesh tints have the bluey accuracy of Freud, but not his spite. A worthy winner indeed.
Three cheers too for Carl Randall, painter of the only group portrait in the show, barring the witty family group of Tony Noble, his wife and her twin, and Ruth Murray's multiple images of her sister in the original Tessa and the Clay Heads. Randall's mechanistic Mr Kitazawa's Noodle Bar, Tokyo feels like a perpetual motion machine, cooks scooping and cleaning, customers slurping. At last, something completely different, and there's more to come: the artist wins the £5,000 travel award, to follow Hiroshige's route in Japan.
BP regulars like the annual game: choose your own winner. Here's mine: for being not too proud, at only 21, to apprentice herself to Velazquez, Boldoni and Singer Sargent, for her romantic, and, yes, painterly The Importance of Being Glenn, for daring to enjoy the dashing and romantic, my vote goes to Isabella Watling. If she can do this now, what a lot could follow.
To 23 Sep (020-7312 2463)
Critic's Choice
While the RA's Summer Exhibition isn't always considered a must-see, this year the work is cleverly curated, inventively hung, and features some real gems (till 12 Aug). Or head to the V&A for Designing the Extraordinary, which traces Thomas Heatherwick's clever, appealing creations as they walk the line between architecture, art and design (till 30 Sep).
Join our commenting forum
Join thought-provoking conversations, follow other Independent readers and see their replies