Charles Darwent on visual Houghton Revisited: There's much to learn by taking a dim view of art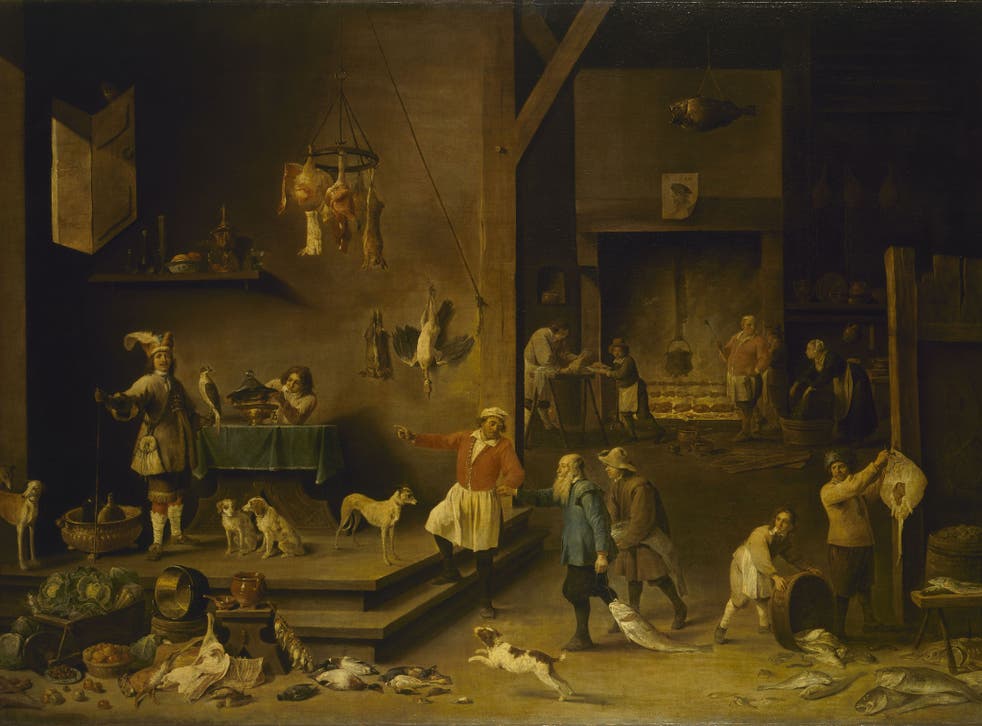 As it did 250 years ago, Velázquez's portrait of Pope Innocent X peers into the gloom at Houghton Hall. It is an extraordinary image in an extraordinary space.
The pope, much loved of Francis Bacon, hangs in The Common Parlour – a surreal name, given the room's confection of marble and gilt. (The parlour was "common" in being used as a dining room by Houghton's builder, Robert Walpole, as well as for state entertaining.) Innocent seems anything but: appraising, crafty, a close-weave of brushwork giving nothing away. Stand to one side and you will see the ridges of Velázquez's pentimenti, his re-thinkings in paint. Eyeing the finished portrait, the pope was displeased. Questo è troppo vero, he had said – "This is too lifelike". Velázquez changed it accordingly. His is a Russian doll of a picture, less the image of a man than of the inscrutability of power.
You will note I began by saying "as it did 250 years ago" rather than "as it has for 250 years". Velázquez's papal portrait has not hung in The Common Parlour for more than two centuries, nor anywhere at Houghton, or in Britain.
In 1779, Walpole's descendant, George, 3rd Earl of Orford, debt-ridden and mad, sold Houghton's paintings to Catherine the Great. Until the Soviet sales of 1928, Innocent hung in the Hermitage in St Petersburg, latterly Leningrad. In 1930, it was bought by the American magnate Andrew Mellon. Now, after a circuitous journey, the portrait is back in The Common Parlour. It joins 60 other works sold to Catherine, on loan from collections in Russia and America.
So why is this set to be one of the year's great exhibitions? Oddly, Lord Orford's sale of the collection en bloc meant that its works have ended up in relatively few hands, easily traceable. Along with this, Britain's first prime minister kept meticulous records of how and where his collection was hung, first at 10 Downing Street and then, in retirement, at Houghton.
Although fewer than a third of Sir Robert's pictures have made it back to Norfolk, any gaps have been filled, as Walpole himself would have filled them. If, on a grey day in May, Innocent's eyes glower in the Norfolk gloom, so they would have done in the 1740s: Houghton Revisited has been lit to replicate the candle-light of Walpole's time. And there is an undeniable thrill in seeing the works as they were seen by the man who bought them – of reading the story of Velázquez's re-painting, as Walpole did, by 18th-century half-light.
Mostly, though, there is the excitement of Walpole himself. Every collection is a portrait of its collector and you can see why the inscrutability of Innocent X might have appealed to Walpole. Try to rationalise the 20 works in The Common Parlour and, as with Velázquez's pope, you will hit a blank wall.
As you might expect of a prime minister's collection, there are portraits by British painters of British worthies, exampla virtutum. Walpole's choice is more complex than it seems, however. There are pictures by Kneller of the father of liberalism, John Locke, and of the carver, Grinling Gibbons. The latter is hung in a surround of his own gilded wood, but shows Gibbons as a sculptor rather than a craftsman, studying a marble head by Gian Lorenzo Bernini. For Walpole, as for Gibbons, greatness lies abroad.
If this is unexpected, then so is the preponderance of Catholic imagery in Walpole's reassembled collection. In other rooms are magnificent Veroneses of The Resurrection and Adoration of the Shepherds, Murillos of The Crucifixion and Immaculate Conception; on the wall beside Innocent X is Rubens's Head of a Franciscan Monk. And yet above them is Teniers' Kitchen, a man-of-the-people work that shows Britain's first prime minister knew just where the food on his table had come from. If you go to this show hoping to have Walpole explained, you will come away disappointed. Houghton Revisited makes him more, rather than less, mysterious.
To 29 September (01603 598640)
Critic's Choice
A surprising and diverse show, Uncommon Ground brings together the work of British land artists between 1966 and 1979. Get earthy with Andy Goldsworthy, Antony Gormley, Susan Hiller, John Hilliard, Joan Hills, Derek Jarman, Garry Fabian Miller and others at Southampton City Gallery (to 3 Aug).
Register for free to continue reading
Registration is a free and easy way to support our truly independent journalism
By registering, you will also enjoy limited access to Premium articles, exclusive newsletters, commenting, and virtual events with our leading journalists
Already have an account? sign in
Register for free to continue reading
Registration is a free and easy way to support our truly independent journalism
By registering, you will also enjoy limited access to Premium articles, exclusive newsletters, commenting, and virtual events with our leading journalists
Already have an account? sign in
Join our new commenting forum
Join thought-provoking conversations, follow other Independent readers and see their replies