Charles I: King and Collector, Royal Academy, London, review: A magnificent and floridly staged exhibition
King Charles I's art collection is exhibited for the first time since the 17th century and includes works by Titian, Mantegna, Holbein, Dürer, Van Dyck and Rubens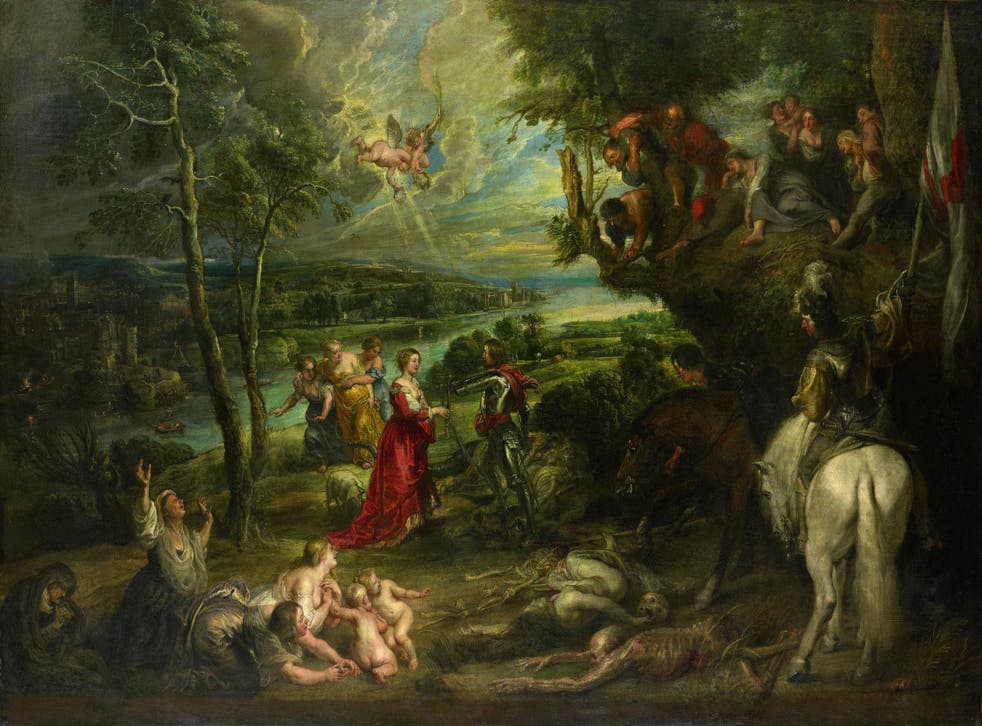 A puny monarch plagued by rickets such as Charles I needed to import a cunningly brilliant painter such as Van Dyck from the Low Countries in order to aggrandise him, thicken him out, straighten the leg, tauten the resolve of the jaw line; in short make much, much more of him than the model of near laughable physical inadequacy that his sombre mirror would have reintroduced him to, day in, day out.
Van Dyck became court painter to the Stuarts in 1632, and he redid them all proud – as we can see in this magnificent and floridly staged exhibition devoted to the great collection of paintings, drawings and other what-nots that Charles amassed during his lifetime. The collection was soon dispersed to pay off the debts off the Commonwealth. And then it had something of a surprisingly pleasing afterlife. Charles II tried to buy much of it back – and he succeeded, at least in part.
Fewer than 10 per cent of the 1,500 or so paintings that his father eventually owned are on display here – you could scarcely do justice to many more – but the works themselves, and the way that these Titians, Correggios, Tintorettos and Mantegnas are cleverly posed throughout the Royal Academy's principal galleries, with such a sense of pomp and flourish and braggardliness, enable you to feel how art can be used as a form of cultural coercion in the face of rivals or enemies. Charles I understood that very well.
And so we could argue that Charles had two ambitions. The first was to make himself and his own family and not-necessarily-so-loyal retinue – Buckingham, Arundel and the likes – look as good as a great painter could possibly make them. And, secondly, to create a collection of great works – by the living or the dead – to adorn the walls of his many palaces, in order to prove that his court was at least the equal, in taste and sophistication, to that of the Habsburgs over in Europe. And he succeeded. He had good taste. He bought works opportunistically – and especially from the Gonzagas of Mantua. And his young French wife, Henrietta Maria, had an educated eye too.
But it is to the man himself that we keep returning, in sheer fascination at what Van Dyck is doing to him and for him – how that chiselled beard lends a kind of authoritative shapeliness to the face – rather as we think of a blade as cutting through nonsense; and how seeing a man on horseback brings us at least part way to acknowledging the fact that he had all the makings of a great martial hero.
Rubens thought him an astute buyer, none better. And it is fitting that it would have been Rubens's great painted ceiling at the Banqueting Hall in Whitehall, commissioned by Charles himself, that he might well have glanced up at last, wistfully, before being led out to his beheading.
27 January to 15 April (royalacademy.org.uk)
Register for free to continue reading
Registration is a free and easy way to support our truly independent journalism
By registering, you will also enjoy limited access to Premium articles, exclusive newsletters, commenting, and virtual events with our leading journalists
Already have an account? sign in
Register for free to continue reading
Registration is a free and easy way to support our truly independent journalism
By registering, you will also enjoy limited access to Premium articles, exclusive newsletters, commenting, and virtual events with our leading journalists
Already have an account? sign in
Join our new commenting forum
Join thought-provoking conversations, follow other Independent readers and see their replies