Exhibition review: Visions of the Universe - His dark materials, the photo album
An exhibition of startling images of the cosmos looks at the development of telescopy, photography, and our place in it all
Jenny Gilbert
Saturday 15 June 2013 19:34 Comments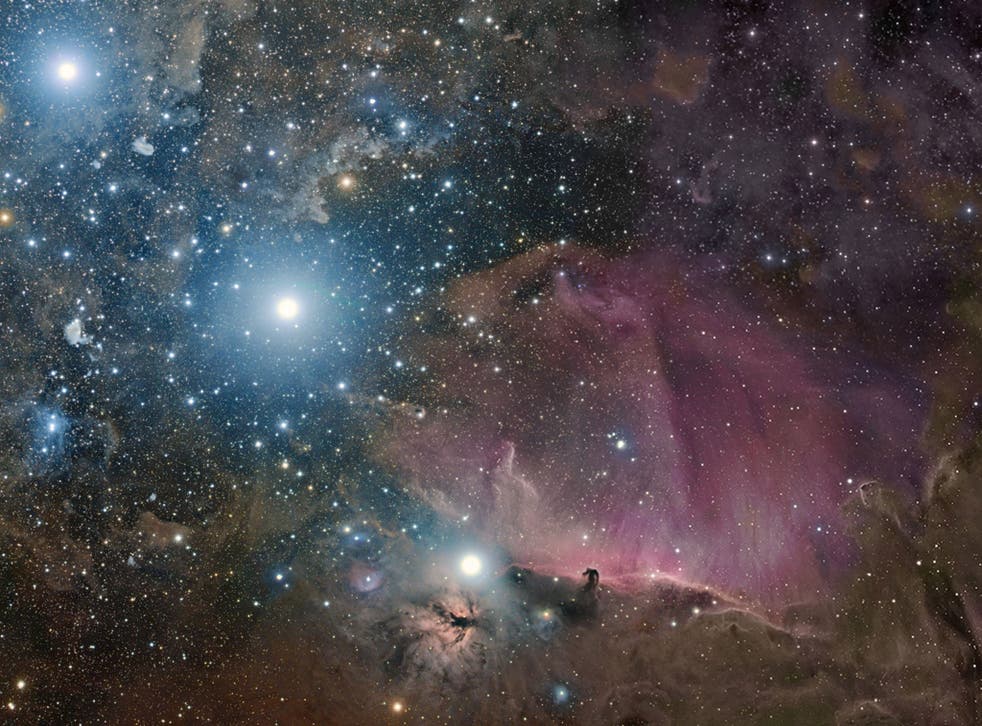 As anyone who has ever camped out on a moor or a mountain will know, there is nothing like a clear night sky, free of the dimming effects of electric light, to make a person feel very, very small.
Make that 100 night skies, such as those pictured in a new exhibition at the National Maritime Museum, and the effect is almost overpowering. Visions of the Universe aims to show how developments in technology over the past 400 years – from Galileo's first telescope to Nasa's latest satellite-mounted cameras – have transformed our perceptions of our place in the vastness of space. We once thought we were at the centre of the map. Now it looks as if the map has no edges, let alone a centre.
Impressively, the exhibition is accessible to all, which is to say that even astro-know-nothings (this writer included) can get a handle on it. Simply looking, in fact, yields heady delights. An image taken from the Hubble Space Telescope shows more than 3,000 stars in various stages of formation, glimmering through the marbled swirls of gas that will eventually condense into further constellations. Interior designers would swoon over this, and if Nasa ever falls on hard times, it could do worse than patent such gorgeous images as designs for high-end bathroom tiles or fabrics.
But I digress. The exhibition is neatly divided into heavenly bodies, starting with the Moon – the first astronomical object to be studied or photographed. Replicas of drawings by the Italian Galileo and his English contemporary, Thomas Harriott, show an awareness of the Moon's pitted surface as early as 1610, contradicting cherished beliefs in a perfectly smooth celestial orb. And who would have dated the first photograph of the Moon as early as 1840? The facts continually pull you up short.
Most of us have a hazy grasp of the mechanics of orbits and eclipses, but digital displays of the Moon moving through its phases, and of the alignments of a lunar eclipse sharpen and deepen that understanding. More startling is a 13-metre curved wall projected with images beamed from Nasa's Mars Curiosity Rover: you feel you're actually looking out of a spacecraft window on to the rocky, red Martian landscape.
Statistics are kept to a minimum in a show that wants you to use your eyes. An almost casual mention that our Sun is "about 4.6 billion years old" and "roughly halfway through its lifetime" is boggling enough, as is the "cosmic coincidence" of the Sun being 400 times larger than the Moon, but also 400 times further away (which is why it often looks the same size). It's quiz-fodder, but none the less memorable for that.
Aesthetically, the biggest thrills come with views of planets within our solar system: an image of Venus in transit across the pink disc of a filtered Sun, or the intense indigo-blue beachball that is Neptune, the blue caused by methane in its atmosphere. Some of the most beautiful photographs turn out to have been taken by amateurs, including an exquisite portrait of our four nearest planets placed side by side like specimen butterflies, and an image of a fiery orange lunar eclipse, taken by a 15-year-old schoolboy in India.
The famous view of Earth taken from Apollo 11 as it orbited the Moon in 1969 also makes the cut. "It struck me," Neil Armstrong said afterwards, "that that tiny pea, pretty and blue, was the Earth. I put up my thumb and shut one eye, and my thumb blotted out Planet Earth. I didn't feel like a giant. I felt very, very small."
To 15 September
Critic's Choice
Created for the National Museum of Scotland and showing only in Edinburgh, the exhibition Mary, Queen of Scots offers a rare opportunity to explore the private and public world of this charismatic monarch. Jewels, textiles, furniture, documents and portraits that have never previously been brought together combine with new research to tell the dramatic story of Mary Stuart (28 June to 17 Nov).
Register for free to continue reading
Registration is a free and easy way to support our truly independent journalism
By registering, you will also enjoy limited access to Premium articles, exclusive newsletters, commenting, and virtual events with our leading journalists
Already have an account? sign in
Join our new commenting forum
Join thought-provoking conversations, follow other Independent readers and see their replies