Gesamtkunstwerk, Saatchi Gallery, London
What's in a name? Whatever its title says, Charles Saatchi's new show is totally groovy
Charles Darwent
Sunday 27 November 2011 01:00 Comments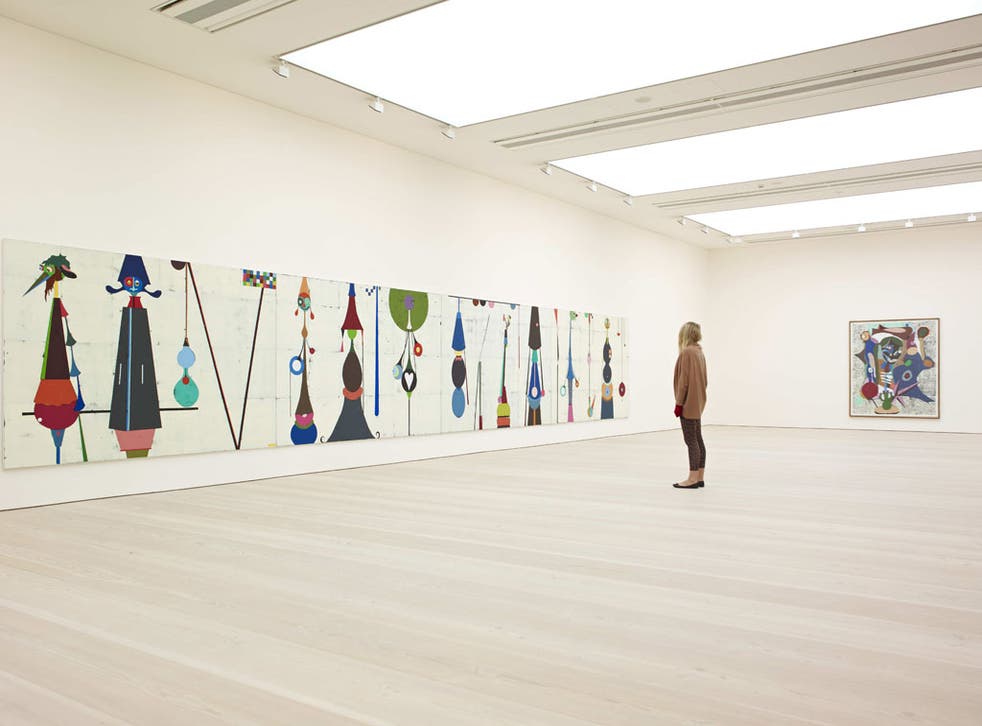 I'm not sure why the Saatchi Gallery chose to call its new exhibition Gesamtkunstwerk, other than that it is a German word and the work in the show is all German.
The Gesamtkunstwerk, or total artwork, was a 19th-century idea beloved of Richard Wagner that melded the various forms of artistic output – music, painting, literature, etc – into a monumental whole. The Saatchi show is of the plastic arts, full stop: not so gesamt, really. Still, I suppose it's better than calling the exhibition Kartoffelsalat, even if not much more revealing.
So what is Saatchi's total-show about? As ever, there is a subtitle: New Art from Germany. Taken with the title itself, this suggests that the show offers an objective snapshot of what is happening in the art schools and contemporary galleries of Germany today, that the work in Gesamtkunstwerk is representative of new German art as a whole. It is worth stopping to ask whether this can be true.
Charles Saatchi is an avid and intelligent collector, but he is a collector even so. It may be that he sets out, like a museum curator, to buy work which is historically relevant rather than merely fanciable, but it seems unlikely. When Saatchi had a taste for Conceptualism, contemporary art was suddenly full of unmade beds. Now he likes painting, it is full of paintings. The world, and the world according to Charles Saatchi, are not necessarily the same thing.
That said, there are clearly enough German artists making images in paint to satisfy his new tastes and fill the large and handsome floors of his gallery. Of the 24 artists in this show, the vast majority are painters. What is more, much of their painting is what might loosely be called abstract – a term more or less lost to British contemporary art until the surprise 2006 Turner Prize win of Tomma Abts, who is (n.b.) both German and a Saatchi protégée.
If this show really is indicative of what is going on in German art, then we need to ask why. The answer may be provided by Isa Genzken, who, at 63, studied at the Düsseldorf academy when Gerhard Richter was teaching there in the early 1970s, and married him in 1982. If you haven't been to the Richter show at Tate Modern, then you have until 8 January to do so. And you should, preferably before seeing the Saatchi. The Abstraktes Bilden ("Abstract Pictures") which Richter produced throughout the 1980s and 1990s underpin the work in Gesamtkunstwerk absolutely: there is no 80-year-old artist who has the hold over British contemporary art that Richter has over its German equivalent.
Thus you might want to start your visit to the Saatchi show with Genzken's Kinder Filmen, a quartet of mirrored panels overlaid with sticky tape, spray paint, acrylic and bits cut out of magazines. These bear absolutely no resemblance to her husband's paintings, other than the crucial one that both are abstract. Genzken's images suggest a continuum for abstraction in German art – that is to say, in young (-ish), cool, new German art – that simply didn't exist here. British artists who worked as abstractionists in the 1980s tended to have been born before the war and to live in St Ives.
This difference may explain something else that is startling about Gesamtkunstwerk. The work is, or at least it feels, sincere, as though the artists who made it were genuinely concerned with how abstract painting works rather than merely flying it as a flag of conceptual convenience, ironising it in some Postmodern art-game. Strangely, this sincerity doesn't feel old-fashioned. It feels rather good.
There is work here that is as strong as any I've seen in the past couple of years, even if not all of it is to my taste. André Butzer's Ahnenbild translates, at a guess, as something like "Ancestor-Painting" and makes an over-obvious nod to the New York art scene circa 1985. The title of Corinne Wasmuht's Siempre es Hoy puts Walter Benjamin's jetztzeit (or "now-time") into Spanish for some reason probably too groovy for me to grasp, but does at least hint at the difficulty of working in Richter's shadow. Those who have succeeded in escaping from it alone make this show worth seeing. I am led to think particularly of the Tobias brothers, Gert and Uwe, whose distantly Miró-ish, folk-cum-abstract panels are just plain wonderful. Juhu!, I say.
Saatchi Gallery (020 7730 8135) to 30 Apr
Next Week:
Charles Darwent hurries along to New Contemporaries at the ICA
Art Choice
Edward Burra's slightly unsettling watercolours get a retrospective at Pallant House, Chichester (to 19 Feb); they range from social scenes to his take on the English countryside. Take a look at his contemporary, LS Lowry, also the subject of a show of portraits and landscapes at Nottingham's Lakeside (to 5 Feb).
Register for free to continue reading
Registration is a free and easy way to support our truly independent journalism
By registering, you will also enjoy limited access to Premium articles, exclusive newsletters, commenting, and virtual events with our leading journalists
Already have an account? sign in
Join our new commenting forum
Join thought-provoking conversations, follow other Independent readers and see their replies