Grayson Perry, Serpentine Gallery, London, review: His entire career has been one of boundless attention-seeking
Grayson Perry's The Most Popular Art Exhibition Ever! at the Serpentine Gallery includes a ceramic pig for donating money and a small bronze shrine containing little figures of the artist and his wife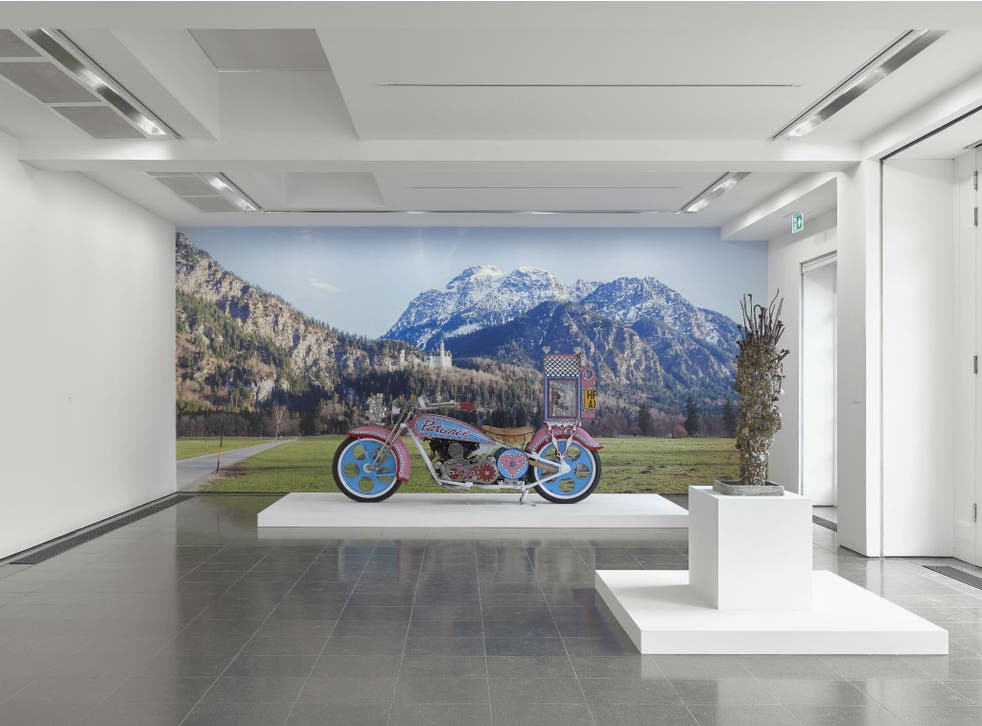 Can there be a living artist more tiresomely consumed by ceaseless self-regard than Grayson Perry? His entire career has been one of boundless attention-seeking: the brand-building of Grayson. How titillatingly amusing we all find his deliciously ambivalent sexuality! And now, surely, he has all the attention that he wants – or perhaps no one can ever have quite that much. There must always be a sneaking feeling that somewhere, in a lonely room, in Toxteth, Barking or Notting Hill, there is someone who is not thinking about you. Has all this furious activity worked to the detriment of the art that he makes? Does he find himself distracted by all the noise?
Today's latest outing is at the Serpentine Gallery in Kensington Gardens, a former tea rooms. A perfectly fitting location then. The show is called: Grayson Perry: The Most Popular Art Exhibition Ever! Will that prove to be true? We all hope so, for his sake. This is not a normal press view though. Little of it is a press view at all. Most of the time is allocated to the free lunch, so bountifully provided. Why bother with the work when there is Grayson here and the free lunch?
Grayson as Claire is here from the beginning, of course, his own best impresario, strutting back and forth in his golden, clumpily-heeled sandals, posing for photographs in front of the work. On his own. With others. As you wish, darling. That's what is important: to pose for the photographs in front of the work. And then, when the crowds have gathered – and they gather quite quickly – to hear him stand in front of the work and talk about it in that squeaky, hectoring voice of his. It's what he says about it that counts, isn't it, not what we might think in private?
And then, little by little, they all drift away to lunch in the restaurant up the road, and we are left in a noiseless gallery space, looking at all the Graysons on their own here without the presence of Grayson: beginning, of course, with the work which faces us as we came in the door, a print of him reclining, naked, on a chaise longue, breasts, balls, penis and all – what transgressive fun! - in a place full of books, ladders and general clutter. And then there is the ceramic pig for donating money nearby – a different slot for however you might happen to define yourself: Old, Right, Male, Leave, Fear, Poor. A good joke? Not a bad one. Or the fierce-eyed black cat in glazed ceramic which goes by the title of: I Really Love You Super Rich Person.
What else? Surely the point – or perhaps the principle selling point of Grayson Perry these days – is that he has skillfully transmogrified into a trenchant social commentator, a prober of our national habits, a miraculous being who can see into our class divides. Something of an intellectual then. Much evidence of that here? Well, there is a large tapestry in the principal gallery called Battle of Britain 2017, but anyone who might be looking for a savagely analytical piece, something with vital imaginative force, is in for a disappointment. It's a bland landscape, overarched by a rainbow, with a bit of graffiti here and there.
Elsewhere, there's a small bronze shrine called House of Love made in honour of 'the owner's loving partnership'. The little figures inside are crudely fashioned images of Grayson and his wife, but we are scrupulously informed that the two bronze figures can be chosen separately, which means that any 'configuration of gender' – how winningly expressed! - can be celebrated. Limited edition of 20. £2,500, including VAT.
Join our new commenting forum
Join thought-provoking conversations, follow other Independent readers and see their replies