Grayson Perry: Who Are You, National Portrait Gallery, review: Sublimely beautiful
The subject matter here is so definitely mired in Britishness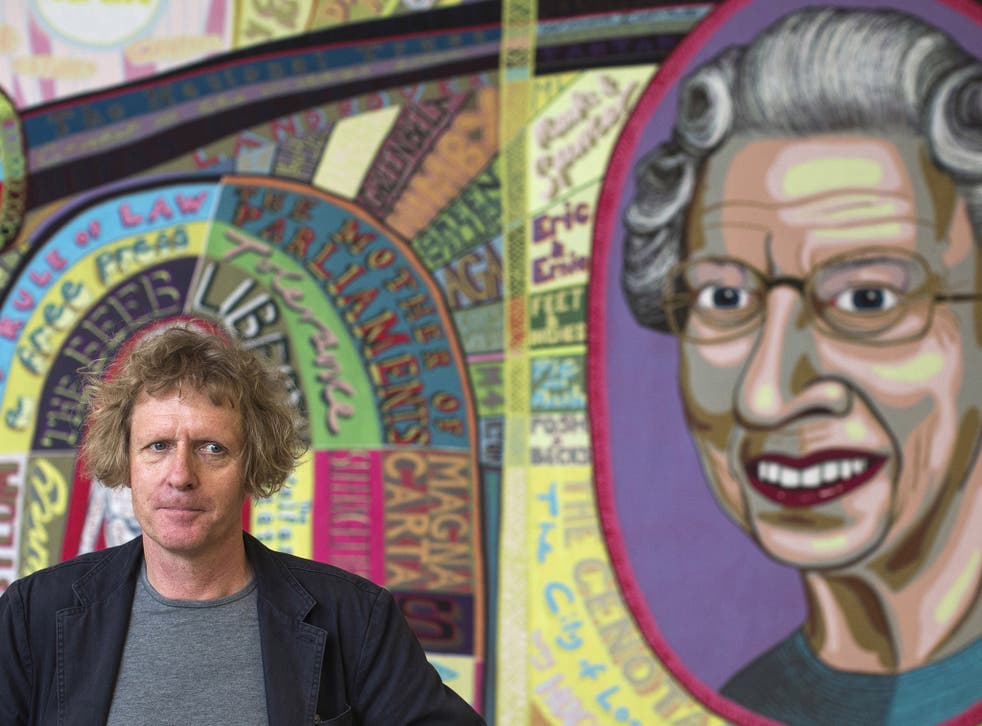 Entering the National Portrait Gallery it becomes clear that Grayson Perry CBE has become a national phenomenon. Crowded from the instance of its opening, Grayson Perry: Who Are You? includes 14 new works produced to accompany his new series of the same name on Channel 4, and Playing to the Gallery: Helping Contemporary Art in its Struggle to be Understood, his new book.
Perry was born in 1950, and won the Turner Prize in 2003, beating the Chapman Brothers, amongst others. At the time he said, "it's about time a transvestite potter won the Turner Prize".
Since then he has, along with his alter ego Claire, become a familiar face at art world events and on television; he's curated a hugely successful show at the National Gallery, and this year was the first artist to be asked to present the highly prestigious Reith lectures.
Talking to him it soon becomes clear that a sharp brain is operating underneath the blonde wig of Claire or his off-duty tousled natural locks.
This arguably small display encourages the viewer to meander throughout the first-floor contemporary portrait galleries in a quasi treasure hunt and discover the works, each marked with a distinctive "Who Are You?" logo. Perry's pots are familiar but in the last few years he has added new mediums, turning towards tapestry and sculpture – both present here.
Grayson Perry Who Are You? portraits

Show all 15
Perry's subjects for this show are "individuals, families or groups that somehow represent some important facets of the nature of our identity", and as could be expected some are more familiar to us than others. The disgraced politician Chris Huhne is present here on the Huhne vase (2014).
In a frieze that normally would contain geometric triglyphs, Huhne's face is repeated alongside simplified phalluses and speed cameras. Perry chose to break the vase and have it repaired in the kintsugi traditional Japanese method that emphasizes the repair, saying "I have smashed the vase and repaired it with gold to symbolise that vulnerability might be an asset in relationships for such a person".
Comfort Blanket, a large tapestry with the Queen as centrepiece, weaves together national treasures - including curry, fish and chips, the Magna Carta, suffragettes and a seemingly random list of famous people, like David Bowie, Edward Elgar and Jamie Oliver, in a decorative riff of colourful patterns.
My personal favorite is a trio of busty vases celebrating three women, Melanie, Georgina and Sarah: "three woman large and proud of their size". Perry says that he has chosen to portray them as curvaceous and "vaguely antique heretic figures."
Does this show merit the kind of attention it is receiving, and also its attendance figures? Nearby the more typical National Portrait Gallery exploration of William Morris is less well-attended.
But the pots are sublimely beautiful after all. The subject matter here is so definitely mired in Britishness; perhaps it is fitting to claim Perry and Claire as our personal favorites and not look for earthshaking insights.
Continues until 15 March 2015
Join our new commenting forum
Join thought-provoking conversations, follow other Independent readers and see their replies