Henri Matisse: The Cut-Outs, Tate Modern, art review
Matisse's cut-outs are ecstatic though controlled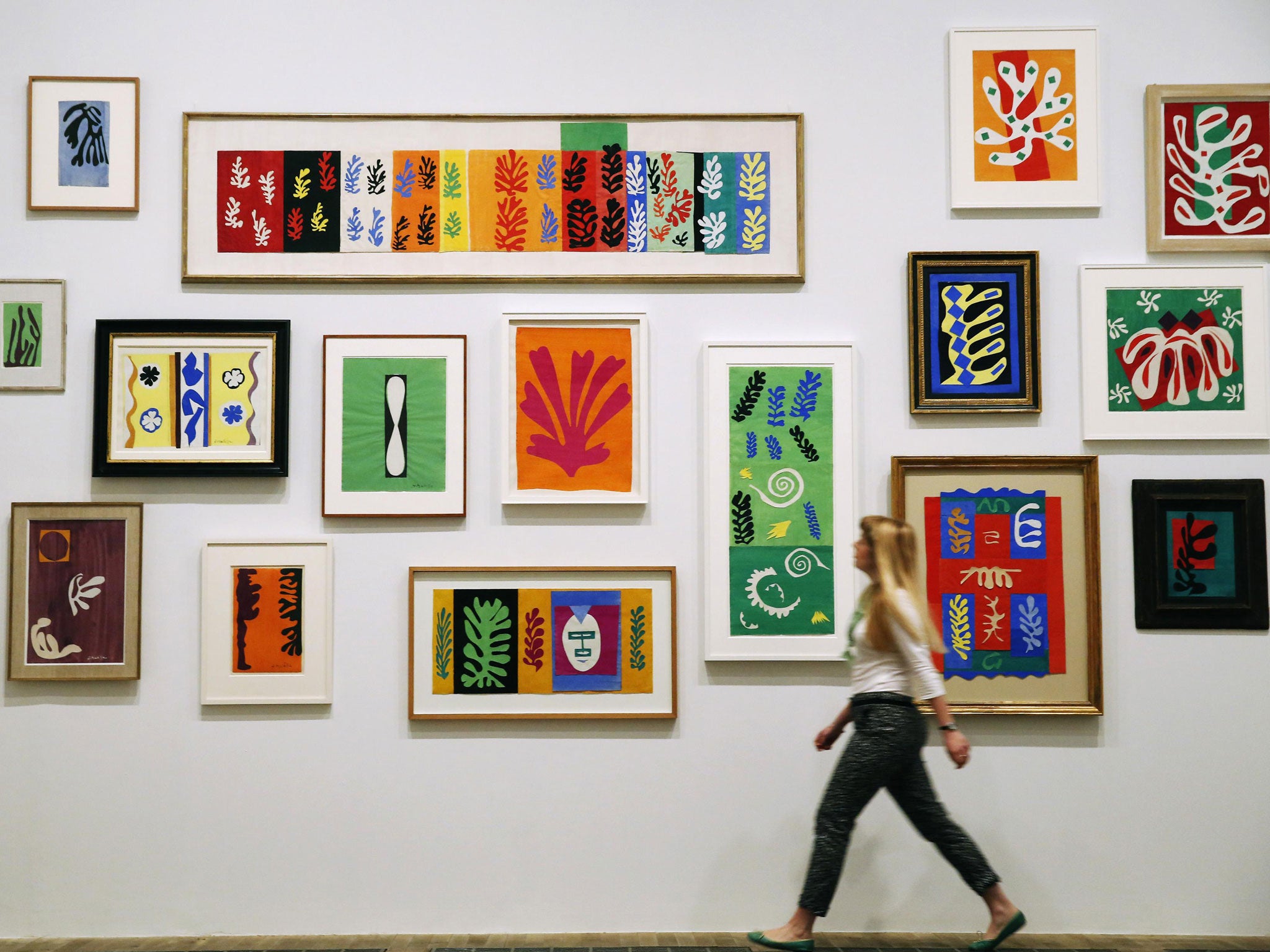 "From the moment I held the box of colours in my hands," Henri Matisse said of his discovery of painting. "I knew this was my life. I threw myself into it like a beast that plunges towards the thing it loves."
Born in 1869, the French artist made his name by shocking the Parisian art establishment with paintings so bold and brilliant that he became known as a "wild beast" of colour.
The job of continually reinventing his art assumed a new urgency in the last 15 years of his life. He was diagnosed with bowel cancer in 1941 which prevented him from painting. He was 71. Out of suffering, he produced some of his most astonishing and accomplished works: the cut-outs.
A new exhibition at Tate Modern, Henri Matisse: The Cut-Outs, includes 130 works made from the late 1930s until Matisse's death in 1954 at the age of 84. Matisse regarded his recovery as une seconde vie, a second life. It was a gift of time.
During his convalescence, he began working on the cut-outs in earnest. He cut shapes out of paper painted in bright gouache colours and pinned them to the walls of his bedroom-cum-studio in Nice, then Vence in the South of France. "Only what I created after the illness constitutes my real self," he said. "Free, liberated." That sense of freedom is conveyed directly to the viewer.
The cut-outs were simple and revolutionary. The graphic iconography of The Snail (1953, below) and the four Blue Nudes (1952) predate our ad-mad world. They predate Pop Art. The images have been reproduced as posters, sent as greeting cards. The task of this exhibition is partly to invigorate what we feel we have seen, even if we have never seen the originals. And it does just that.
Henri Matisse: The Cut-Outs
Show all 10
Walter Benjamin wrote that the original work of art, as opposed to the reproduction, has an "aura." The later cut-outs certainly do. They start small and get bigger and more wonderful as the exhibition goes on, indeed, as Matisse neared the end of his life.
There were other difficulties. In 1941, France was under Nazi occupation. Matisse's wife of 41 years had recently left him due to his close relationship with his Siberian model and assistant Lydia Delectorskaya. His daughter would soon be arrested and tortured by the Nazis because of her work for the Resistance.
The cut-outs are ecstatic though controlled. Matisse described the process of making these staggeringly bright, large-scale works as "painting with scissors." Rather than painting onto canvas, he was cutting "in" – making incisions. There is no sense of surgery, however. There is little sense of conquering, violating, penetrating – all those metaphors of creativity associated with the "modern masters" of the 20 century. Instead, these works are exultant; they make you feel happy, high, vital, which is what the artist intended.
Most fascinating is the way they encompass so many different forms at once: sculpture, drawing, painting, and even our contemporary idea of installation. There is archive footage here of Matisse in his studio, wielding his large pair of shear-like scissors, cutting out the shape of a yellow frond. Pieces of cut-up paper lie on the floor around him. His hands are aged, but his use of the scissors is supremely confidant. He was confined to a "taxi bed" and relied heavily on Delectorskaya, who appears in the film in a purple head scarf, red lipstick, her hair a shocking blonde. She is pinning the shapes that he has made to the wall.
The early cut-outs were small, experimental. Here the sculptural element comes to the fore. Matisse accepted a range of commissions, from his stunning illustrated book Jazz (1947) to set design. Two Dancers (1937-8) is a maquette for a stage curtain design for the ballet Rouge et Noir.
A black figure waits with arms open to catch a white figure, suspended above. She is mid-jump. Her arms are splayed gracefully and she trails yellow fire or perhaps feathers in her wake. The background is a rich blue. The image is assembled from bits of cut-up paper painted with gouache and pinned to the page of a notebook. The drawing-pins are visible and the pieces of paper cast shadows where their edges rise. The surface is textured. The image is precise yet raw. It seems to have been made by Matisse in the spirit of the dance itself: choreographed and spontaneous at once.
The ballet was set to Dmitri Shostakovich's Symphony #1, which so enthralled Matisse that he translated the music into a system of colours, which the choreographer Léonide Massine then turned into a series of symbols. Black = violence, red = materialism, yellow = wickedness, white = man and woman, and blue = nature.
The system perhaps resonates with a later work, The Fall of Icarus (1943). The Greek myth of Icarus, whose father gave him wings of wax which melted when he flew too close to the sun, is shown as a white figure cut out of a vertical black strip. Icarus seems to be falling through a tunnel of darkness crafted especially for him. His arms flail awkwardly; there is nothing to hold onto. If black equals violence, then he is trapped within it.
A red spikey flame shape is pinned to his chest, suggesting the panic and passion of a beating heart. Here the act of pinning becomes violent – it points to the crucifixion. Yellow spikey stars surround him – he has been cornered by fate. It could be argued that the work is an allegory of Nazi aggression. Matisse was never a political artist, but these wartime cut-outs are menacing in ways that the later ones are not. This is a much reproduced image, but the original has retained its power to move.
Most beguiling about Matisse is the way that he saw art as part of life, indeed, as a way to make life better. The photographs of him drawing in bed recall Frida Kahlo. During convalescence, she too transformed everything – her room, her bed, herself – into art. The cut-out is ephemeral, made to be unpinned and moved around. It would seem to be the opposite of monumental art, but in fact it is just that – and decorative too.
Oceania, The Sky (1946) is a vast silk screen that shows birds soaring through a muted sandy-brown field of colour. The work originated as a swallow that Matisse had cut out of white writing paper and then pinned to the wall of his studio to cover a stain. The idea of throwing away such a beautiful shape had distressed him. Gradually, he added other cut-out birds, plants, fish, inspired by a trip to Tahiti years before. The walls of the studio were transformed into the limitless space of the sky.
As the scale of the works increases so too does the intensity of the feeling of looking at them. They communicate a sense of the sacred, though most are secular. Even the religious commissions convey no guilt, no shame, no punishment.
The Parakeet and The Mermaid (1952) is a phenomenal work of cut-out paper green and blue underwater fronds on a white background. The forms seem to move in harmony with one another; there is no point of antagonism. The mermaid swims, a blue abstraction that only hints at figure, in the upper right hand corner. She is not at odds with her environment; she is separate but part of it.
Despite the seeming violence of the cut-out method, these works are not fragmented. They do not express brokenness and alienation, like so much of Modernism. Rather, they are whole. "I don't know whether I believe in God or not," said Matisse. "But the essential thing is to put oneself in a frame of mind which is close to that of prayer."
Henri Matisse: The Cut-Outs runs from 17 April to 7 September at London's Tate Modern, with tickets costing £16.30
Join our commenting forum
Join thought-provoking conversations, follow other Independent readers and see their replies