Hubert Duprat: Caddis, Crystal and Company, Norwich Castle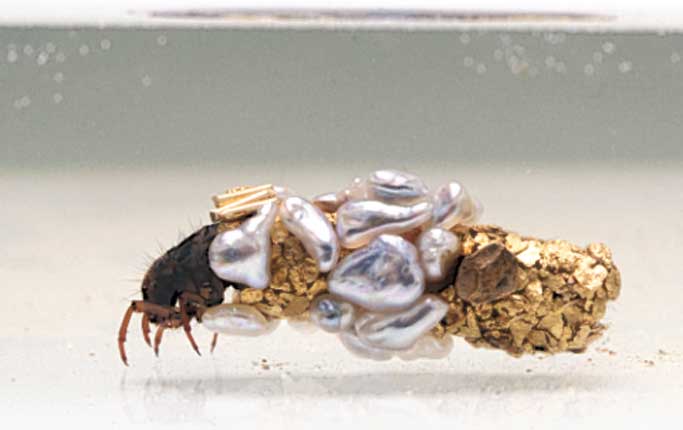 From time to time, Hubert Duprat likes to etch his name into one of the gold flakes. But unlike most artists signing their work, he has a guilty conscience about it. "I feel as if I am exploiting my workers," he says. "It is their work as much as it is mine."
His workers, in this case, are caddis larvae. While they are still creeping about underwater, they use pebbles to build micro-habitats, mini-thimbles into which they slide their vulnerable bodies. Duprat has transposed the larvae into an artificial environment and replaced the pebbles with gold flake, turquoise, rubies and pearls. The result is a shimmering fusion of mineral and animal, a collaboration between art and nature.
There is a beguiling modesty and minimalism to Duprat's work, a "work" that is also a refusal to work too hard, a disinclination to commodify and categorise, more subtle inflection or polarisation of the real than an outright act of manufacturing.
"I am playing a bad trick on them," Duprat says of the crew of caddis that beaver away, unwittingly, on his behalf. But it is a very good trick for the rest of us. The anthropologist Claude Lévi-Strauss once said that nature and culture could be summarised in the difference between "the raw" and "the cooked". Duprat's oeuvre is very lightly braised, or medium rare, or sometimes just a neatly arranged, well-washed fruit salad.
Norwich Castle is hosting Duprat's first solo exhibition in this country. "Coupé-cloué" ("Cut-nailed") consists of a couple of tree trunks recumbent on the ground. Rather like the larvae habitats, they have been metamorphosed: approximately a zillion brass nails (I know, I counted them) have been hammered into the trunks, so that not one millimetre of wood is visible. They have been encased in metal – you could say "entombed", because they will never again see spring – and yet the archetype of the tree is somehow reincarnated. "It required absolutely no skill," Duprat points out. "An idiot could have done it."
Duprat, all hair and baggy trousers, has an air of the barely civilised wildman; his characteristic work has a strong element of the Neolithic and the mythic. He works in flint, for example, out of which he fashions figures that could have appeared on the walls of Plato's cave. One of his gestures ("Cassé-collé" or "Broken-glued") is a large boulder that he has begun to carve up into chunks but then glued back into its original form, now tattooed with scars or fissures.
I found myself constantly doing a double-take. A lattice-work of coral? Yes, but with junctures or synapses made out of breadcrumbs. A giant inside-out glove, the fingers made of crumpled tubes? Maybe, but the inside looks like something out of Star Wars, studded with a black stone, emitting a dark light.
Ghostly dice; a porridge of magnets; a pyritic mirror. Duprat likes to speak of "re-enchanting the world". I was not surprised to learn that he comes from Perrier country, between Nîmes and Montpellier in the south of France. There is something irresistibly effervescent about him, a sense of lightness and immateriality amid ancient stones.
To 29 August (01603 766400)
Join our commenting forum
Join thought-provoking conversations, follow other Independent readers and see their replies