Jann Haworth: Close Up and Radical Women: Jessica Dismorr and her Contemporaries, review – Two exhibitions shine a light on women's work
The displays at Pallant House Gallery in Chichester fit together with logical symbiosis, the curation highlighting the gender politics of their respective periods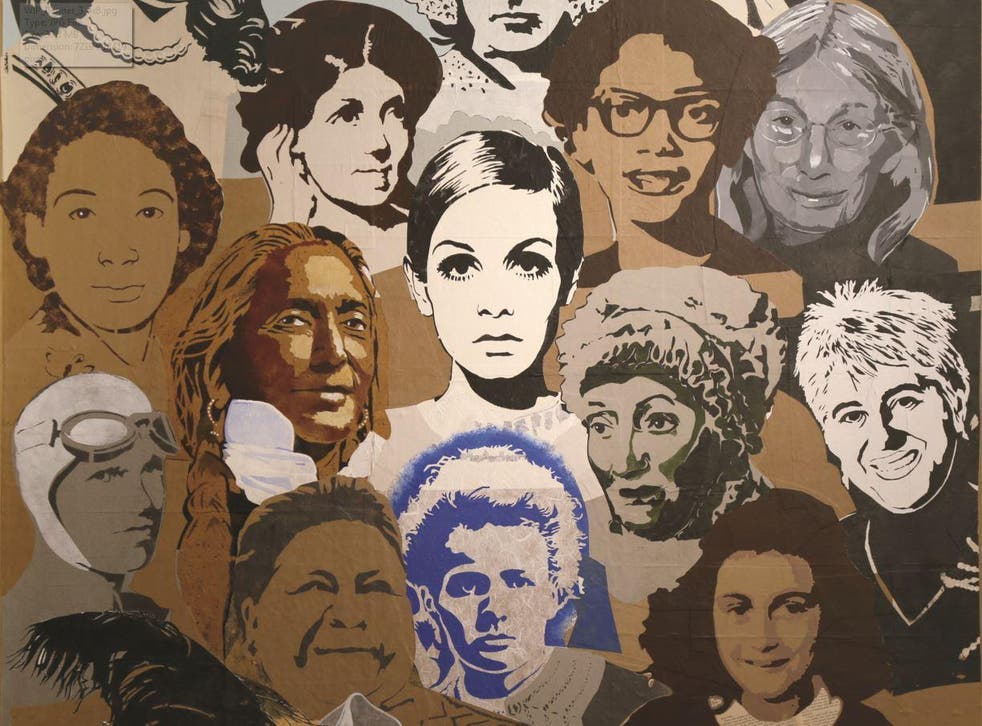 "Around seven boys are now scrapping over who designed that album cover," the American pop artist Jann Haworth tells me. "Peter [Blake] now claims 100 per cent and Paul [McCartney] now claims 100 per cent. And then there's Nigel [Hartnup]. Nigel claims he did a lot. I just think, 'Oh, go play in the sand.'"
Haworth is talking about the iconic album sleeve for The Beatles' Sgt Pepper's Lonely Hearts Club Band – created in 1967 by her and Blake, her then husband, but since largely attributed to Blake alone. "It's difficult for people to understand collaboration," she continues. "They think, 'A guy must be the brains behind it.'"
It's what Haworth left off the album cover that most troubles her. Among the 65 people in the photograph, just 12 are women. "It didn't even occur to us at the time to make a gender balance, which is terrible." It is the desire to correct this, confronting the omission of women from wider history, that fuels the fire of her latest work.
The 28ft mural now on display is a poignant centrepiece, tying together two new exhibitions at the Pallant House Gallery that seek to readdress art history's stubborn marginalisation of women. Jann Haworth: Close Up and Radical Women: Jessica Dismorr and her Contemporaries came about when director Simon Martin realised just 20 per cent of the gallery's collection was by the hands of female artists.
Top artworks and where to see them

Show all 30
On paper, the two displays seem at loggerheads. One celebrates a single pop artist; the other, the interaction between several artists some 50 years earlier. In the gallery, they fit together with logical symbiosis, the curation highlighting the gender politics of their respective periods. With a layout that sees both exhibitions literally merge into one another through adjoining galleries, these similarities are emphasised further to potent effect.
The Chichester gallery is a no-brainer for a Haworth display. The Grade I listed Queen Anne townhouse is home to one of the largest collections of British pop art internationally. Inspired by her childhood as the daughter of a Hollywood production designer, Haworth became a leading figure in the movement; a small taster of her 57-year oeuvre is on display across two rooms, stretching back to the halcyon days of the Sixties.
Among the installations, wall hangings and collages are perched Haworth's large-scale "soft sculptures", suspended from ceilings and slumped in corners. Working in cloth, she embraces the often female-assigned (thus undervalued) medium of sewing – which she weaponises to defy male-favoured bronze and stone. Knowingly inspired by the cartoons and films that defined her childhood, Haworth's work creates a dialogue with the viewer, who must move around each piece to see its full effect.
Perhaps the most awe-inspiring piece is another collaboration – this time with her daughter, the artist Liberty Blake. It's Work in Progress, a 28ft mural celebrating more than 100 women from history in that same Sgt Pepper style. It's a powerful piece, not simply because of its magnitude. Among the recognisable – from Queen Nefertiti to Ellen DeGeneres – are lesser-known women whose ground-breaking work has been largely brushed under the carpet.
As the result of a community project that saw workshops across Europe and the US get involved in creating each character's stencil, the homemade, collaborative nature of the piece lends it a naïve, grassroots edge that is quite galvanising to see.
Curated by Alicia Foster, Radical Women explores the professional sisterhood among the avant-garde women artists of the 20th century, with the Gravesend-born Jessica Dismorr (1885-1939) at the centre. Taught at the Slade, Dismorr​ came of age during the turbulent fight for women's suffrage, and forced her way into central art groups at a time when many women were excluded.
The show has several distinct phases, from Dismorr's abstract, intensely colourful beginnings as part of the 1910s Rhythm movement, to the austere, modernist Vorticist years, followed by a post-war embrace of figurative portraiture through pointillist references and muted tones, and her eventual return to complete abstraction in her anti-fascist work of the 1930s. At times her work feels soft and introspective; at others, it's hard-edged and incensed.
Dismorr is perhaps best known in folklore for the time she pulled off her clothes and stripped naked in the middle of Oxford Street in 1919. The connection the exhibition draws between Dismorr's work and the furious suffragette movement makes this glorious story seem even more probable.
Dismorr's Self-Portrait of 1928 shows her as a painter at an easel, self-identifying as belonging among the male ranks of the establishment, in a direct rejection of the traditionally passive female subject. Nearby, Ethel Wright's full-length portrait of suffragette Una Dugdale Duval, who infamously refused to "obey" her husband in her 1912 marriage vows, is displayed prominently, opposite a case of anti-suffragette propaganda that labels them a "disgrace".
It's a bit of a whistle-stop tour, plausibly illustrating the political turmoil behind the artist's life and work, but skimming over the impact Dismorr's troubled mental health undoubtedly had on her output: she died by suicide days before Britain declared war on Germany. Most remarkable, though, is that Dismorr isn't a household name like her male counterparts.
With women's work still woefully underrepresented in the art world, it's heartening to see an entire floor of Pallant House given over to lesser-known female artists sitting in incontrovertible harmony with each other. As Martin writes in the Radical Women catalogue, "it is often said that we cannot rewrite history, but what we can do is question those narratives that become the mainstream accepted versions of history".
Jann Haworth: Close Up and Radical Women: Jessica Dismorr and her Contemporaries are at Pallant House Gallery until 23 February 2020
Register for free to continue reading
Registration is a free and easy way to support our truly independent journalism
By registering, you will also enjoy limited access to Premium articles, exclusive newsletters, commenting, and virtual events with our leading journalists
Already have an account? sign in
Register for free to continue reading
Registration is a free and easy way to support our truly independent journalism
By registering, you will also enjoy limited access to Premium articles, exclusive newsletters, commenting, and virtual events with our leading journalists
Already have an account? sign in
Join our new commenting forum
Join thought-provoking conversations, follow other Independent readers and see their replies