KAWS, Yorkshire Sculpture Park, Wakefield, review: Hipsters' hero feels likeable but bland
He's an exceptional designer but there's no bewilderment or confusion or excitement to these oversized toys
Hannah Duguid
Sunday 28 February 2016 18:18 Comments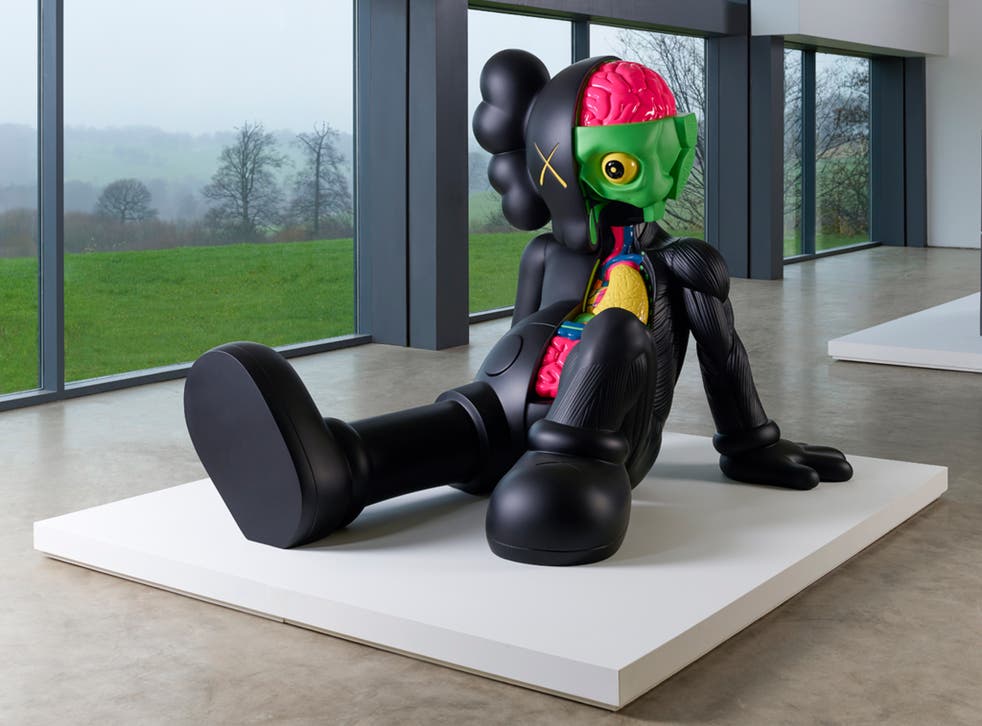 A crowd of young hipsters with beards and beanie hats seemed to emerge like zombies from the Yorkshire hills for the arrival of American Pop artist KAWS. His exhibition at the Yorkshire Sculpture Park caused a stir on Instagram with his 425,000 followers clicking the heart to like images of giant sculptures, with Mickey Mouse ears and faces formed from the skull and cross bone design. They're humanised with slumped expressions of shame or despair, a mutant Mickey sat with his head in his hands.
Instagram feeds showed images of the sculptures as they went up in the late January snowfall; these usually urban creatures spread out through parkland and hills. The gentle, frost-covered, wooden hand of Good Intentions cradles the head of its offspring. The stooped posture of Small Lie, with a long Pinocchio nose and short dungarees, stands in childlike despair against a bright winter sky. On screen they appeared more compelling because in reality they fall rather flat.
Like the mass-produced toys, which KAWS used to design, there's repetition through this work: the same ears, diagonal crosses for eyes. Some made of wood, which adds a sense of warmth and craft, but they're all recognisably by KAWS. Like Jeff Koons or Damien Hirst, he's the artist as brand.
Culture news in pictures

Show all 33
In the Longside Gallery, sculptures vary from Accomplice, a 10-foot pink Bugs Bunny-type being with a white bib, bow and cute cotton ball tail, to Original Fake Companion, which is half skinned: one side grey and white, the other side reveals its human-like innards. It sounds creepy but isn't, more the sort of thing a biology teacher might use to explain anatomy.
KAWS famously reworks popular icons: here we see Mickey Mouse and the Michelin Man: first in shiny brightest pink, fat rolls made of tyres, he stands with hands on hips and a pair of curved mouse ears. He's also presented flattened against the wall in grey as a painting.
A series of bright acrylic paintings along the back wall refer to KAWS origins. They're graffiti on canvas since he began as a street artist, where he found his name as KAWS. Brian Donnelly is his real name. Born in New Jersey in 1974, he now lives in Brooklyn, New York.
This exhibition is a crowd-pleaser, no doubt. KAWS is immensely popular with a global following of fans. He brings in people seduced by the objects themselves, by his graffiti past, and his celebrity connections with Kanye West and Pharrell Williams. Like graffiti, these sculptures are masterful attention grabbers: their scale, the contrast of familiar and strange, the mix of materials and colour.
But I couldn't get beyond them as a series of oversized toys, which, though endearing at times, have none of the weirdness or intricacy of an artist such as Jeff Koons. He's an exceptional designer but there's no bewilderment or confusion or excitement because KAWS feels likeable but bland. A product devoid of complexity that children will love.
To 12 June (01924 832631)
Register for free to continue reading
Registration is a free and easy way to support our truly independent journalism
By registering, you will also enjoy limited access to Premium articles, exclusive newsletters, commenting, and virtual events with our leading journalists
Already have an account? sign in
Join our new commenting forum
Join thought-provoking conversations, follow other Independent readers and see their replies