Kiev Biennale of Contemporary Art, Mystetskyi Arsenal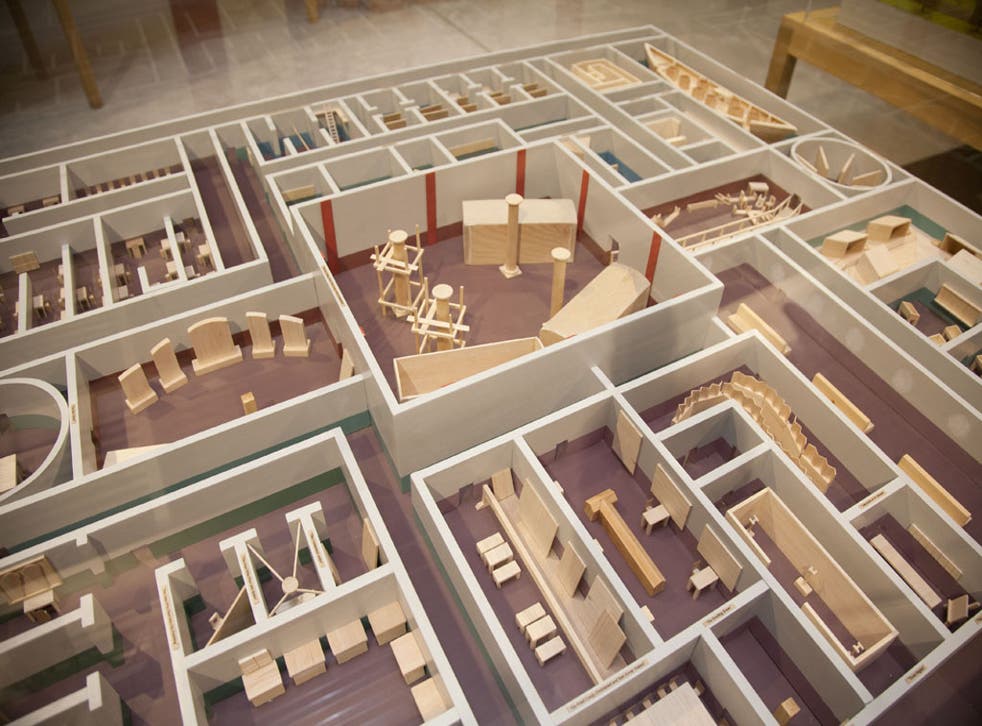 Two things stand out at the first Kiev International Biennale: the superior video pieces on show and a range of intelligent, original works made by a selection of Ukrainian artists (22 in total, providing a prime nationalistic platform for this under-the-radar group).
This astute selection, and the impressive ambition of the biennale, is down to its curator, David Elliott, a stalwart of the international biennial scene who has consistently looked beyond European art borders, challenging the hegemony of Western art since the 1970s.
He argues that most exhibitions today have become Eurocentric and safe in their assumptions which is why 13 Chinese artists also feature in the biennial. If Elliott means to make us both contemplate and grimace, then he succeeds with works like Odessa-based artist Sergey Zarva's disfigured, expressionist front covers of Ogonyok magazine, the Soviet equivalent of Life Magazine.
This propaganda tool has been subverted so that the shiny, happy front-page subjects are transformed into ghoulish, soulless cadavers; the more over-the-top and subservient these workers and youths would appear in print, the more brutish Zarva makes them, stripping them of any remnants of civility.
In contrast, Lutz Becker's 'The Scream' (2012) is a beacon of humanity and worth the entrance price alone; the German artist presents a beautifully structured montage of segments from the films of the Ukrainian film-maker and poet Aleksandr Dovzhenko (1894-1956) made between 1927 and 1935. Controlled by the Soviet studio system, Dovzhenko shows workhorses, like farm labourers and metal workers, straining both physically and emotionally under a dictatorial regime; it's a stirring, elegiac evocation of life under subjugation.
Indeed, Socialist Realism hangs in the air here, from Becker's intervention to painter Wei Dong's tawdry take on China's Cultural Revolution. The past indeed penetrates the show; the Chapman brothers' 'The Almighty Disappointment' (2011), a tedious piece, takes on a new dimension in this post-Soviet setting, its Nazi-esque insignia an unsettling memento of the German occupation in Kiev in the early 1940s.
A coruscating piece, 'Monument to a Lost Civilisation' (1999) by the US-based couple Ilya & Emilia Kabakov, reflects the false hopes of those living under communism (biennials can and should be political to an extent). Large-scale photographs by the Kharkiv-born artist Boris Mikhailov showing a series of dehumanising, gargantuan factories (Untitled, 2011) remind visitors that culture may well be on the state agenda. Soviet heavy industry, and its steely grandeur, is nonetheless a cornerstone of Ukraine's heritage.
Such pieces should be a bombshell in this burgeoning metropolis that is slowly clawing its way towards a free market economy. But the biennale was, in the main, deserted as I wandered around the exhibition site (the Mystetskyi Arsenal, a cavernous and astonishing former weaponry store); perhaps the conceptualism of contemporary art, for now, leaves this population cold though the organisers stress that over 86,000 people have visited the show, while a "biennial night" held earlier this month drew sizeable crowds.
There is enough spectacle here though to keep even the most hard-nosed visitor entertained and intrigued (the exhibition could be a little more nuanced but it's not a bloated, incoherent show). You can always rely on the Russian art collective AES+F for sex and drama with a cast of appealing angular youths; they don't disappoint with their overwhelming technicolour deluge, the 'Allegoria Sacra' video (2011) which cannily depicts purgatory as a contemporary international airport. Meanwhile, MadeIn Company, a Chinese collective, shines with its faux-monumental statuary resembling a distorted Bamiyan buddha. Stelios Faitakis's exceptional wall frieze combining contemporary and traditional iconography deserves special mention also.
So is the Kiev exhibition a welcome addition to the burgeoning, overblown international biennial circuit? Yes; there's enough here to stir and enthrall, but only because Elliott has curated with flair and adroitness; there are certainly more hits than duds. And significantly, Ukrainian artists have the momentum; let's hope that this crucial, but fragile, forum continues to bloom.
Until 31 July
Join our new commenting forum
Join thought-provoking conversations, follow other Independent readers and see their replies