PJ Harvey's recording at Somerset House: The viewers are bathed in an eerie half-light
The Mercury prize winner (and now performance artist) produce her new album in front of an audience
Nick Clark
Friday 16 January 2015 20:53 Comments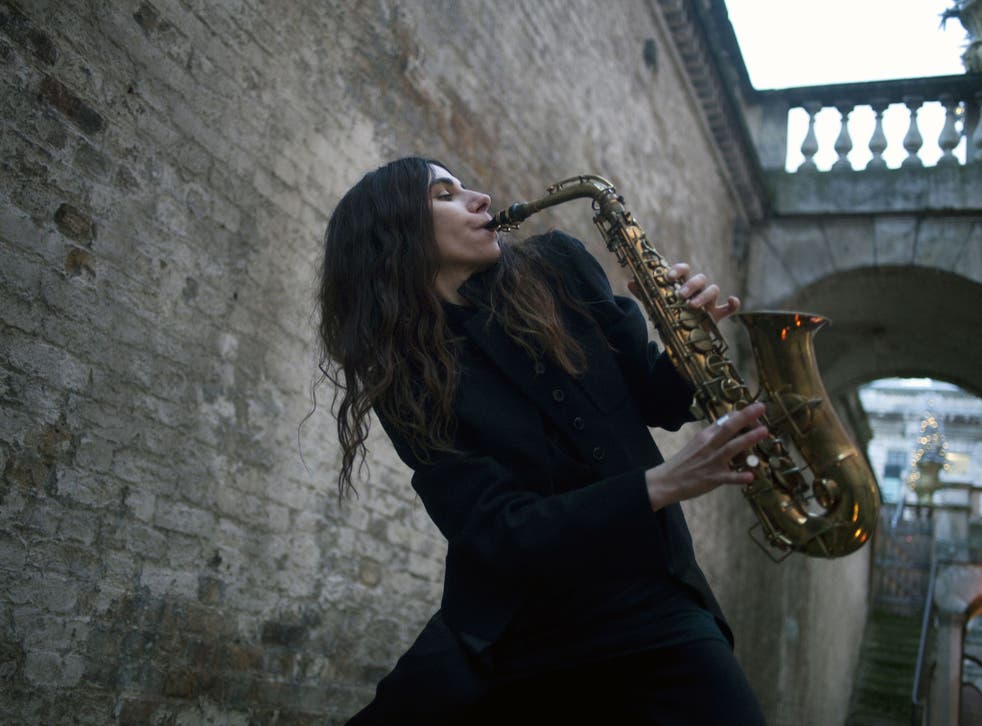 PJ Harvey wowed audiences at London's Somerset House, and yet she hardly opened her mouth.
Earlier this month Harvey sold tickets to allow fans to watch the recording of her ninth album, and the first visitors yesterday proclaimed the Recording in Process "performance art" piece a success, even if they saw little of her singing.
Harvey and her band set up camp in the former Inland Revenue staff gym and rifle range on Monday. On Friday the first ticket holders were ushered in to view the recording process.
After surrendering their mobile phones, a group of about 30 wound their way down through Somerset House's labyrinthine corridors into the basement.
There they found a specially commissioned studio, with soundproof glass the musicians can not see through. The viewers are bathed in an eerie half-light, contrasting with the harsh, clinical lighting inside, and can watch the musicians from two sides of the studio.
Eight people – Harvey, three session musicians, producer Flood (aka Mark Ellis) and three sound engineers – were in the studio when the group entered.
Looking oblivious to anyone outside, Harvey sat in the middle of the room with headphones on, nodding her head to the music.
When Harvey herself spoke or briefly played the violin – which was rare during the 45 minutes – the group fell into a hushed silence. But it was violinist James Johnston who was the focus of the studio rather than Harvey herself.
As the vocals to a chorus looped, he played along, stopping, and then returning again and again.
Danton Supple, himself a music producer, said: "It is fun to watch. I never realised what we do could be a spectator sport."
He added: "It would be great to come back and see how the track evolved. People are interested in the mechanics. Seeing how intricate the process may make people value albums a bit more."
The track was called "All the Memorials to Vietnam and Lincoln", which chronicles a trip the musician made to Washington.
Sheets with the lyrics to this and nine other songs were mounted on the wall for visitors to see, with names including "Sight-Seeing", "South of the River", "The Chain of Keys" and "Around Your Eyes" – all heavily annotated by Harvey and dated to 2012.
Michael Morris, the co-director of Artangel which worked with Harvey on the project, was wandering among those on the first public visit.
"Most people don't know what the actual process of making an album is like," he said. "It's much more fragmented than they expect. I find watching this riveting, even when nothing's going on."
He added: "I was also not expecting this strange intimacy. You're very close but they are not aware of it.
"It's very voyeuristic. People can feel quite ill at ease initially."
Register for free to continue reading
Registration is a free and easy way to support our truly independent journalism
By registering, you will also enjoy limited access to Premium articles, exclusive newsletters, commenting, and virtual events with our leading journalists
Already have an account? sign in
Join our new commenting forum
Join thought-provoking conversations, follow other Independent readers and see their replies