Royal Academy Summer Exhibition, London, review: Grayson Perry blows the dust off the RA's annual jamboree
This institution needed mad-cap iconoclast like Perry to overturn the furniture, and that's what he's done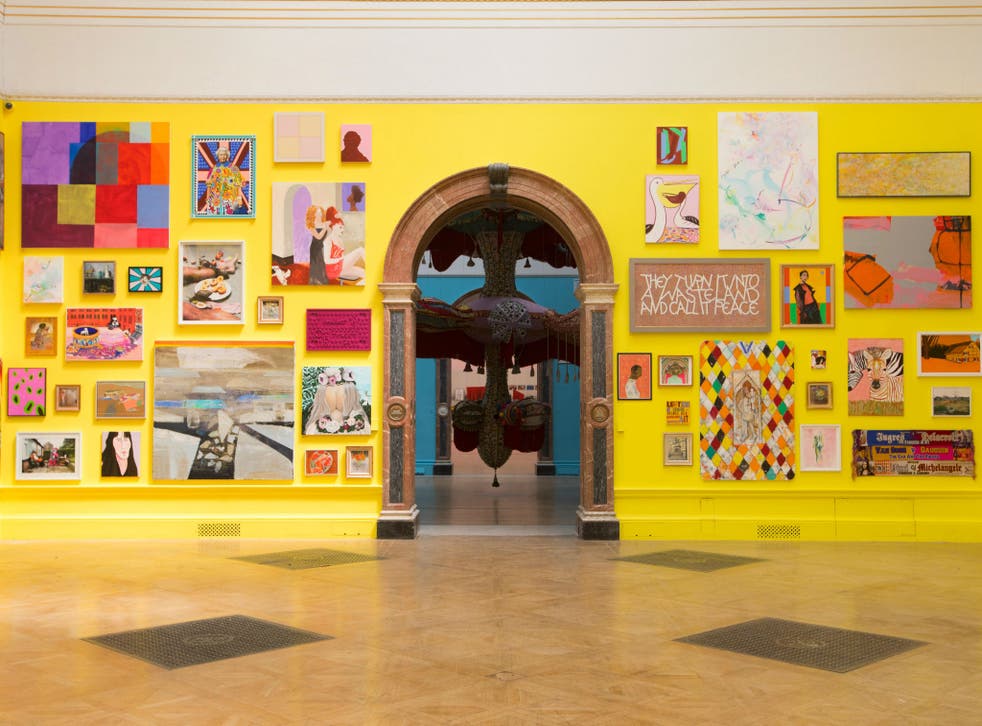 Has the Royal Academy's Summer Exhibition turned into the Grayson Perry Story (part seventeen, and to be continued)? Yes. He is this year's coordinator. His name appears on exuberant banners down Piccadilly. (All these banners are works by Grayson Perry, of course.)
His self-regard is boundless. His maddening itch to be famous probably coincided with his very first, heart-felt screech. Has all this enraptured mirror-gazing acted to the detriment of his own art? Yes.
And yet was it a good idea to plonk him centre-stage at the moment when the Royal Academy is celebrating its 250th anniversary? Another yes.
The fact is that the Royal Academy, which felt, even as recently as last year, almost 250 years old rather than almost 250 years young, needed a jokey, mad-cap iconoclast like Perry to overturn the furniture. And that's exactly what he has done.
So, pleasingly paradoxically, his excessive vanity has worked towards a greater good: some of the dust and the fust of this annual jamboree has been blown out of the window.
What's different then? The colours of the walls are so cheery. Isn't that a best Burford-hen's-yoke-yellow that I see before my eyes in the first of the great state rooms? It is. It is.
And what of the works themselves? These walls were always far too cluttered with stuff in the past, and all arranged with a dreary eye to the abiding triumph of symmetry. Not this time though. They are plonked here and there, with pleasing unpredictability – as if someone with more bravado than musical experience has been footling on the piano en passant. They are much more about now than ever before.
The hard biscuit of Brexit has been bitten into with some aplomb. Velvety Farage flaunts himself in a ridiculous portrait.
These works feel as if they belong to our world, to the world of our current concerns. They no longer appear to be teaching us yawn-inducing lessons about what art was like back then, and how good all that had been.
In earlier years, the artworks often felt as if they had been dragged out of the darkness of the lumber room. By contrast, there's a lot of scampish, oddball fun about this year. Daft sculptural manifestations (it would be too reckless to call them sculptures) turn up everywhere, blocking your way, encouraging the odd prat to fall perhaps. A good deal of pleasingly refreshing mockery is directed at the good ship QE II. Still unsinkable.
The presence of all those old Royal Academicians is no longer quite so evident (although each one of them, alas, still has a right to show up to six works, and they generally pounce upon this opportunity like wasps on a sugar cube, because it will probably mean that the leaking studio roof gets replaced at last). Their dull presences, all those worthy canvases of near Herculean proportions, no longer dominate these rooms.
And even Anselm Kiefer, that life-long lamenter of the unforgettable, unshakeable, unputdownable miseries of the tragedy of Germany's past, seems to have cast off his habitual pall of guilt and gloom. Grayson has pulled him, backwards perhaps, onto the dance floor.
Open 12 June –19 August (royalacademy.org.uk)
Join our new commenting forum
Join thought-provoking conversations, follow other Independent readers and see their replies