The Crucible: Miller's timeless witch-hunt tale is spellbinding
Farber's revival brings the nightmare madness home to us with an extraordinary physical intensity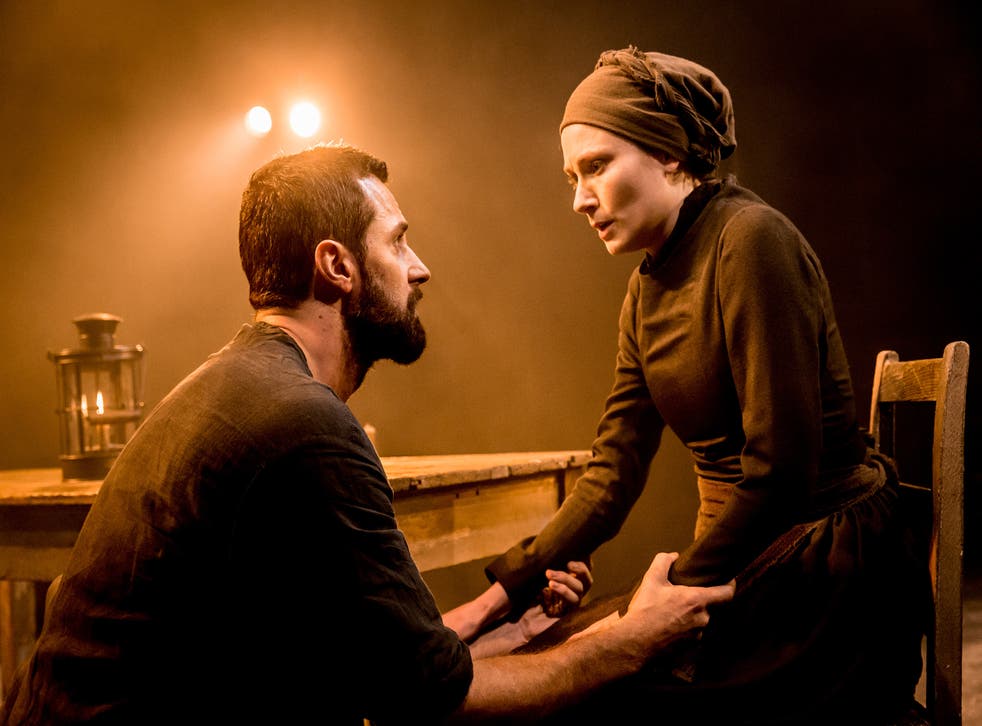 Yaël Farber's mesmerising production of Arthur Miller's great play unfolds with the sick dread of a horrible dream from which you are powerless to awake.
The South African director made a huge impact internationally with her Mies Julie in which she transplanted Strindberg's classic and its master-slave dynamic to the present day in her native country. Here, she keeps matters firmly rooted in the Salem of 1692 whose witch trials provided Miller with a way of confronting the McCarthyite Red scare of the 1950s.
It's a tribute to the play that its world, so deftly evoked, both resists updating and renders it completely unnecessary, such is the timeless relevance of its portrait of a community driven by paranoia into accepting lies as truth and demanding false accusations as the price of survival.
Farber's revival brings the nightmare madness home to us with an extraordinary physical intensity, a masterly feel for the different emotional rhythms in Miller's scenes and a tension that is brilliantly sustained over the show's three-and-a-half hours' running time. The audience sits on all four sides of Soutra Gilmour's spare set, giving the proceedings an intimacy of focus and creating the impression that the protagonists are in a crucible that is reducing them to their essence.
The dark atmosphere of foreboding is augmented by Richard Hammarton's sound score with its ominous rumbles and distant clankings. We are given a practical demonstration of the ease with which people succumb to suspicion right at the outset, Farber leaving us to wonder whether it is soup or demonic incense that's smoking in the dish that the slave Tituba is carrying as she makes repeated circuits of the stage.
The teenage girls are truly terrifying in their seizures of self-imposed, hair-thrashing, convulsive hysteria and finger-pointing accusation, intimidated into these paroxysms by Samantha Colley's bullying Abigail, the servant who had an affair with John Proctor and, now spurned, is out for vengeance.
Richard Armitage brings a powerfully imposing presence and a ferociously passionate contrarian spirit to this farmer who is haunted with guilt about his marital infidelity but who summons the courage to resist the temptation to save his own life by naming names. You certainly feel that he could "fall like an ocean" on the court of the witch-finder-in-chief Judge Darnforth (a flamboyantly sinister Jack Ellis), if only his integrity were not entangled with self-reproach.
Anna Madeley invests his wife (whom he has accused of being too cold) with a very moving, pained dignity. One of the most gutting aspects of the play is the way that this couple find their love each other again only in the climate of paranoia that dooms them and their final meeting here is almost unbearable to watch in its quiet depth of feeling.
There isn't a weak link in Farber's 24-strong ensemble and there are some wonderful cameos, with Ann Firbank brings a lump to the throat as the elderly Rebecca Nurse, feeble in body but staunchly proof against the prevailing insanity. Unmissable.
To 13 September (0844 871 7628)
Register for free to continue reading
Registration is a free and easy way to support our truly independent journalism
By registering, you will also enjoy limited access to Premium articles, exclusive newsletters, commenting, and virtual events with our leading journalists
Already have an account? sign in
Register for free to continue reading
Registration is a free and easy way to support our truly independent journalism
By registering, you will also enjoy limited access to Premium articles, exclusive newsletters, commenting, and virtual events with our leading journalists
Already have an account? sign in
Join our new commenting forum
Join thought-provoking conversations, follow other Independent readers and see their replies