The Discovery of Mondrian, Gemeentemuseum, The Hague, review: How much branding can a dead man take? It's a total disgrace
The Hague's Gemeentemuseum has opened its biggest ever display of Mondrian's art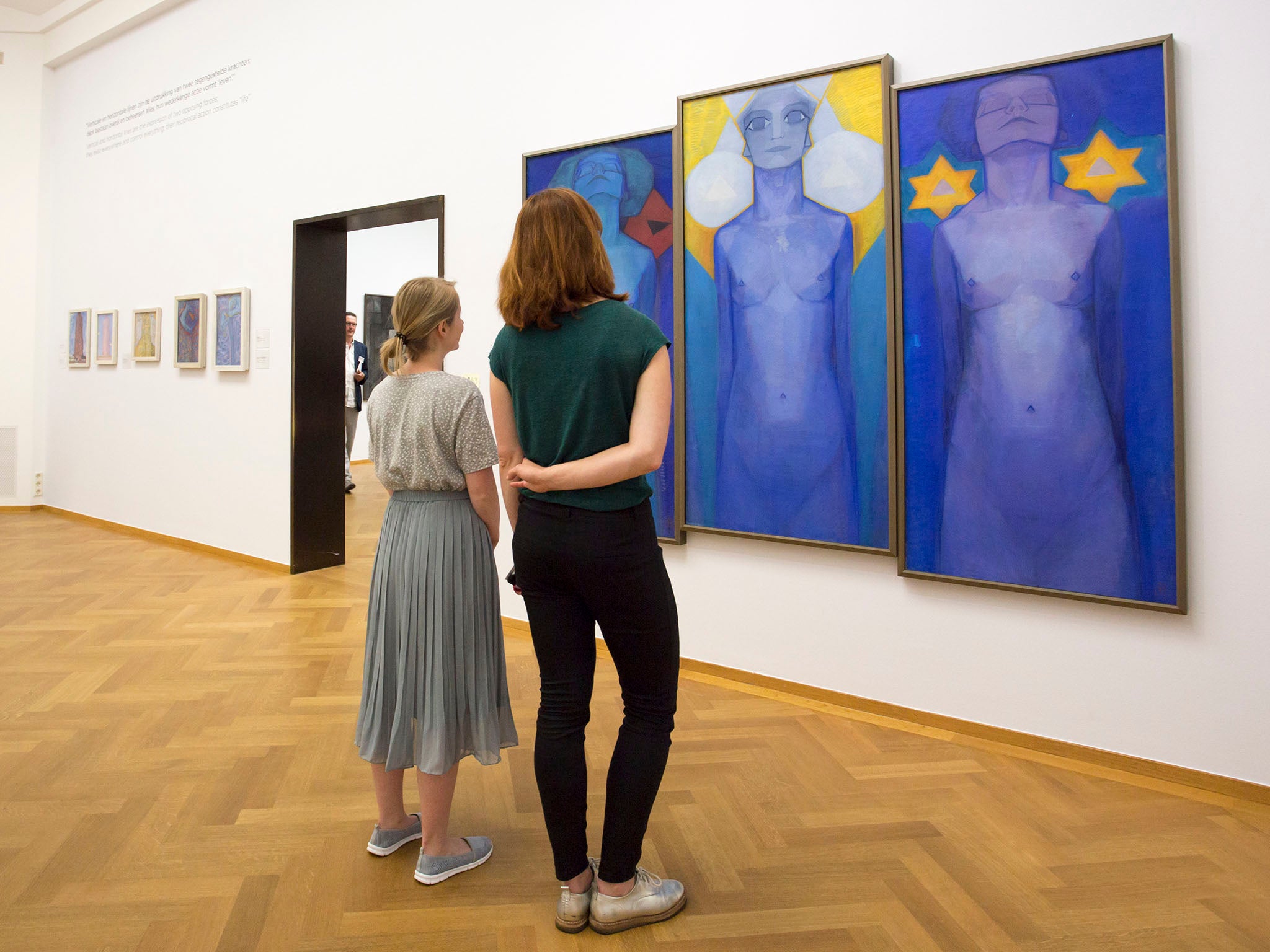 Even the most well-meaning of experiments can go horribly wrong. In 2009 the Gemeentemuseum in the Hague began to restore and conserve its huge holding of drawings and paintings by Piet Mondrian, 300 in all, a quarter of his total output as an artist. How did they come to have them in the first place? A museum director of the 1950s acquired most of them from two key collectors, both friends of Mondrian. Now they have gone on display, every last one of them, in chronological order.
Many of them are amongst his earliest. A crisply realistic still life of a basket of apples is a pleasing footnote to the Dutch Golden Age. There are many crepuscular renderings of the Dutch landscape, in which he fiddles with the horizon line, squares up a small barn in the interest of pictorial harmony. He is teaching himself to convey mood. All very absorbing, though in a minor key. The show blazes into life in 1908, by which time he is working much more loosely, much more expressionistically. The Red Tree of 1908-10 seems to be consumed, physically tortured, by its own inner fire.
Then come the Paris years, where he willfully reinvents himself as a kind of Cubist in order to become one of the moderns. All this is rather dull. Marooned back in the Netherlands during the First World War, the De Stijl group comes into being, with Mondrian as a key player. Painting, architecture and design have a common goal: human betterment. His paintings gradually develop into the kind of works for which he is now known universally – blocks of reds, blues, white, yellows – contained by black lines. Checkerboard compositions with neither foreground nor background. The show ends with his very last painting, Victory Boogie Woogie, made at his final studio in New York, and unfinished at the time of his death in 1944.
So far so good, you might say. But at some point in this fairly sober-suited enterprise, the city burghers wrested Mondrian from the innocent hands of the curators and the museologists and decided to turn him into a city brand: Brand Mondrian. The consequence is a travesty, an act of trivialisation, the reduction of the man to a handful of visual tics, visual clichés. His little blocks of colour are everywhere – on flags down the highway, in the windows of Deloitte's downtown tower block, on hoardings. Large square pontoons in Mondrian colours float on water in front of the Mauritshuis, shat upon by creative pigeons who insist on turning them Mondrian-white. There is nowhere that has not been Mondrianised.
The museum shop is another extended exercise in bizarre Mondrianical excess: Mondrian bags at €280 (£244) made from cow leather; the Mondrian suitcase cover; the Mondrian magnetic paper clip holder; the Mondrian notebook, the Mondrian one-piece dress, the Mondrian scarf, vase, baseball cap, lamp shade, coffee cup, handbag, stool, egg cup, table mat, notebook, rubber, stool, towel, spectacle case. Aaaaargh! If you don't feel like making a Mondrian for your own shop window – and the kits are on offer – you can at least wear the Mondrian kipper tie, as many of the museum attendants are doing, one or two with deep unease. This most meticulous of painters has been sold off to the marketing men.
How much branding can a dead man take? It's a total disgrace.
Join our commenting forum
Join thought-provoking conversations, follow other Independent readers and see their replies