Zaha Hadid: Early Paintings and Drawings, Serpentine Gallery, London, review – Spend time with her notebooks; the paintings leave me cold
Paintings and rarely seen drawings by the groundbreaking architect who died this year, are exhibited in the Serpentine's Sackler Gallery, which she designed in 2013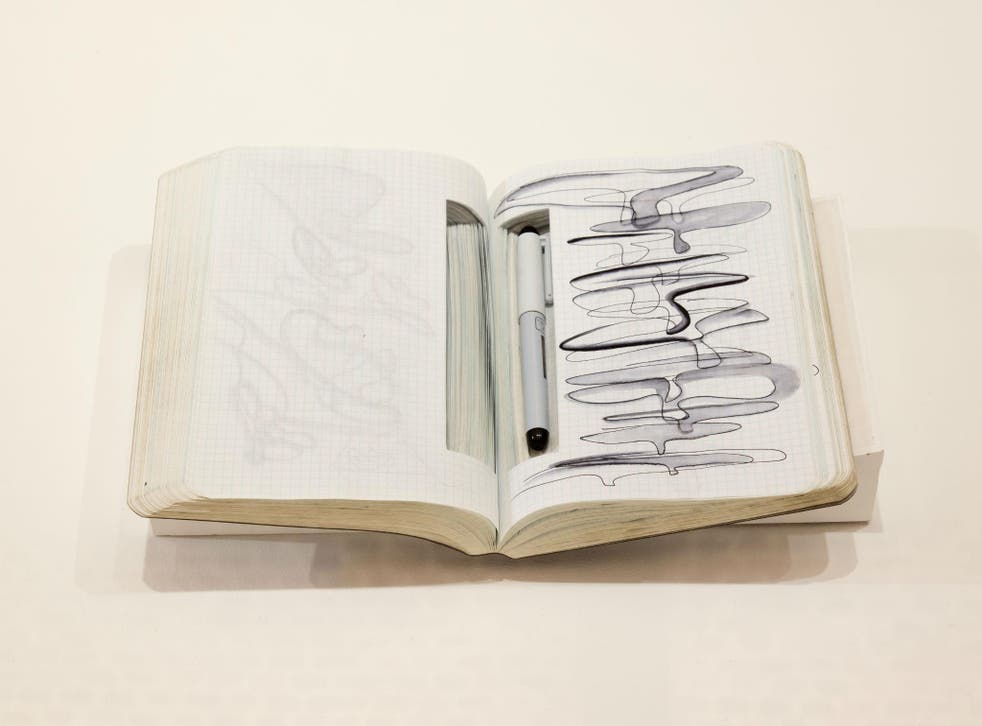 This exhibition is dedicated to Zaha Hadid, the architect, artist and designer who suddenly died too young earlier this year. It is hard to believe that Hadid, who always felt young in spirit, thirstily seeking new ideas, is really gone. Hadid herself always worked as an architect with a close team – so one has to ask whether this exhibition capture her ideas.
I knew Hadid, having spent time with her in 2007 improbably on top of a mountain peak in Austria in the lounge of the Bergisel Ski Jump. The occasion was the opening of her wonderfully inventive train stations and funicular in Innsbruck. I still think that the ski jump she designed in 2002 was one of her best sculpture/buildings.
Sitting with her in the hotel over breakfast the next morning, she did that thing that many creative people do and busied herself, making doodles and drawings in her sketchbooks that she carried everywhere with her. At dinner she ignored the mayor of the canton to continue drawing and chatting with her close friends who traveled with her. Her buildings, unlike Frank Gehry's, came not out of folded paper but from drawings that her affable director and engineer Patrick Schumacher transformed into buildings. The exhibition now open at the Serpentine feels like her buildings, a collaborative experience.
The paintings, full of obviously Tatlin-like formalist forms, shriek of high production flat surface designs and frankly leave me cold. The Virtual Reality project realised by the Google Academy left me nauseated but made me imagine the scope and potential of this new technology.
At the heart of the Sackler Gallery that she herself designed in 2013 is a long case full of her sketchbooks and pens. This makes you aware again of her boundless energy and talents. Sitting to write this review in the light-filled Magazine Restaurant Hadid herself designed, I am reveling in the curving oddly-shaped interior with animalistic legs supporting the ovoid skylights: one is truly immersed in her spirit and mind.
At the lunch for her opening one of the speeches commented on her collections. When asked what she would do with the Design Museum after she purchased it, she said she would turn it into her wardrobe. We were told she left behind a collection of amazing clothes, shoes and jackets.
I close this review recalling my reaction after visiting Maxi, her sadly not fully completed building in Rome. When I visited it pre-opening, I noticed the floors designed to let light in with an open grid and realised that Italian women who love their stilettos would be stuck in the holes with their high heels. When I saw her at Soho House I questioned her on this. She drew herself up and looked at me as if I was mad. "I do not wear high heels." At the opening many women were hopping around clutching their escorts, their heels trapped. Since then the floors have been capped and the idea of allowing light through, which was brilliant in some ways, is gone. Hadid designed sculptures not always functional buildings. My advice at this memorial exhibition is to play with the virtual reality that amusingly deconstructs a painting, if you have the stomach for it, but spend time with her notebooks, reading the text and savoring the ideas.
Join our new commenting forum
Join thought-provoking conversations, follow other Independent readers and see their replies