London photo exhibition highlights refugee crises from Second World War to Syria
As the Government struggles to stay on track to meet its goal of resettling 20,000 Syrian refugees by 2020, a new photography exhibition in London aims to remind the UK of the lengths it has gone to to help refugees in the past – and how much more it could be doing now
Chantal da Silva
Tuesday 06 December 2016 16:47 Comments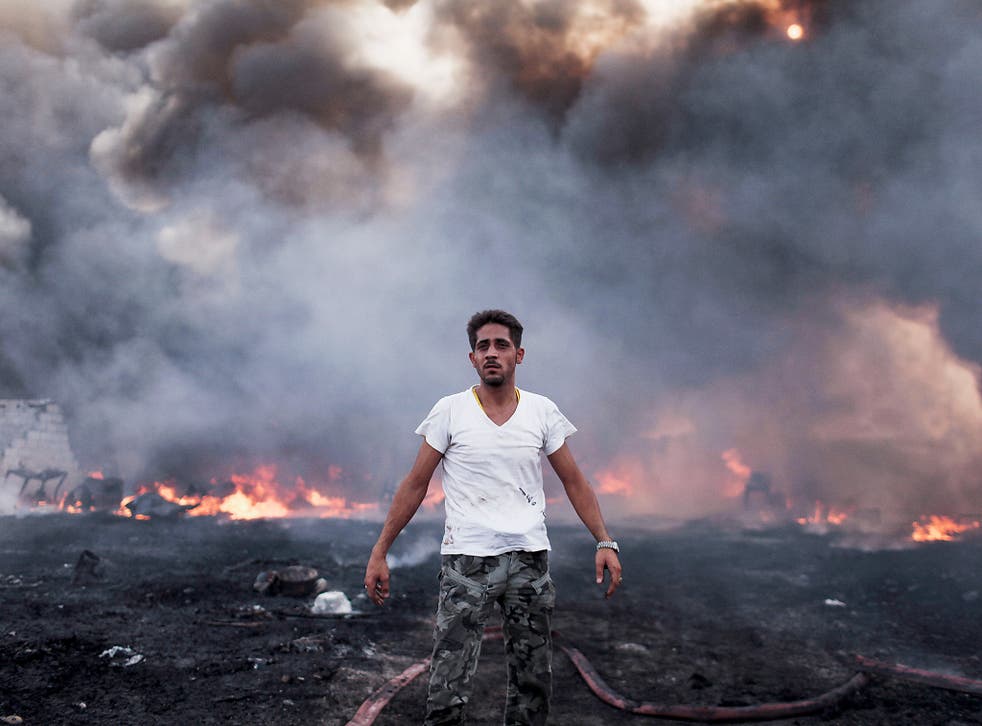 Since the conflict in Syria began in March 2011, the UK Government says it has managed to resettle 4,162 refugees from the war-torn country. The Government says it is on track to meet its commitment of resettling 20,000 refugees by 2020, but even that number is a drop in the ocean when you consider that nearly 5 million people have been displaced by the conflict.
That's why Amnesty International UK and Magnum Photos are launching a new photography exhibition along London's South Bank that aims to shine a light on the realities of those uprooted by conflict in the past and present – and show that the UK is capable of doing more to aid those in need.
The exhibition, which launches Wednesday and runs until Sunday, 18 December, will feature 30 striking images that highlight the challenges refugees face on their journeys to safety, from those who faced prosecution during the Second World War more than 70 years ago, to those who have been forced to flee Syria today.
It is part of Amnesty's "I Welcome" campaign, which calls on the UK to share more of the responsibility in responding to the Syrian refugee crisis, including by providing safe and legal routes for refugees.
"Photography can be a powerful way of telling a story and these photos remind us that people have been fleeing conflict and persecution throughout history," said Tom Davies, campaign manager at Amnesty International UK, in a press release. "After the horrors of the Second World War, the international community made a commitment to provide sanctuary to refugees, yet its response to the current crisis has been pitiful."
CIA director warns Donald Trump over the worst mistakes he could make with Iran, Syria and Russia
"Governments are responsible for ensuring the right to asylum, and ordinary people too have a vital role to play in welcoming refugees," Davies added. "Today, across the UK and further afield, the British public are going to incredible lengths to show solidarity with and welcome refugees. We want and need the same attitude from our government."
Images in the exhibition will be displayed on light boxes along the South Bank, with the earliest photographs coming from David "Chim" Seymour's collection on child refugees in Greece in 1946, juxtaposed with Chien-Chi Chang's moving photograph of a mountain of life jackets abandoned in Lesbos just earlier this year.
Others include Philip Jones Griffiths's 1968 image of a child running from a bombing raid in Vietnam, as well as Lorenzo Meloni's more recent photograph of a Syrian family standing in front of the rubble of a place that they once called home.
Amnesty says the UK Government has failed to show effective leadership in addressing the refugee crisis. It hopes the new exhibition will serve as a reminder that the country has come to the aid of those in need in the past and should do more to rise to the challenge in the present.
Carey Mulligan: The Syrian conflict is at crisis point
"There are historical examples of the UK playing a leading role in responding to refugee crises but now, while the Government refuses to share responsibility with others for hosting refugees, leaving some of the poorest countries to accommodate the biggest numbers, more and more people are being forced into the hands of smugglers and into risking their lives on ever more dangerous journeys," Davies said.
The year of 2016 has been declared the most dangerous year ever for refugees trying to reach Europe. The UN Refugee Agency has said as many as 4,715 migrants have drowned, suffocated or been lost at sea on crossings over the Mediterranean this past year alone.
And of those left behind, more than 250,000 Syrian people have been killed since the conflict began in March 2011, with an estimated 13.5 million, including 6 million children, still in need of humanitarian assistance.
Amnesty International and Magnum Photos exhibition

Show all 10
Rather than "raising the drawbridge" Amnesty says the UK should share in the humanitarian responsibility to provide safe and legal routes for those in search of sanctuary.
The 'I Welcome' photography exhibition runs from Wednesday, 7 December to Sunday, 18 December on London's South Bank between Gabriel's Wharf and the National Theatre

Register for free to continue reading
Registration is a free and easy way to support our truly independent journalism
By registering, you will also enjoy limited access to Premium articles, exclusive newsletters, commenting, and virtual events with our leading journalists
Already have an account? sign in
Join our new commenting forum
Join thought-provoking conversations, follow other Independent readers and see their replies